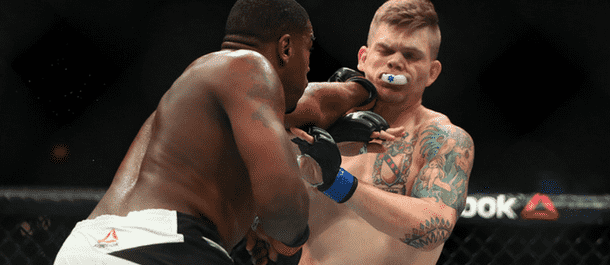 Walt Harris vs. Mark Godbeer

UFC 216 Fight Pass Prelims – Heavyweight Bout
In the classic heavyweight bout between two big punchers, Walt Harris will trade blow-for-blow with Mark Godbeer.
Harris is one his second run with the UFC. He rejoined after a brief stint with Titan FC and has managed remarkable improvements to his overall game since returning. "The Big Ticket" is 3-1 in his last four fights with wins over Cody East, Chase Sherman, and Cyril Asker. The knockout of Chase Sherman was humungous, back at UFC Fight Night 103. His only loss in this time was to Shamil Abdurahimov in which he lost a split decision. In each of those wins, Harris knocked out his opponents in under eight minutes.
Mark Godbeer has had two performances in the UFC so far, starting in November last year. He debuted against Justin Ledet and lost via first-round submission, but bounced back quickly with a win over the previously undefeated Daniel Spitz. After being unable to compete at UFC Fight Night 113 due to injury, he's now ready to go to war with Harris.
Breakdown
Mark Godbeer isn't the worst striker in the heavyweight division by any means – he's actually quite good. He lunges in behind explosive forward movement and can occasionally catch an opponent defenseless before crashing them into the mat. This works against most of his opponents because he is ofter the stronger and more physical opponent like he was against Daniel Spitz. However, he's standing across from one of the most athletic guys in the division this weekend.
Walt "The Big Ticket" Harris is summarised perfectly by his name. He's huge, powerful and strong. He is explosive and capable of winning the usual stand and trade wars. That's all it's going to take in this fight, too.
Prediction and Betting Guide
No one at the bottom end of the heavyweight division can deal with Harris' power right now. Harris is ending this one early. We'll be backing the fight to finish early, too.
Prediction: Walt Harris to win by KO/TKO – round one
You can find the best odds for under 1.5 rounds at Paddy Power
John Moraga vs. Magomed Bibulatov
UFC 216 Fight Pass Prelims – Flyweight Bout
Magomed Bibulatov is a consensus top-flight prospect across any organization in mixed martial arts. He entered the UFC and faced Jenel Lausa in his debut and showcased his incredible composure, strength and fight intelligence. The win against Lausa took Bibulatov to an imposing 14-0 undefeated record.
John Moraga is going to be Bibulatov's toughest test yet. The experienced fighter, who previously challenged Demetrious Johnson for the UFC flyweight title, has been fighting in the UFC since 2012. He recently broke free from a three-fight losing streak by smashing Ashkan Mokhtarian at UFC Fight Night 110. I say smashing, but it was more of a decisive beatdown over three rounds.
Breakdown
Bibulatov is a talented wrestler. He's kind of like Khabib Nurmagomedov in many ways with the Russian style of sustained pressure and grappling. For each of Bibulatov's 14 opponents, this style has been too much for them. He overwhelms them and breaks their spirit before breaking them physically.
Moraga's bounce-back performance against Mokhtarian was superb. It wasn't just a sneaky win, rather it was an excellent display of quality martial arts. When you look at it, losses to Joseph Benavidez, Matheus Nicolau, and Sergio Pettis shouldn't be the end of the world.
Prediction and Betting Guide
The safest prediction here is backing Bibulatov to outwork Moraga for three rounds, but it isn't a clear or uber-confident pick. We'll be backing against our prediction because the value is just too good in this one. John Moraga shouldn't be at these odds against any flyweight except for the truly elite right now. Bibulatov will be elite one day, he's just not there quite yet.
Prediction: Magomed Bibulatov by decision
You can find the best odds for a John Moraga victory at Marathon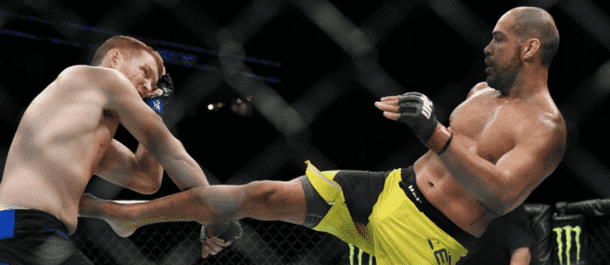 Thales Leites vs. Brad Tavares

UFC 216 Fight Pass Prelims – Middleweight Bout
All of these fights are top quality. Thales Leites vs. Brad Tavares is sure to be an entertaining scrap between two striking-focused martial artists.
After losing to Robert Whittaker at UFC Fight Night 65, Tavares has gone on to defeat Caio Magalhaes and Elias Theodorou. The Theodorou performance was particularly impressed and marked Tavares as a real threat to the middle to low end of the UFC's top 15.
Thales Leites has also recently found form after defeating the powerful Sam Alvey over the course of three rounds. Leites used his Muay Thai striking style to keep Alvey away and out of range and it bumped him up to 2-3 through his last five fights.
Breakdown
Both of these guys operate from distance and it could resemble a kickboxing match from the first seconds. Leites is much more comfortable on the mat than Tavares and if he wants to make things less interesting, he'll take it down there and grind out a victory.
Tavares' kicks are powerful and he blends them in with excellent punching combinations. Leites is much the same. His Thai fighting style means that he sits down with his power and plants his feet before unloading with vicious single shots. Tavares' downfall is often his biggest strength, he's good at most things but not great at any in particular.
Prediction and Betting Guide
I can't see Thales Leites dropping this one to the Hawaiian. Leites should control every aspect of the fight and score an easy decision.
Prediction: Thales Leites by unanimous decision
You can find the best odds for a Thales Leites victory at Marathon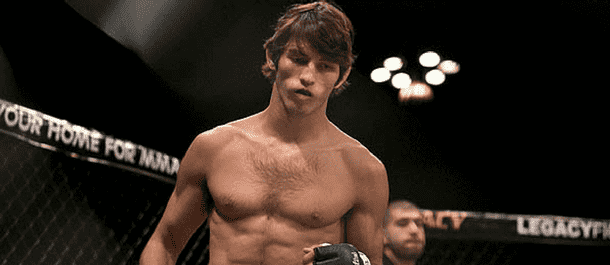 Matt Schnell vs. Marco Beltran

UFC 216 Fight Pass Prelims – Flyweight Bout
Nearly everyone will be sleeping on this fight as it's the first bout of a long night of fighting by the UFC, but it has potential to be one of the best fights of the night.
Matt Schnell and Marco Beltran are both fighting for their spot in the UFC. Schnell and Beltran enter UFC 216 with two consecutive losses and this is a classic example of smart matchmaking; putting two guys who against each other in a 'fight for your life' scenario.
Breakdown
Marco Beltran has a silky smooth striking style that is perfectly fluent and dangerous at the one time. Unfortunately for him, his has last two fights have ended in dramatic and bad fashion. He lost to Joe Soto via heel hook in November 2016 and then went on to lose to Deiveson Alcantara after the referee deemed him unable to continue in between rounds two and three.
Since appearing on The Ultimate Fighter Season 24, Schnell has also lost in ways that have been memorable for opponents. He lost via first round KO/TKO to both Rob Font and Hector Sandoval.
Schnell is a little scrappier than Marco Beltran and will have advantages in the grappling exchanges, but Beltran is more than capable of winning this fight from distance.
Prediction and Betting Guide
I'm predicting this to be a wild and entertaining fight that might not even make it out of the first round. There's spectacular value betting on that being the case, with the under 1.5 rounds bet standing out as great value.
Prediction: Marco Beltran by KO/TKO – round one
You can find the best odds for under 1.5 rounds at Bet365
Best Bets
Walt Harris vs. Mark Godbeer
Under 1.5 Rounds
Saturday, 7th October – 7:30 pm (ET) / 11:30pm (GMT)
Odds: 1.36Bet €100 to win €1369/25Bet £100 to win £136-278Bet $100 to win $1360.36Bet HK$100 to win HK$136-2.78Bet Rp100 to win Rp1360.3600Bet RM100 to win RM136 – Paddy Power
John Moraga vs. Magomed Bibulatov
John Moraga to Win
Saturday, 7th October – 7:00 pm (ET) / 11:00pm (GMT)
Odds: 5.30Bet €100 to win €53043/10Bet £100 to win £530+430Bet $100 to win $5304.30Bet HK$100 to win HK$5304.30Bet Rp100 to win Rp530-0.2326Bet RM100 to win RM530 – Marathon
Thales Leites vs. Brad Tavares
Thales Leites to Win
Saturday, 7th October – 6:30 pm (ET) / 10:30pm (GMT)
Odds: 2.68Bet €100 to win €26842/25Bet £100 to win £268+168Bet $100 to win $2681.68Bet HK$100 to win HK$2681.68Bet Rp100 to win Rp268-0.5952Bet RM100 to win RM268 – Marathon
Matt Schnell vs. Marco Beltran
Under 1.5 Rounds
Saturday, 7th October – 6:00 pm (ET) / 10:00am (GMT)
Odds: 2.70Bet €100 to win €27017/10Bet £100 to win £270+170Bet $100 to win $2701.70Bet HK$100 to win HK$2701.70Bet Rp100 to win Rp270-0.5882Bet RM100 to win RM270 – Bet365