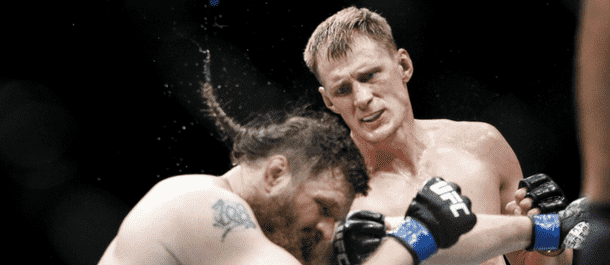 Alexander Volkov vs Stefan Struve

UFC Fight Night 115 Main Event – Heavyweight Bout
If you're wondering why Alexander Volkov is the A-side in the main event of a UFC card in 2017, you're not alone. Volkov faces off against Stefan Struve in a battle between two giant heavyweights for the fans in Rotterdam, Netherlands.
Alexander Volkov
Record: 28-6
Height: 6'7″ (201cm)
Reach: 81.0″ (206cm)
Alexander Volkov shot up the UFC's rankings after defeating Roy Nelson back at UFC on FOX 24 in April. Volkov outworked Nelson over three rounds in a fairly uneventful contest that would later turn out to be the last UFC appearance for "Big Country". Volkov is now on a four-win streak with wins stretching back to February 2016 in M-1 Challenge.
Stefan Struve
Record: 28-8
Height: 7'0″ (214cm)
Reach: 84.5″ (215cm)
Don't look now, but Stefan Struve is rejuvenating his UFC career. Struve has been competing in the UFC since 2009 and has accumulated many wins and losses over the years. You could argue that Struve has never looked better than he has in his last two fights. He is finally aware of the outstanding reach advantage that he has over his opponents and looks to be utilizing it inside the octagon. He also teared Daniel Omielanczuk up on the mat when they met at UFC 204. Struve has a KO/TKO win over current UFC heavyweight champion Stipe Miocic and if he manages to string another couple of wins together in impressive fashion, there's a case for him to challenge for the title.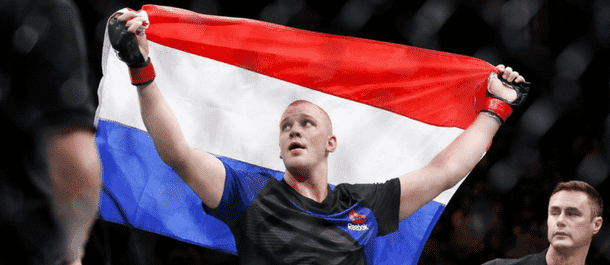 Breakdown
It doesn't take long to realize that these two fighters, who both heavily rely on their reach advantage, will be stepping into the octagon with someone of similar stature. Struve was a whole foot taller than his last opponent, Daniel Omielanczuk, and Volkov was seven inches taller than Roy Nelson as well. It's going to be intriguing to see who adjusts to a longer and more dangerous opponent first.
There's reason to believe that Volkov will make the better adjustments to Struve's height. Volkov actually utilizes his long weapons, including his masterful jab, which helps keep opponents at optimal range. He is also excellent at putting combinations together when necessary, as well.
Struve, alternatively, can sometimes find himself defending lazily against a rushing opponent. You can see it clearly, Struve puts his chin up and has full faith that his opponent can't reach him or close the distance enough; spoiler alert, they nearly always do! Against Volkov, he's going to need to use his devastating body kicks to keep him out of range. When he does kick Volkov, though, he needs to protect his chin immediately afterward.
Prediction and Betting Strategy
It looks as though Struve is putting it all together and making a (possibly final) run at the UFC's heavyweight championship. However, there's a fair chance he falls short against Alexander Volkov. Volkov is dangerous coming forward and Struve is notoriously bad moving backward. Normally, Struve's height advantage can see him scoot to safety, but against 6'7″ Volkov, he's not going to be able to hide from the strikes this time.
Alexander Volkov by KO/TKO – Round one
Best Bet
Alexander Volkov vs Stefan Struve
Alexander Volkov to Win
Saturday 2nd September – 5:00 pm (ET) / 9:00pm GMT
Odds: 1.80Bet €100 to win €1804/5Bet £100 to win £180-125Bet $100 to win $1800.80Bet HK$100 to win HK$180-1.25Bet Rp100 to win Rp1800.8000Bet RM100 to win RM180 – Ladbrokes
Alexander Volkov
MMA
Stefan Struve
UFC Fight Night 115