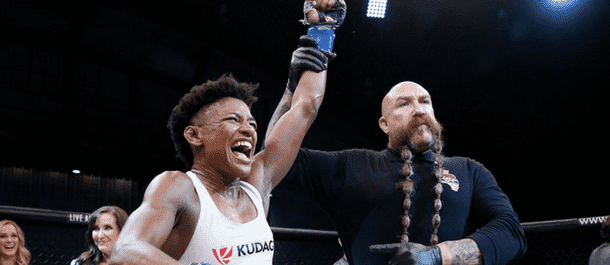 The Ultimate Fighter 25 Finale – Prelims Preview. Angela Hill vs. Ashley Yoder
UFC TUF 25 Finale – UFC Women's Strawweight Bout
Angela Hill returns to the octagon after a slugfest with Jessica Andrade four months ago. Angela Hill, who had returned to the UFC as a unranked women's' strawweight was matched against eventually title challenger Jessica Andrade and took her the whole three rounds in a scrappy affair. It was a good outing for Hill, who showed that she is truly capable of landing some damaging strikes, especially with her technical shots from long range.
Ashley Yoder entered the UFC six months ago and faced Justine Kish in her debut. Yoder was pushed to the extreme against Kish, a fighter with incredible pace and great Muay Thai skills. Yoder couldn't keep up with the pace and despite holding her own on the ground against Kish, she fell short in a 29-28 unanimous decision.
The Breakdown
Angela Hill is right up there with some of the best women's strikers in the UFC. She's rangy, intelligent and fights at a range not many other fighters are effective.
Ashley Yoder is quite dangerous, too. She packs some powerful kicks and strikes in a Muay Thai style of fighting. Yoder may have the advantage on the mat in this fight. Yoder will also be threatening when it comes to in-fighting.
Prediction and Betting Strategy
Yes, Yoder has a couple of ways to win in this one, but I believe that Angela Hill is the superior point-striker and will win a decisive victory against Ashley Yoder.
Angela Hill by Decision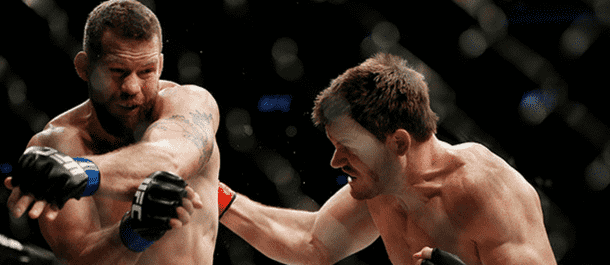 Ed Herman vs. C.B. Dollaway
UFC TUF 25 Finale – UFC Light Heavyweight Bout
Two fighters who have completed a combined total of 57 contest in professional mixed martial arts will face each other at the UFC TUF 25 Finale Prelims. Ed Herman enters this one after being brutally knocked out by Nikita Krylov eleven months ago. Herman was completely floored just 40 seconds into the second round. Props to Herman, however, because most people don't make it out of the first round with Nikita Krylov.
C.B. Dollaway will compete for the first time since December 2015. Dollaway was scheduled to fight at UFC 203 against Francimar Barroso but, in the craziest of events, he suffered a back injury in an elevator just days before the fight. Dollaway is on a three-fight losing streak with losses to Lyoto Machida, Michael Bisping and Nate Marquardt.
The Breakdown
Dollaway's record can be tricky to interpret. It looks like he has fallen off the cliff, with three straight losses. But, he's gradually improving – still. His boxing is improving and he managed to tag Nate Marquardt early and often before being knocked out in the second round.
Ed Herman has now been violently knocked out in two of his last three fights. The other was an impressive KO/TKO win against Tim Boetsch.
Both Herman and Dollaway are takedown machines. Between them, there is an average of 6.2 takedowns per 15 minutes. Dollaway defends the takedown at a much higher rate with 83.3% defence vs. Herman's 67.35%.
Prediction and Betting Strategy
I've got Dollaway scoring the victory here against Herman. His boxing will cause trouble on the feet and if Herman changes his game to take it to the mat, Dollaway will be all over him.
Dollaway by KO/TKO – Round 2

Jessica Eye vs. Aspen Ladd
UFC TUF 25 Finale – UFC Women's Bantamweight Bout
After losing four fights in a row the UFC have relegated Jessica Eye to a prelim bout with a debuting 22-year-old fighter. It's a shame because Jessica Eye has always been so close to putting it all together in the octagon. Her last four losses come at the hands of quality female fighters in Miesha Tate, Julianne Pena, Bethe Correia and Sara McMann.
Aspen Ladd debuted at Invicta FC 11 in 2015 and has managed to put together five straight victories in the promotion. Her undefeated record is at risk against one of the UFC's longest competing female athletes.
The Breakdown
Aspen Ladd is an all-out, guns-blazing type of fighter. She only knows how to move forward. Ladd is usually smaller than her opponents but is actually the same height as Jessica Eye. Look for her to move in behind her jab, her double-jab, and her double-jab left hook combinations to close the distance. Ladd's best work comes on the mat. She takes people down to the ground and swarms an opponent with punches – always looking for a finish.
Jessica Eye will have a significant advantage on the feet in this one, I have no doubt about it. In fact, it could be a short night for Ladd if she can't get Eye to the mat early. But, even once there, Eye has shown to be quite aggressive from all positions on the mat and will attempt unusual submissions.
I'm expecting the damage to be done as Ladd tries to move into Eye's range for the takedown attempt.
Prediction and Betting Strategy
I've got Jessica Eye being too good in this contest against a hungry 22-year-old. I'm torn between selecting a KO/TKO finish in the middle to late stages or backing a decision victory. I'll be predicting the decision victory for Jessica Eye.
Jessica Eye by Decision
Best Bets
Angela Hill vs. Ashley Yoder
Angela Hill to Win
Friday 7th July – 09:00 pm (ET) / 1:00am GMT
Odds: 1.36Bet €100 to win €1369/25Bet £100 to win £136-278Bet $100 to win $1360.36Bet HK$100 to win HK$136-2.78Bet Rp100 to win Rp1360.3600Bet RM100 to win RM136 – Skybet
Ed Herman vs. C.B. Dollaway
C.B. Dollaway by KO/TKO
Friday 7th July – 08:30 pm (ET) / 0:30am GMT
Odds: 2.88Bet €100 to win €28847/25Bet £100 to win £288+188Bet $100 to win $2881.88Bet HK$100 to win HK$2881.88Bet Rp100 to win Rp288-0.5319Bet RM100 to win RM288 – Unibet
Jessica Eye vs. Aspen Ladd
Jessica Eye to Win
Friday 7th July – 08:00 pm (ET) / 0:00am GMT
Odds: 2.10Bet €100 to win €21011/10Bet £100 to win £210+110Bet $100 to win $2101.10Bet HK$100 to win HK$2101.10Bet Rp100 to win Rp210-0.9091Bet RM100 to win RM210 – Bet365