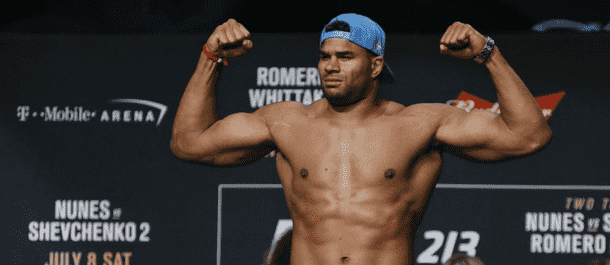 The UFC heads to Russia for the second time and the first time to Saint Petersburg this weekend for UFC Fight Night 149.
The first-ever event in Russia was last year in September and featured Aleksei Oleinik in the main event. He defeated Mark Hunt then and has now earned another main event bout in Russia, this time against Alistair Overeem. However, he wasn't the first option for the UFC.
The UFC first planned a heavyweight bout between Alexander Volkov and Overeem; however, Volkov was pulled from the fight after unexplained health issues. In steps Oleinik, who has the chance to go 2-0 while competing for the UFC in Russia.
The card also features many other talented Russian fighters, so make sure to check in on our UFC Fight Night 149 main card best bets before the event.
Alistair Overeem vs. Aleksei Oleinik Odds
Just as many thought that it was all over for Alistair Overeem, "The Demolition Man" returned to form with a first-round finish of Sergey Pavlovich in November. His two consecutive knockout defeats at the hands of Curtis Blaydes and Francis Ngannou indicate that he may not be able to hang around with the top contenders in the division for much longer, but he is still a certain threat to anyone in the UFC's heavyweight division because of his superb striking and well-rounded game. It's worth noting that since losing to Blaydes in June last year, Overeem made the switch to Elevation Fight Team to train alongside Blaydes and make noticeable improvements. Could we be witnessing the emergence of another version of "The Reem?"
Against Overeem this weekend is a man that has made a habit of pulling a rabbit from the hat. Aleksei Oleinik is a combat sambo world champion and has 57 mixed martial arts victories to his name. A submission specialist, Oleinik has secured 45 of those wins via submission and 45 of the victories have come in the first round. He steps into this main event on a two-fight winning streak that he earned by stopping Mark Hunt and Junior Albini in the first round. Against Hunt, Oleinik took some heavy shots but eventually got Hunt to the mat where he sunk in the rear-naked choke. This is an opportunity for Oleinik to emerge much more than just a highlight-reel fighter and score what would be the biggest win in his career to date.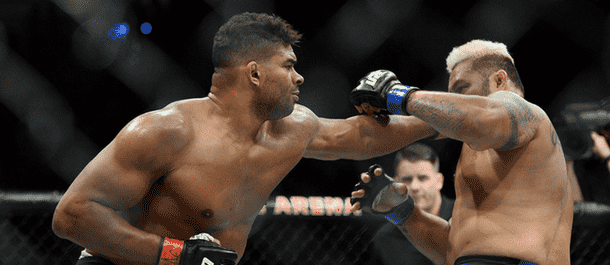 Fight Breakdown
At first glance, there's not a lot to acknowledge here besides the fact that Overeem has a noticeable edge while standing up with Oleinik and that Oleinik is particularly dangerous when it comes to submissions.
But there's a little more to it than that. Oleinik has surprisingly powerful hands, and while he's not the most effective of strikers and tacticians in any way, he's certainly capable of clipping Overeem. Oleinik brings relentless pace and pressure in every fight, and if Overeem can't settle in and manage the distance early, Oleinik is either going to crash his hands into his face or close the distance enough to work to the clinch.
Oleinik has had success in the past battling in the clinch and has even managed to secure his go-to Ezekiel choke submission while standing before dragging opponents to the mat and finishing the job there. If he can't get his submissions locked up, he'll opt for a takedown and then work to top control.
However, Overeem is particularly effective while inside the clinch and has a vast array of tricks and techniques that will likely help him overcome Oleinik's strengths. Whether it's a combination of devastating knees at close range or breaking the grips of Oleinik well enough to destroy him with close-range strikes such as elbows or uppercuts, Overeem can cause trouble for Oleinik at close range.
But it's likely at medium-to-long range where Overeem will do his best work. A destructive kicker, Overeem can hammer the body with his renowned leg strikes and could fold Oleinik up with one if it lands perfectly.
Overeem's footwork has improved to a point in which we can trust him to move appropriately and disallow Oleinik from just rushing forward and closing the distance immediately. Expect a level of patience from Overeem as he attempts to settle into the fight and punish Oleinik for his forward movement.
All heavyweight fights are relatively unpredictable considering the sheer strength and power of these fighters, but this one is one that Alistair Overeem should clearly win.
See below for our best bet and odds for this main event.
UFC Fight Night 194: Alistair Overeem vs. Aleksei Oleinik
Saturday, April 20 – 3:00 pm (ET) / 7:00pm (GMT)

Want to place a bet on Alistair Overeem this weekend? Make sure to do so with BetOnline to get the best odds.
Aleksei Oleinik
Alistair Overeem
UFC Fight Night 149