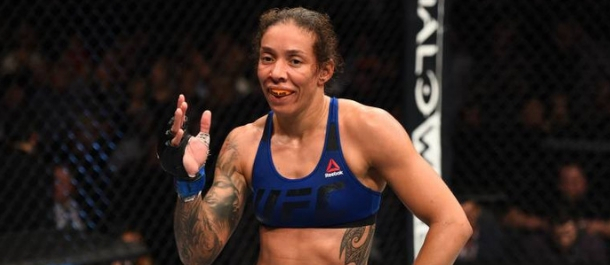 Not long after what was one of the greatest MMA events of 2019, the UFC returns this Saturday to Sacramento, California, for UFC Fight Night 155.
At UFC 239, Jon Jones defended his title against Thiago Santos, Amanda Nunes continued her run of brilliance, and Jorge Masvidal set the UFC record for fastest knockout in the history of the promotion.
This weekend, it's a much more low-profile event, with Germaine de Randamie vs. Aspen Ladd booked as the headline bout.
Although it's not a highly anticipated matchup for fans around the world, it's one that is fascinating from a betting perspective, so let's get into it and start breaking it down.
Germaine De Randamie is stepping into this one on a four-fight winning streak that includes big wins against Holly Holm and Raquel Pennington. That win over Holm was enough for her to be crowned as the first UFC women's featherweight champion. However, most fans will be more familiar with the fact that "The Iron Lady" was stripped of her title after refusing to fight top contender Cris Cyborg. In her return to bantamweight, she earned a unanimous decision win against Pennington.
Aspen Ladd is one of a few rising undefeated prospects in the women's bantamweight division. At the age of 24, Ladd has worked her way to 3-0 in the UFC with notable victories against Sijara Eubanks, Tonya Evinger, and Lina Lansberg. There's no doubting that this matchup with de Randamie is the toughest one of her career to date.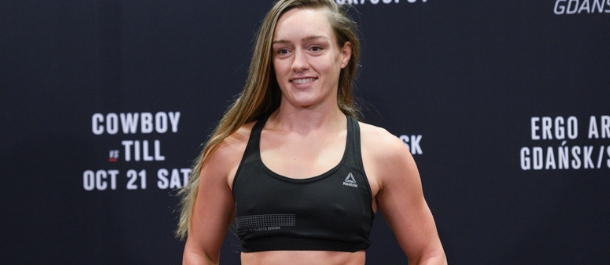 Fight Breakdown
Although it's strange to see Germaine de Randamie and Aspen Ladd competing against each other in a main event bout, it's a surprisingly interesting fight that is also very fun to break down.
Germaine de Randamie has crisp striking and has used this stand-up ability to defeat many notable contenders over the years. She's fast and excels when she is allowed to fight at kickboxing range against her opponent.
Aspen Ladd is the type of fighter that has no interest in allowing "The Iron Lady" to stand and strike, however. Ladd has excellent grappling ability for the division and will surely be looking to take de Randamie down to the mat and control her for as long as she can.
Through her UFC career so far, Ladd has shot for 2.31 takedowns per 15 minutes of time in the cage. Most impressive, however, is that she has successfully taken down her opponent on 80% of these attempts.
If you're wondering how her takedowns will fare against de Randamie, "The Iron Lady" has improved her takedown defense in recent years and now has an 80% takedown defense rate in the UFC.
Getting de Randamie to the mat may be no easy task for Ladd, especially considering that she's going to need to deal with the speed and length advantages of her opponent. In order to advance and score those takedowns, she might need to walk through some hard strikes.
As the odds stand right now, de Randamie's value is far too good to pass up. Removing Ladd from top position will be problematic if the time comes, but de Randamie should be far too good at keeping this one at range.
For as long as de Randamie can deny Ladd's takedowns attempts, she'll keep this one in her favor and likely dominate the striking.
Take Germaine de Randamie to win.
UFC Fight Night 155: Germaine de Randamie vs. Aspen Ladd
Saturday, July 13 – 11:30 pm (ET) / 3:30am (GMT)
Aspen Ladd
Germaine de Randamie
UFC Fight Night 155