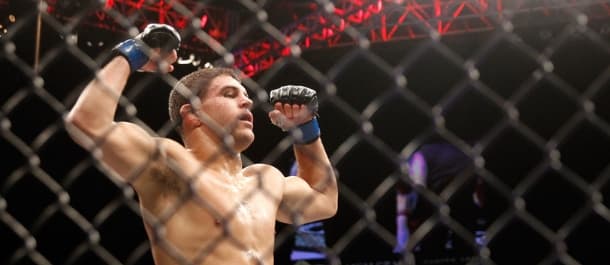 UFC Fight Night 151 goes down this Saturday, May 4, in Ottawa, Ontario, Canada. The fight card is relatively small, with 11 fights scheduled to take place at the Canadian Tire Centre.
The main event of the evening is a good one, as Al Iaquinta clashes with Donald Cerrone in a lightweight bout that may have a significant impact on the rest of the 155-pound division. Iaquinta is nearing another crack at the current champion Khabib Nurmagomedov and Cerrone is looking to rise the ranks since returning from the 170-pound category.
Also on the card, Derek Brunson meets Elias Theodorou in the co-main event, and Cub Swanson is set to fight Shane Burgos in what should be one of many exciting bouts.
Before we break down the rest of those fights, let's dive into the main event lightweight bout and bring you our analysis, prediction and best bet before the weekend.
Al Iaquinta's been on a fairly impressive run of late. A five-fight winning streak saw him scheduled to face Paul Felder last year at UFC 223, but a somewhat tragic run of events (but fortunate for Iaquinta) saw him thrown into a short-notice title fight against a pound-for-pound great of the sport. Iaquinta challenged Khabib Nurmagomedov and put in what many consider to be a reasonable effort against a man that no one has been able to stop so far. Iaquinta believes he can defeat Nurmagomedov in a rematch, but will first need to earn that right by adding Cerrone's name to his list of recent wins.
Donald Cerrone was initially linked to a fight with Conor McGregor after his impressive victory against Alex Hernandez in January. On that night, Cerrone stopped the up-and-coming lightweight fighter with a head kick and punches in round two. The win was enough to gain a congratulatory tweet from the Irish mixed martial arts superstar and then it spiraled into talks of a potential fight. But that fell through and Cerrone has admitted to that phase being over. Now we're here, and "Cowboy" will lock horns with Iaquinta in an attempt to make it three wins in a row.
Fight Breakdown
Two relatively well-rounded fighters will probably opt to stand and trade strikes in the main event of UFC Fight Night 151.
Al Iaquinta relies more on his boxing than "Cowboy" does. A strong boxer with a particularly effective rear-hand, Iaquinta excels at closing the distance and punishing his opponent with his right hand. He's particularly strategic, as well, and not as likely as Alex Hernandez, for example, to run into intercepting strikes from "Cowboy." Iaquinta has the tools and brains to employ a patient and thought-out approach in this fight and we can see that being a deciding factor.
When given time and space to operate, "Cowboy" can be particularly devastating. He'll sit just outside of punching range and then fluently adjoin different strikes to the head and body together to form accurate and powerful combinations. Unlike Iaquinta, Cerrone isn't a great boxer by any means and is most effective when he can land his powerful head kicks.
However, if pressured and pushes to fight a different type of fight, Cerrone often runs into trouble. Hernandez realized this from watching Cerrone's extensive fight history and attempted to rush him from the very first minute. The problem with that approach, however, is that Hernandez just continually ran into intercepting knees and other hand strikes from the veteran.
If Iaquinta attempts to pressure Cerrone early and end the fight in the first round, that's certainly possible. Also likely, however, is that Iaquinta wins the first round and then has one or two more rounds to do his damage. After then, Cerrone might settle into the fight and establish his kicking range.
Iaquinta's going to need to stay as close to punching range as possible for maximum effect. If he can do that, he should be able to get past Cerrone in what should be a brilliant fight.
Al Iaquinta to win by TKO – Round One
UFC Fight Night 151: Al Iaquinta vs. Donald Cerrone
Saturday, March 4 – 11:30 pm (ET) / 3:30am (GMT)
Al Iaquinta
Donald Cerrone
UFC Fight Night 151