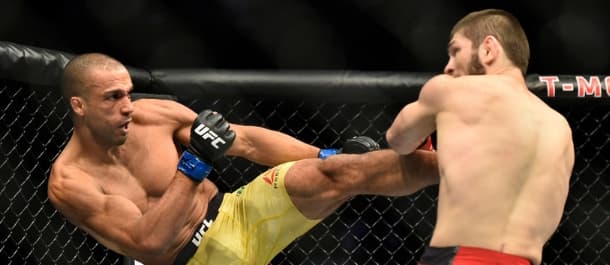 It's that time.
The UFC is ending its relationship with FOX at the end of this year and that means that this UFC on FOX 31 event is the last we'll see.
If you're not already aware, the UFC is moving to ESPN at the start of 2019 and will feature on their networks after the signing of a five-year deal.
Headlining this event is a fantastic lightweight rematch between Kevin Lee and Al Iaquinta. We've broken down this main event already and you can find our best bets for Lee vs. Iaquinta here.
But for now, let's go over all of the main card and identify the brilliant betting opportunities.
Edson Barboza vs. Dan Hooker
Saturday, December 15 – 11:00 pm (ET) / 3:00am (GMT)
This co-main event is absolutely awesome.
Striking phenom Edson Barboza will defend his spot in the rankings from rising up-and-comer Dan Hooker in what is sure to be a fight fan's dream.
Barboza is one of the most destructive kickers in all of mixed martial arts and has been terrifying his opponents with perfectly timed, lightning-fast spinning kicks to the head and body as well as heavy kicks to the lead leg. However, if you've only seen Barboza fight recently you'd probably think he is nothing above average. Grounded and mauled by Khabib Nurmagomedov and Kevin Lee in consecutive fights, Barboza has had next to no time to stand and trade with his adversary. As a result, he's lost both of these fights and will now be hoping to bounce back after accumulating all of that damage.
Standing across from him is Hooker, a fast-rising fighter in the 155-pound division who only recently moved up from the featherweight category after struggling to break through. Since his arrival in the lightweight division, Hooker has looked fantastic and managed to stop all four of his opponents before the final horn. This is a trend that has continued for almost all of Hooker's career as he has not secured a decision victory since 2011 and has never won a decision in the UFC; all of his seven victories are via stoppage.
Don't get confused; just because there is an unforeseen certain level of hype around Dan Hooker, it doesn't mean he can stand and get the better of Edson Barboza over three rounds with ease.
Hooker is defensively sound and manages to evade a large percentage of all incoming strikes. He showcased this defensive prowess against Marc Diakiese recently when he managed to swiftly step back out of range when every spinning attack was initiated. If there is one opening that has been exposed recently, it's Hooker's vulnerability to leg attacks. Gilbert Burns ate up the lead leg of Hooker before he was eventually dropped by a sharp left hook.
Conveniently, that's one of Barboza's most significant weapons. Just a few heavy leg kicks from Barboza are enough to change up the entire course of a fight. Barboza's also able to defend most incoming punches well while also countering advances with a speedy left hook.
So, we're likely to see Hooker go back to his usual strategy of shooting in for a takedown and trying to disrupt the flow of the fight. He has used this against many opponents recently, but Barboza is a different animal. Despite being taken down by Nurmagomedov and Lee, Barboza does have excellent takedown defense and will be able to keep this one standing long enough to win a clear decision.
Bet on Edson Barboza to win 2.00Bet €100 to win €2001/1Bet £100 to win £200+100Bet $100 to win $2001.00Bet HK$100 to win HK$2001.00Bet Rp100 to win Rp2001.0000Bet RM100 to win RM200 with Mybookie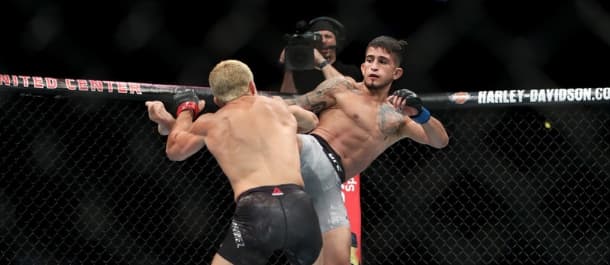 Rob Font vs. Sergio Pettis
Saturday, December 15 – 10:30 pm (ET) / 2:30am (GMT)
The criminally underrated Rob Font will get his chance to shine against former flyweight contender Sergio Pettis.
Font is coming off a devastating defeat to highly-ranked Raphael Assuncao. That defeat came not long after Font managed an impressive KO/TKO finish of Thomas Almeida.
The bantamweight will be tested by Pettis who is moving up to 135-pounds, who experienced mixed results in the division below. Now, Pettis plans on being stronger and more powerful without a weight cut draining his system before a contest. Having lost two of his last three fights to current flyweight champion Henry Cejudo and former title challenger Joseph Benavidez, this is an opportunity for Pettis to prove his worth in the division above.
Whereas many are quick to get behind Sergio Pettis at these odds, we believe that Rob Font is the value play here at 1.59Bet €100 to win €15959/100Bet £100 to win £159-169Bet $100 to win $1590.59Bet HK$100 to win HK$159-1.69Bet Rp100 to win Rp1590.5900Bet RM100 to win RM159.
Pettis might be stronger and more powerful in the division above, but so are the guys he will be competing against. Font is an excellent example. With decent outside striking and great wrestling technique, Font should be able to control the contest while standing and prevent it from ending up on the mat.
And that's even considering the rare occasion that Font should be able to mix in takedowns and serve as a way to break up the striking and impress the judges.
This one has Font written all over it.
Bet on Rob Font to win 1.59Bet €100 to win €15959/100Bet £100 to win £159-169Bet $100 to win $1590.59Bet HK$100 to win HK$159-1.69Bet Rp100 to win Rp1590.5900Bet RM100 to win RM159 at BetOnline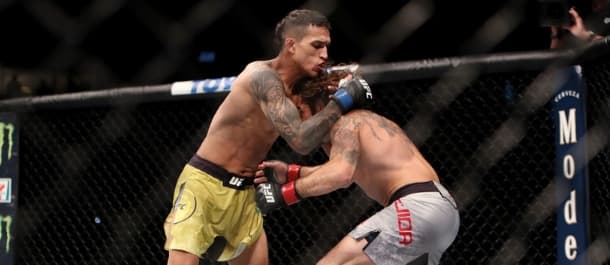 Jim Miller vs. Charles Oliveira
Saturday, December 15 – 10:00 pm (ET) / 2:00am (GMT)
Don't look over this clash that features on the UFC on FOX 31 main card.
Jim Miller will be back inside the UFC's Octagon yet again for a scrap with Charles Oliveira.
Oliveira is a proven fight-finisher coming off two brilliant submission victories. His wins over Christos Giagos and Clay Guida have helped him return to form after a defeat to Paul Felder late last year.
Miller has also recently got back to winning ways by defeating Alex White via rear-naked choke at UFC 228. That win was enough to end a disastrous four-fight stretch for Miller who had lost to Dan Hooker, Francisco Trinaldo, Anthony Pettis and Dustin Poirier. All of which are extremely tough fighters, mind you.
This isn't the first time that Miller and Oliveira will meet inside the cage.
Miller previously submitted the undefeated Oliveira all the way back in 2010 with an outstanding toe-hold to kneebar transition. While all the talk was about Oliveira's incredible jiu-jitsu, many had forgotten about Miller's underrated grappling ability.
Is that the same case in this fight?
Miller has been a black belt in Brazilian Jiu-Jitsu since 2010 and isn't going to simply fall into the traps of his opponent this time around.
Expect Miller to stay in there and test Oliveira's heart and determination – the two things that have let him down in the past. If Oliveira gets behind, he starts to panic and give up. And if Miller excels at any one area, it's not his physical attributes or his techniques, but more so his durability and grit.
If this makes it past the first 1.5 rounds, this fight is up in the air and Miller makes for a great pick here at these odds.
Jim Miller to win 3.35Bet €100 to win €33547/20Bet £100 to win £335+235Bet $100 to win $3352.35Bet HK$100 to win HK$3352.35Bet Rp100 to win Rp335-0.4255Bet RM100 to win RM335 at ComeOn
Best Bets for UFC on FOX 31
Want to skip right ahead and review our best bets for UFC on FOX 31? Here are our recommended bets for this event.
Dan Hooker
Edson Barboza
UFC on FOX 31