Jose Aldo vs. Jeremy Stephens
Saturday, July 28 – 9:00 pm (ET) / 1:00am (GMT)
This co-main event is about as good as it gets on a non-PPV card. That's right, UFC on FOX 30 isn't a pay-per-view event and will still feature two former champions – Jose Aldo and Joanna Jedrzejczyk – right in front of a fantastic main event between Eddie Alvarez and Justin Gaethje.
We're backing Dustin Poirier in that fight – read why!
Talking about as good as it gets, Jose Aldo is the longest-ever title holder in the UFC's featherweight division. Furthermore, he's been one of the greatest champions in the history of the sport. Of course, that all went downhill when he met Conor McGregor at UFC 194. But now, Aldo, after losing twice to Max Holloway, is attempting to work his way back to title contention and earn another shot at the UFC Featherweight Championship. That journey begins this weekend against Jeremy Stephens.
Jeremy Stephens is a man who has never been a consistent part of conversations regarding who is at the top of the UFC featherweight division. He's always been close, but he's never been right at the top. Not until recently, anyway. A win over Aldo in this co-main event would lift Stephens to four consecutive victories and make him one of the next in line for a shot at the title.
Jose Aldo vs. Jeremy Stephens Odds
Former champion Jose Aldo is currently the betting favorite, but not by much. The best value for a bet on Aldo is currently with Bovada, who have surprisingly decent value on him at 1.80.
Across from him is Jeremy Stephens, who is currently a small underdog with odds of 2.15 at BetOnline. In many ways, that's a tremendous show of respect for a guy who is facing possibly the best featherweight fighter ever.
Best Bet
There's absolutely no reason to think that the very best of Jose Aldo is well in the past. Yes, he was dominant for so many years and he might not ever return to that same form, but the knowledge is still there and his athleticism isn't deteriorating at a rate that pushes us away from betting on him. Remember, Aldo's lone win in his last four fights was a complete domination of Frankie Edgar at UFC 200, and we believe that this fight will be very, very similar.
Bet: Jose Aldo to win – 1.80 with Bovada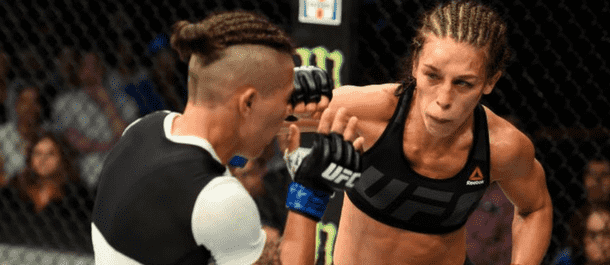 Joanna Jedrzejczyk vs. Tecia Torres
Saturday, July 28 – 8:30 pm (ET) / 12:30am (GMT)
A former champion, and one of the greatest fighters ever in the UFC's strawweight division, Joanna Jedrzejczyk will look to get back to winning ways this weekend against Tecia Torres.
Joanna Jedrzejczyk was not just considered a dominant force in the strawweight division, she was also regarded as one of the best pound-for-pound fighters in the sport. That seems like a horrible take now, after she was dominated by Rose Namajunas twice, but it was true at the time. Before Namajunas, Jedrzejczyk was controlling fights from start to finish and sending top contenders straight back down the rankings. Now, "JJ" is the one who needs to recover and put herself right back at the top of the division.
Tecia Torres is a fiery competitor in the division and no easy task for anyone in the division. She proved that just by lasting three rounds with the ruthless Jessica Andrade. Unfortunately, however, that defeat ended what was a three-fight winning streak for Torres. That run of success included major wins over the likes of Bec Rawlings, Juliana Lima, and Michelle Waterson. Torres has always been just underneath that top-tier of the division. It's now time to prove whether she belongs to be there or not.
Joanna Jedrzejczyk vs. Tecia Torres Odds
Unsurprisingly, there's not a lot of respect from the bookmakers for Tecia Torres in this contest. She is currently available for odds of 3.40 at BetOnline,
And the previous queen of the strawweight division is still being regarded as her former self for this weekend. At the moment, she's 1.38 with Bovada, who again have the best odds for a favorite at UFC on FOX 30.
Best Bet
Joanna Jedrzejczyk made a name for herself by dominating lower-skilled strikers inside the cage. Many of us believed she would do the same against Namajunas (twice), but it turns out that Rose Namajunas is much better than we had ever believed.
Can Torres do the same? Does she have the same ability to pick apart Jedrzejczyk from the outside? We don't think so. In fact, this one smells like a simple three-round decision for the former champion.
Bet: Joanna Jedrzejczyk to win – 1.38 with Bovada
https://www.youtube.com/watch?v=bgHtdgfUs44
Alexander Hernandez vs. Olivier Aubin-Mercier
Saturday, July 28 – 8:00 pm (ET) / 12:00am (GMT)
In what might be an underappreciated fight here this weekend, Alexander Hernandez vs. Olivier Aubin-Mercier will do battle for three rounds to start the main card.
Alexander Hernandez shot into the UFC's rankings after one big win in his UFC debut against Beneil Dariush. It would usually take a string of great performances to break into the UFC's rankings, but Hernandez did it by simply crushing Dariush in under a minute. Hernandez has plenty to prove this weekend; was that just a fluke, or can he continue to put on great performances?
Olivier Aubin-Mercier has been competing in the UFC since 2014 but has yet to make a real splash. At the age of 29, the time might be right for "The Quebec Kid" to make a run for it now and he's on the right track after four consecutive wins dating back to 2016.
Alexander Hernandez vs. Olivier Aubin-Mercier Odds
If you believe that you haven't seen enough of Alexander Hernandez against high-quality opposition to get behind him, you're not the only one – he's currently 2.00 with Bovada.
And if you're looking to back in Olivier Aubin-Mercier to make it five in a row, you'll be getting odds of 1.90 with 888Sport,
Best Bet
Look, Hernandez is certainly capable of scoring a big upset win here in Calgary this weekend, but I don't think that's where the smart money should be headed.
Instead, put your money behind the tried and tested Olivier Aubin-Mercier, who will continue his climb through the division.
Bet: Olivier Aubin-Mercier to win – 1.90 with 888Sport.
Betting Plays
Best Bets:
Jose Aldo to win – 1.80 with Bovada
Joanna Jedrzejczyk to win – 1.38 with Bovada
Olivier Aubin-Mercier to win – 1.90 with 888Sport.
Joanna Jedrzejczyk
Jose Aldo
UFC on FOX 30