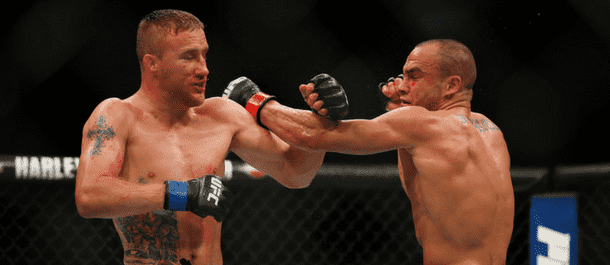 Eddie Alvarez vs. Dustin Poirier
Saturday, July 28 – 9:30 pm (ET) / 1:30am (GMT)
The main event of UFC on FOX 30 will pit Eddie Alvarez and Dustin Poirier together in a highly-anticipated rematch between two top contenders in the UFC's lightweight division.
It's been over a year since Eddie Alvarez and Dustin Poirier first met at UFC 211. That fight, despite being in early contention for Fight of the Year took an unfortunate turn in the second round when Eddie Alvarez crashed some 'illegal knees' into the head of Dustin Poirier, forcing the referee to stop the contest and calling it a 'No Contest'.
If you want a summary of Eddie Alvarez's career you can almost get a complete look at what makes him so entertaining to watch just from that earlier fight with Poirier. Even when the odds are stacked against him and he's being smashed around the cage, you can never count out Alvarez. Since this unfortunate outcome in their first fight, Alvarez went on to defeat Justin Gaethje by way of stoppage in the third round.
Dustin Poirier has also defeated Gaethje in the time since their earlier meeting. And, by all means, a win over Gaethje is of tremendous value to both fighters considering that Gaethje was regarded as one of the toughest fights in the division – and still is. But Poirier has taken it one step further since May last year by defeating Anthony Pettis in another fantastic fight, as well.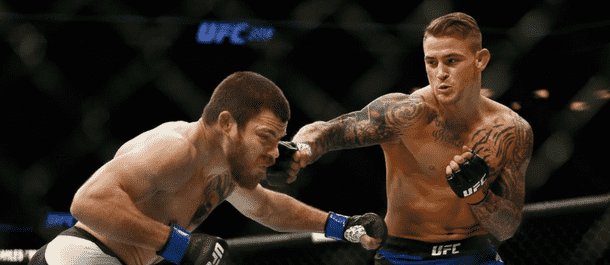 Fight Breakdown
Let's start by reviewing the earlier matchup between these two at UFC 211.
After a hesitant start by both fighters, as they attempted to find their optimal range and striking opportunities, they picked up the pace late in the first round and early in the second round. It was Dustin Poirier controlling the majority of the action, too. He stamped his authority inside the Octagon and backed up Alvarez by consistently winning the battle for the center of the cage.
It was Poirier's straight left hand and body kicks that were working over Alvarez, and "The Underground King" needed a solution. He couldn't find one, though, and Poirier ended up clipping Alvarez with a heavy shot that sent this fight into a spiral of madness.
Poirier backed up Alvarez and landed flush with 15 or more devastating strikes to the head. Somehow, Alvarez not only remained conscious but was able to continue weaving and dodging punches while attempting to land big with a return shot of his own. He eventually did, and now it was Poirier on the back foot. Alvarez was seemingly taking over the fight and had Poirier on the mat when he decided to launch those unnecessary and illegal knees at the end.
What will be different this time?
Poirier will undoubtedly be more careful when trying to finish the supremely durable Alvarez, that's for sure. While he was connecting with heavy punches as he hunted for the finish, he put himself at risk and eventually was caught by an Alvarez hook. He won't put himself in that position again.
Can Alvarez win the battle for the center of the cage this time? Probably not. Poirier is the better of the two at controlling the distance and feinting to keep his opponent guessing. He'll use this advantage to pepper Alvarez with strikes from outside of his range.
Most of all, Poirier showed an incredible ability to anticipate Alvarez's wild hooks and duck underneath them, avoiding the danger of a potentially fight-ending strike. This, of all the things we saw in that first fight, leaves us confident that Poirier won't find himself in trouble this time and will get the job done against Alvarez at UFC on FOX 30.
Eddie Alvarez vs. Dustin Poirier Odds
Dustin Poirier is a deserving betting favorite and is currently 1.65Bet €100 to win €16513/20Bet £100 to win £165-154Bet $100 to win $1650.65Bet HK$100 to win HK$165-1.54Bet Rp100 to win Rp1650.6500Bet RM100 to win RM165 over at 888Sport, who seem to have much better value on Poirier than all other bookmakers.
If you're looking to bet on Eddie Alvarez this weekend, he can be found at odds of 2.45Bet €100 to win €24529/20Bet £100 to win £245+145Bet $100 to win $2451.45Bet HK$100 to win HK$2451.45Bet Rp100 to win Rp245-0.6897Bet RM100 to win RM245 with BetOnline. Not bad value for a guy who was controlling the contest into the final seconds.
Best Bet and Prediction
There are many ways to interpret the first fight and reach an outcome here before the weekend; however, we're going to be rolling with Dustin Poirier's superior striking ability from a distance to keep Alvarez away and control the majority of the action.
Best Bet: Dustin Poirier to win 1.65Bet €100 to win €16513/20Bet £100 to win £165-154Bet $100 to win $1650.65Bet HK$100 to win HK$165-1.54Bet Rp100 to win Rp1650.6500Bet RM100 to win RM165 at 888Sport
https://youtu.be/Qp9t2rWJqcg
Dustin Poirier
Eddie Alvarez
UFC on FOX 30