UFC on FOX 25 Prelims – Preview and Betting Tips
Lyman Good vs. Elizeu Zaleski dos Santos
UFC on FOX 25 Prelims – UFC Welterweight Bout
Lyman Good, a 12-year veteran of the sport, finally made his way to the UFC two years ago when he battled Andrew Craig at UFC Fight Night 71. Good looked better than good in his debut and knocked Craig down with a brutal right hand. Lyman's dream start in the UFC quickly lost all momentum when he was injured before a fight with Omari Akhmedov and had to withdraw. Good was again forced to withdraw from a fight at UFC 205 in December 2016 when he tested positive for banned substances, and USADA handed him a six-month suspension.
Elizeu Zaleski dos Santos entered the UFC in May 2015 when he met Nicolas Dalby who was 13-0 at the time. Dos Santos lost his debut by way of a split decision but has since gone on to win two consecutive fights in the UFC with an impressive knockout victory against Omari Akhmedov and a decision victory against the veteran Keita Nakamura.
The Breakdown
Lyman Good is a talented striker who likes to stand in the pocket and trade. He moves his head just enough to make his opponent miss before returning hard counter strikes to the face. This was the same movement that allowed him to deliver a finishing blow on Andrew Craig.
This style of fighting works extremely well against someone who plants their feet and engages in a somewhat predictable striking competition with Good. Elizeu Zaleski dos Santos isn't your typical striker, though. He moves through different angles and approaches his opponent from a range of different perspectives. He's also patient enough not to give Lyman Good any critical openings.
Dos Santos has a dangerous submission game. He's a black belt under Cristiano Marcello and threatens with submissions. While both fighters pack hard leg kicks in their arsenal, Dos Santos' kicks are more damaging.
Prediction and Betting Strategy
Dos Santos has more ways to win, and I feel comfortable predicting Dos Santos to win this one via decision. Patient and accurate striking combined with his abilities on the ground will see him be too much of a threat for Lyman Good in this fight.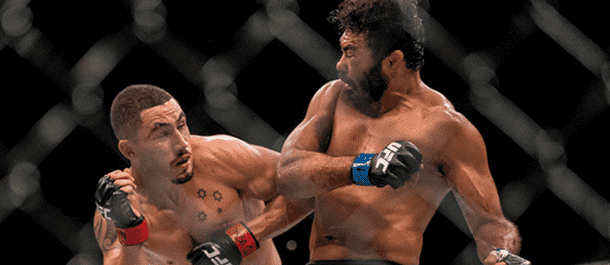 Rafael Natal vs. Eryk Anders
UFC on FOX 25 Prelims – UFC Middleweight Bout
Rafael Natal is yet another jiu-jitsu black belt that has fallen in love with striking. Natal has recently elected to strike with his opponents rather than battling them at the positions in which he has the significant advantages, predominantly on the mat. Natal enters this fight on a two-fight losing streak after losing to Robert Whittaker and Tim Boetsch.
Eryk Anders gets the call to fight Rafael Natal on very short notice. Anders announced that he would be stepping in to replace Alessio Di Chirico at UFC on FOX 25 just last week. Anders is a former Alabama linebacker who's strength and power have taken him all the way to becoming a Legacy Fighting Alliance middleweight champion.
The Breakdown
Rafael Natal is going to have a massive advantage if this fight gets to the floor. However, that's all going to depend on whether Natal chooses to chase the takedown or if he stands toe-to-toe with Anders.
Underestimating Anders could lead to a world of troubles for the Brazilian considering that Anders packs some brute strength. Anders has an enormous left hand that, if it connects, could stun Rafael Natal.
Prediction and Betting Strategy
We'll wait and see what the bookmakers think of this fight. With Anders entering on late notice, Natal may be booked as a heavy favourite.
I predict a decision victory for Rafael Natal, but we may end up betting on Eryk Anders if the value is right.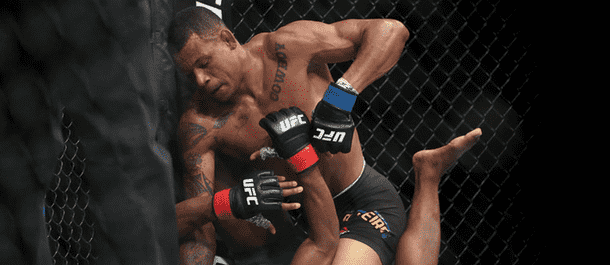 Ryan LaFlare vs. Alex Oliveira
UFC on FOX 25 Prelims – UFC Welterweight Bout
Ryan LaFlare's greatest battle in the past two years has been his health. His fight with Roan Carneiro in February this year was the first time he had been in the cage for over 14 months. Ryan LaFlare's only loss through his professional mixed martial arts career came as a unanimous decision loss against jiu-jitsu master Demian Maia in March 2015.
Alex Oliveira has been storming through the UFC welterweight division since losing to Donald Cerrone back in February 2016. He picked up wins against James Moontasri and Will Brooks before a satisfying submission finish of Tim Means after the two fought out a no contest four months before their second bout at UFC Fight Night 106.
The Breakdown
It's hard to doubt Alex Oliveira anymore. He was being beaten by Tim Means in their first matchup before illegal strikes called an end to the contest. But, just four months later he had turned it all around and completely dominated Tim Means for two rounds before submitting him. Oliveira is especially dangerous in the clinch position, and he is always looking for a submission.
Ryan LaFlare is well-rounded and has been a test for everybody that has stepped inside the cage with him. His stand up game is respectable, but he also has an impressive offensive wrestling game. Alex Oliveira is going to need to be switched on for every moment that LaFlare stands in front of him.
Prediction and Betting Strategy
For some reason, I can see this ending in classic Alex Oliveira style. Ryan LaFlare is likely to control most of the exchanges and be the better fighter throughout, but all it takes is one small moment for Oliveira to sneak a submission victory. LaFlare's tendency to wrestle will also mean that Oliveira will be presented with an increased number of opportunities to find the submission.
Alex Oliveira to win by submission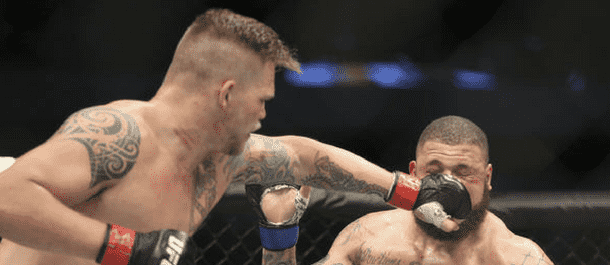 Damian Grabowski vs. Chase Sherman
UFC on FOX 25 Prelims – UFC Heavyweight Bout
Damian Grabowski enters this fight with Chase Sherman after being knocked out by Anthony Hamilton in just fourteen seconds at UFC 201. It marked the second straight defeat for Grabowski in the same number of fights in the UFC, and he finds himself in a very similar position to what Chase Sherman was in just one fight ago.
'The Vanilla Gorilla' Chase Sherman has recently been more waves in the MMA scene for his work outside the cage rather than inside. If you're active on Twitter and follow anything related to mixed martial arts, I'm almost certain you'd have seen Chase Sherman on there by now. Chase started his UFC career with two-straight defeats but then bounced back in tremendous style with a knockout win over Rashad Coulter at UFC 211.
The Breakdown
Chase Sherman moves quite well for a heavyweight. He's light on his feet and moves around just enough before setting up his low and teep kicks. Sherman is also super explosive when trading inside the pocket with an opponent and can rip two or three fast punches to the body and head with speed. He still leaves his chin exposed, especially when moving backwards so there is a huge chance that Grabowski could connect and finish the fight that way.
Grabowski is an high-level grappler with some slick jiu-jitsu skills. The problem is that he hasn't been able to get this one down to the mat to start working his desired game plan against any of his opponents recently. Chase Sherman moves too well for Grabowski to sneak in and find a takedown.ee
Prediction and Betting Strategy
Damian Grabowski has been knocked out by Marcin Tybura, Derrick Lewis and Anthony Hamilton before entering this fight. I believe that Chase Sherman will also find himself on this list of people to finish Grabowski by the end of UFC on FOX 25.
Best Bets
Lyman Good vs. Elizeu Zaleski dos Santos
Elizeu Zaleski dos Santos by decision
Sunday 23rd July – 07:30 pm (ET) / 11:30pm GMT
Odds: 4.33Bet €100 to win €433333/100Bet £100 to win £433+333Bet $100 to win $4333.33Bet HK$100 to win HK$4333.33Bet Rp100 to win Rp433-0.3003Bet RM100 to win RM433 – SkyBet
Rafael Natal vs. Eryk Anders
Rafael Natal by decision
Sunday 23rd July – 07:00 pm (ET) / 11:00pm GMT
Odds: 4.50Bet €100 to win €4507/2Bet £100 to win £450+350Bet $100 to win $4503.50Bet HK$100 to win HK$4503.50Bet Rp100 to win Rp450-0.2857Bet RM100 to win RM450 – BetVictor
Ryan LaFlare vs. Alex Oliveira
Alex Oliveira by submission
Sunday 23rd July – 06:30 pm (ET) / 10:30pm GMT
Odds: 9.50Bet €100 to win €95017/2Bet £100 to win £950+850Bet $100 to win $9508.50Bet HK$100 to win HK$9508.50Bet Rp100 to win Rp950-0.1176Bet RM100 to win RM950 – Paddy Power
Damian Grabowski vs. Chase Sherman
Chase Sherman by to win in Round One
Sunday 23rd July – 06:00 pm (ET) / 10:00pm GMT
Odds: 3.25Bet €100 to win €3259/4Bet £100 to win £325+225Bet $100 to win $3252.25Bet HK$100 to win HK$3252.25Bet Rp100 to win Rp325-0.4444Bet RM100 to win RM325 – Coral