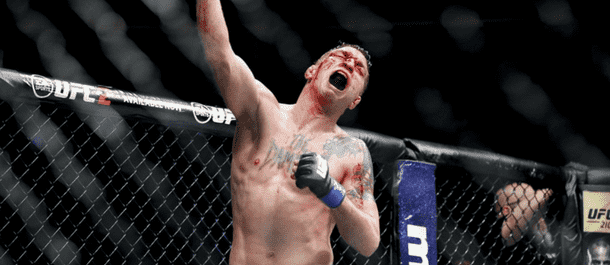 Dennis Bermudez vs. Darren Elkins
UFC on FOX 25 Main Card – UFC Featherweight Bout
A featherweight bout between Dennis Bermudez and Darren Elkins features as the co-main event for UFC on FOX 25.
Dennis Bermudez
Record: 16-6
Height: 5'6″ (168cm)
Reach: 66.0″ (168cm)
Dennis Bermudez has long been a tough challenge for anyone in the UFC featherweight division. He picked up seven straight wins through 2012-2014 but dropped fights against Ricardo Lamas and Jeremy Stephens just afterwards. He then regained momentum with two straight wins against Rony Jason and Tatsuya Kawajiri and it helped him to feature in the main event of UFC Fight Night 104 with Korean Zombie. Bermudez was knocked out by Korean Zombie just 2:49 into round one and now will return to the octagon against Darren Elkins.
Darren Elkins
Record: 22-5
Height: 5'10" (178cm)
Reach: 71.0″ (180cm)
Darren Elkins enters this fight against Dennis Bermudez after a clear front-runner for a 'Comeback of the Year' award in 2017. Elkins was badly beaten by Mirsad Bektic for two rounds before turning it all around in the third and final round at UFC 209. The comeback marked Elkins fourth straight victory and a win against Bermudez moves him into contention of scoring a fight with some of the highest ranked featherweights in the UFC.
The Breakdown
This is a well-matched fight. Bermudez enters this one with a significant speed advantage over Elkins, but so did Mirsad Bektic. Bermudez will need to make the most of this striking advantage when the fight is standing up and avoid grappling with Elkins for extended periods because Elkins likes to attempt submissions from any position.
Towards the end of the Bektic fight, Elkins showed that he can stuff takedowns even when he is behind in a fight and it made it difficult for Mirsad to set the pace.
I can see Elkins sneaking past Bermudez as the fight progresses. Maybe he loses the first round and then wins the next two.
Prediction and Betting Strategy
Darren Elkins wins a decision against Dennis Bermudez and moves right up there with the best in the featherweight division.
Darren Elkins to Win

Patrick Cummins vs. Gian Villante
UFC on FOX 25 Main Card – UFC Light Heavyweight Bout
Patrick Cummins and Gian Villante will be ready to throw down in the main card of UFC on FOX 25. The two were originally scheduled to battle at UFC Fight Night 102 but Cummins was forced to withdraw due to a staph infection.
Patrick Cummins
Record: 9-4
Height: 6'2″ (188cm)
Reach: 76.0″ (193cm)
Patrick Cummins took a beating at the hands of Jan Blachowicz in his last fight during the early stages of the fight. It looked like he wouldn't make it to the end of the round, but he did. Not only that, but he managed to recover enough energy to overthrow Jan Blachowicz by the time it got to the scorecards and he won a majority decision.
Patrick Cummins has managed a disappointing 2-3 record in the UFC in his past five fights, a string of recent performances that snapped a three-fight winning streak for Cummins.
Gian Villante
Record: 15-8
Height: 6'2″ (188cm)
Reach: 76.0″ (193cm)
Gian Villante has never lost two consecutive fights inside the UFC. This will certainly be tested against Patrick Cummins this weekend at UFC on FOX 25 after Villante dropped a fight to Mauricio Rua at UFC Fight Night 106. Villante was stopped by the Brazilian 59 seconds into the third and final round.
The Breakdown
Patrick Cummins is a takedown machine and is seemingly able to get the takedown whenever he wants. He also showed against Blachowicz that he can take damage and keep coming forward.
If Gian Villante plans to finish Patrick Cummins, he's going to need to bring plenty of stopping power. Villante approaches the stand-up game remarkably relaxed and looks extremely comfortable in dishing out powerful strikes from every angle. His uppercut is a deadly weapon and this is a strike that Blachowicz had plenty of success landing against Cummins in his last fight.
Prediction and Betting Strategy
Gian Villante floors Patrick Cummins and finishes the fight in the first round.
Gian Villante by KO/TKO – Round 1

Jimmie Rivera vs. Thomas Almeida
UFC on FOX 25 Main Card – UFC Bantamweight Bout
Two featherweights trying to rise to the top of the division will face off at UFC on FOX 25 in Long Island.
Jimmie Rivera
Record: 20-1
Height: 5'4″ (163cm)
Reach: 68.5″ (174cm)
Jimmie Rivera could very well be the most underrated fighter on the entire UFC roster. Rivera is blessed with the opportunity to shine on the main card of UFC on FOX 25 against a top opponent in Thomas Almeida. A win for Rivera here surely puts him right up there with the best bantamweights. Rivera completely dominated Urijah Faber at UFC 203, which was almost ten months ago and at the time, many thought that was the fight to move Rivera into the public spotlight.
Thomas Almeida
Record: 22-1
Height: 5'7″ (170cm)
Reach: 72.5″ (184cm)
It wasn't long ago that 25-year-old Thomas Almeida was climbing the rankings fast, very fast. At UFC Fight Night 88, the 21-0 Almeida met Cody Garbrandt who was 8-0 at the time. It was to be a battle between two of the biggest prospects in the bantamweight division. Instead, Garbrandt finished Almeida just 2:53 into the first round. All of Almeida's hard work had been quickly undone by the now UFC bantamweight champion. Now, Almeida has bounced back with a win over Albert Morales at UFC Fight Night 100.
The Breakdown
Thomas Almeida is a supremely talented striker. I'd argue he's as talented as Cody Garbrandt on the feet, despite being KO'ed in less than three minutes. The fault there was that he chose to engage with Garbrandt in a boxing match rather than using his kicks which are essential to Almeida's success.
Just like Garbrandt, Jimmie Rivera is an excellent boxer. Will Almeida dare to stand inside boxing range with a dangerous opponent against after what happened with Garbrandt? If he does, I don't think it will end well for him. Rivera may not bring the same power that Garbrandt does, but he definitely has the moves to out work Almeida and make it a long fifteen minutes.
Prediction and Betting Strategy
I've got Rivera winning a decision in a close one on the back of his excellent use of angles and his general craftiness and ability to keep Almeida from setting up his kicks.
Jimmie Rivera by Decision
Best Bets
Dennis Bermudez vs. Darren Elkins
Darren Elkins to Win
Sunday 23rd July – 9:00 pm (ET) / 1:00am GMT
Odds: 3.06Bet €100 to win €306103/50Bet £100 to win £306+206Bet $100 to win $3062.06Bet HK$100 to win HK$3062.06Bet Rp100 to win Rp306-0.4854Bet RM100 to win RM306 – Marathon
Patrick Cummins vs. Gian Villante
Gian Villante to win by KO/TKO
Sunday 23rd July – 8:30 pm (ET) / 12:30am GMT
Odds: 2.20Bet €100 to win €2206/5Bet £100 to win £220+120Bet $100 to win $2201.20Bet HK$100 to win HK$2201.20Bet Rp100 to win Rp220-0.8333Bet RM100 to win RM220 – Bet365
Jimmie Rivera vs. Thomas Almeida
Jimmie Rivera to win by Decision
Sunday 23rd July – 8:00 pm (ET) / 12:00am GMT
Odds: 2.63Bet €100 to win €263163/100Bet £100 to win £263+163Bet $100 to win $2631.63Bet HK$100 to win HK$2631.63Bet Rp100 to win Rp263-0.6135Bet RM100 to win RM263 – Bet365