Chris Weidman vs. Kelvin Gastelum
UFC on FOX 25 Main Event – UFC Middleweight Bout
Chris Weidman and Kelvin Gastelum headline in the main event of the upcoming UFC on FOX 25 card in Long Island, New York. UFC on FOX 25 is packed with exciting fights but none more so than Weidman vs. Gastelum.
The UFC, seemingly now more than ever before, are doing an excellent job of pairing two guys together at the perfect time and this fight is a perfectly matched battle between the falling Chris Weidman and the rising Kelvin Gastelum.
Chris Weidman
Record: 13-3
Height: 6'2″ (187cm)
Reach: 78.0″ (198cm)
Weidman was on top of the world after knocking out Anderson Silva in one of the most shocking upsets in the history of MMA. After flooring Silva, Weidman then went on to defeat MMA legends, Lyoto Machida and Vitor Belfort. It all went crashing downhill when Luke Rockhold caught Weidman in the fourth round at UFC 194 and stopped the middleweight champion.
Since then, Weidman has struggled. He looked great against Yoel Romero before eating a powerful knee from the massive Cuban at UFC 205. Weidman's last fight ended up being one of the most controversial endings to a fight in 2017. Weidman went down after Mousasi appeared to have illegally crashed a knee into Weidman's head. Referee Dan Miragliotta incorrectly stopped the fight, but after minutes of confusion the fight resulted in a KO/TKO victory for Mousasi and Weidman is now on a three-fight losing streak.
Kelvin Gastelum
Record: 14-2
Height: 5'9″ (175cm)
Reach: 71.5″ (182cm)
While Weidman enters this fight on a three-fight losing streak, Gastelum will step foot in the octagon after scoring three consecutive wins. Gastelum's official record won't show three wins because his last fight with Vitor Belfort was declared a 'no contest' after Gastelum tested positive for marijuana after his bout at UFC Fight Night 106. In the fight, Gastelum did manage to knock Belfort out in devastating fashion 3:52 into the first round.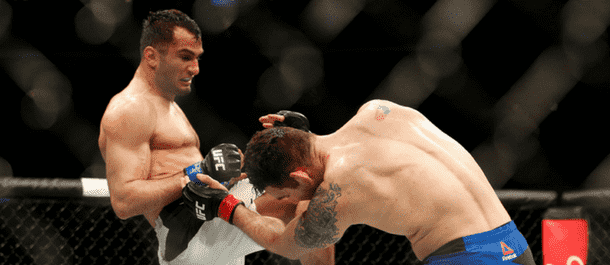 The Breakdown
Size
Let's start by discussing the size difference here and what that could mean for each of Weidman and Gastelum. Gastelum enters this one as one of the smaller middleweights on the UFC roster after having only recently moved up a weight division. The size difference was extremely noticeable at the UFC's Summer Kickoff press conference (see above photo). Gastelum's size difference will affect his ability to wrestle with Weidman, who is one of the better wrestlers in the division. The advantage, however, is that Gastelum brings up a significant speed advantage to the middleweight division and his fast hands caused all sorts of trouble for Vitor Belfort in Brazil.
Pace
Weidman fights at a blistering pace. He approached the Romero, and Mousasi fights with a frenetic style that involved walking forward and throwing leg kicks and strikes to the body and head. While some of these strikes resulted in insignificant damage, the pressure keeps an opponent from settling into a rhythm.
Kelvin Gastelum walks forward but waits for his opportunities, rather than setting them up as Weidman does. When the time arrives, Gastelum explodes with a series of combinations. It was this type of explosion that caught Belfort with his hands down. He's also not afraid to stay inside the pocket and throw down with an opponent. It's hard to move forward against Weidman, though, because of his range, size and volume of strikes.
Past the Second Round
Everyone seems to be focusing on the closing moments of Weidman's last fights; the spinning wheel kick that allowed the Rockhold takedown, the Romero knee or the controversial 'illegal' strike in the Mousasi matchup. By focusing on these moments, people are overlooking the fact that Weidman has looked gradually worse and worse by the time the second round arrives. His fast pace in the first round sees him winning the early stages of every fight, but afterwards his decision making and striking quickly deteriorates.
Prediction and Betting Strategy
I can see Chris Weidman winning the first round and maybe even the second. These rounds are his chance to stop Kelvin Gastelum. I think that Gastelum manages to hang on and goes on to score a KO/TKO victory as Weidman slows in the third and fourth round.
Best Bets
Chris Weidman vs. Kelvin Gastelum
Kelvin Gastelum by KO/TKO
Sunday 23rd July – 10:00 pm (ET) / 2:00am GMT
Odds: 3.30Bet €100 to win €33023/10Bet £100 to win £330+230Bet $100 to win $3302.30Bet HK$100 to win HK$3302.30Bet Rp100 to win Rp330-0.4348Bet RM100 to win RM330 – Paddy Power