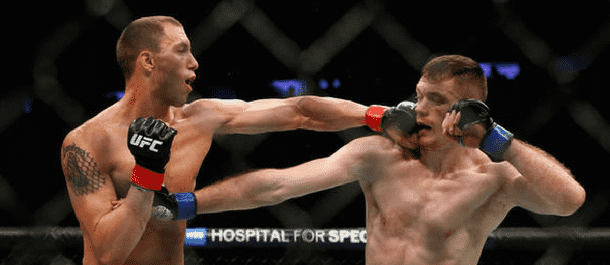 It's that time of the week again!
We're just a couple of days away from the UFC's first-ever dedicated ESPN event. UFC on ESPN 1 will feature some incredibly exciting matchups that are bound to intrigue hardcore fans and casual fight fans alike.
At the top of the bill, a heavyweight bout between Francis Ngannou and Cain Velasquez will draw most of the attention.
But the rest of this main card – and even the preliminary card – is certainly worth your attention this weekend. A lightweight battle between James Vick and Paul Felder is must-watch combat sports action and so is plenty of the other names that are ready to shine in front of the ESPN audience around the world.
As always, we're here to bring you the best odds, bets, and predictions for UFC on ESPN 1, so that you can beat your bookmaker and make some extra cash this weekend!
James Vick vs. Paul Felder
Sunday, Feb. 19 – 11:00 pm (ET) / 3:00am (GMT)
James Vick vs. Paul Felder has all the opportunity in the world to be a brilliant, exciting lightweight fight, and one of the best bouts of the evening.
On the one hand, we have the super-tall and rangy James Vick, who stands at 6-foot-3 and towers over his typical competitors in the 155-pound category. Against him is Paul Felder, who is known for his awesome work at close-range.
Vick enters this one after suffering a brutal knockout defeat against Justin Gaethje in August last year. Before that, the "Texecutioner" had managed four consecutive wins and was looking like one of the best new things in the division. Many even predicted him to defeat the super-tough Gaethje, and he entered the fight as a betting favorite. But it took just 87 seconds for Gaethje to apply immense pressure and back Vick to the cage before smashing him with a huge punch.
Vick's up against Felder, who has never been considered a top contender in the division – or even someone who has the potential to become one – rather he is more well-known as being an exciting, fan-friendly fighter. But despite his reputation, Felder was on an impressive winning streak, much like Vick, and had earned three wins against unranked competitors in the division. He met Mike Perry in a short-notice welterweight bout and eventually dropped a split decision, but most people can look past that fact since he moved up and fought the bigger man.
Here's how the bookmakers have this one.
The odds for James Vick at BetOnline are fantastic.
Vick's a tall fighter who is at his best when he can fight long and keep his opponent away. He typically uses traditional techniques such as a pumping jab to keep someone respecting the distance between the two, but he has recently started using a variety of kicks to further boost this ability, as well. Despite these tools, Vick wasn't able to keep Gaethje away because that man is seriously one of the best pressure fighters in the UFC today. Gaethje walks forward with his hands high and backs his opponent to the cage; he's not afraid to eat a shot or two.
But Felder's a different type of fighter. As aggressive as his strikes look, he isn't walking forward and backing someone up. Rather, he's standing his ground and intercepting an incoming opponent with all of his exceptional close-range techniques – such as the elbow and knee. If Felder wants to defeat Vick, he's going to have to follow a similar gameplan to that of Gaethje and begin backing him up and working him against the cage. That's not exactly Felder's strong suit, so we're taking these brilliant odds on Vick to win.
Bet on James Vick to win: 1.91Bet €100 to win €19191/100Bet £100 to win £191-110Bet $100 to win $1910.91Bet HK$100 to win HK$191-1.10Bet Rp100 to win Rp1910.9100Bet RM100 to win RM191 at BetOnline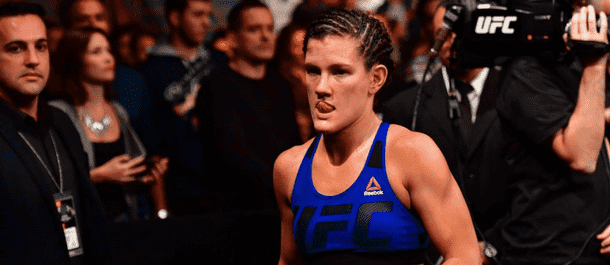 Cortney Casey vs. Cynthia Calvillo
Sunday, Feb. 19 – 10:30 pm (ET) / 2:30am (GMT)
This bout between Cortney Casey and Cynthia Calvillo is an incredibly important one in the women's strawweight division.
Casey has been in there with some of the best the category has to offer, but she has nearly always come up short. She's remained competitive throughout these bouts but has a hard time earning a decision win. In her last bout, Casey bounced back after two consecutive split decision losses to score a much-needed victory against Angela Hill.
And then there's Calvillo, who has been considered a potential threat to those at the top of the division for quite some time now. She started her UFC career in a big way, with three victories against tough competition such as Joanne Calderwood, Pearl Gonzalez, and Amanda Cooper. But then a surprising defeat to Carla Esparza threw a spanner in the works. After a lengthy suspension due to testing positive for marijuana, Calvillo returned to the cage in November last year to score her third rear-naked choke victory in the UFC.
Some of Cortney Casey's best skills and attributes play directly into the hands of Cynthia Calvillo in this matchup.
Calvillo is dangerous on the mat and arguably her best shot at victory is taking an opponent down and strangling them after securing control of their back. Her worst potential matchups are those who can keep the fight standing and win the fight on the feet.
We haven't seen enough of Casey to indicate that she can earn a decision victory while the fight remains standing against Calvillo. Some of Casey's best work comes when she secures takedowns – like the time she scored four of them against Jessica Aguilar.
Throw in the fact that Casey gives up takedowns relatively easily – defending just 24% of all attempted takedowns in her UFC career so far – and it's clear that Calvillo has a clear pathway to victory in this fight.
Bet on Cynthia Calvillo to win: 1.33Bet €100 to win €13333/100Bet £100 to win £133-303Bet $100 to win $1330.33Bet HK$100 to win HK$133-3.03Bet Rp100 to win Rp1330.3300Bet RM100 to win RM133 at Mybookie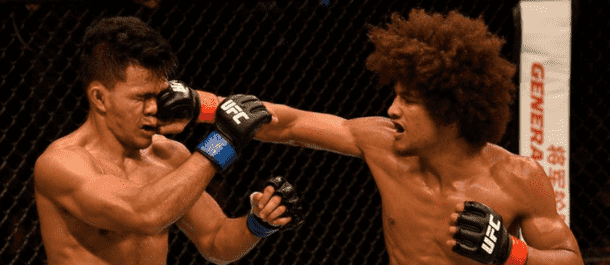 Alex Caceres vs. Kron Gracie
Sunday, Feb. 19 – 10:00 pm (ET) / 2:00am (GMT)
In the 5,000th fight in UFC history, Kron Gracie will debut in the UFC, keeping the Gracie legacy alive in the modern era.
The undefeated Gracie family member has worked his way to a 4-0 record fighting outside of the UFC, with his three most recent wins coming over in Japan at RIZIN. Gracie, as you could expect if you're familiar with the name, is an exceptional jiu-jitsu practitioner who is incredibly dangerous on the mat. He makes for an awesome addition to the featherweight category in the UFC.
Gracie will be facing Alex Caceres in his promotional debut. Caceres has been competing with the UFC since 2010 but has never really been considered a top contender. He's now won two of his last five fights and steps in after earning a split decision win against Martin Bravo in Singapore mid-last year.
This fight is a considerably easy one to break down.
Gracie's intentions will be clear. Although he trains with the Diaz brothers and has obviously developed his boxing over the years, he's not going to want to stand across the cage from Cacares for too long. Cacares is a creative, dynamic striker who blends kicks and punches into seamless combinations. He doesn't pack knockout power, but can more than likely win an easy decision if Gracie can't get this one to the mat.
But Caceres doesn't have the type of takedown defense that can help him remain standing for long periods, and that's going to allow Gracie to shoot in and secure his takedowns.
There aren't many in the featherweight division who could survive even a couple of minutes with Gracie on their back, so it's difficult to see how Cacares will last. Expect this Gracie to score a submission win on Sunday.
Bet on Kron Gracie to win: 1.32Bet €100 to win €1328/25Bet £100 to win £132-313Bet $100 to win $1320.32Bet HK$100 to win HK$132-3.13Bet Rp100 to win Rp1320.3200Bet RM100 to win RM132 at BetOnline
Bryan Barberena vs. Vicente Luque
Sunday, Feb. 19 – 10:00 pm (ET) / 2:00am (GMT)
One of the most prominent finishers in the UFC's welterweight division will face off with one of the most durable.
Vicente Luque has scored seven stoppages in seven fights with the UFC so far. He's worked his way to a 7-2 record, with defeats to Mike Graves and Leon Edwards. Arguably most impressive, however, is how Luque is a threat no matter where the fight takes place. He has four KO/TKO victories to his name in the UFC and three wins by choke submission, as well. A win against Bryan Barberena will surely throw him into the mix in the UFC's top-15 welterweight fighters.
But Bryan Barberena is never an easy task. He might not be the most skilled, athletic, or naturally gifted fighter in the division, but he's insanely durable and always comes to fight. Barberena's only been stopped once in his career, and that was via submission. He's yet to be stopped in eight fights with the UFC.
So, we've got a fast-finisher up against a man who hasn't been finished in the UFC. This is going to be very, very interesting.
Luque hits hard and is particularly dangerous as a welterweight, but Barberena could be a very fair matchup for him at this stage – not as the odds suggest. If Barberena can survive the early storm, he's a definite chance of taking over in the fight and winning a close decision. At these odds, he's the value selection and where the money should lie.
Of course, Luque has the greater chance of victory and is a deserving favorite, but the odds seem a little too wide here.
Bet on Bryan Barberena to win: 3.85Bet €100 to win €38557/20Bet £100 to win £385+285Bet $100 to win $3852.85Bet HK$100 to win HK$3852.85Bet Rp100 to win Rp385-0.3509Bet RM100 to win RM385 at Bovada
Best Bets for UFC on ESPN 1
That's it for our previews! Here are our best bets for UFC on ESPN 1:
James Vick
Paul Felder
UFC on ESPN 1