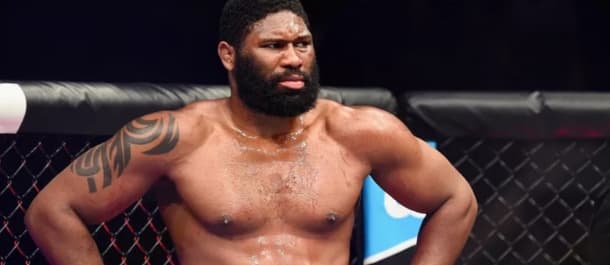 UFC Fight Night 148 is just around the corner, and with it is a decent fight card filled with prospects and fascinating battles.
At the top of UFC Nashville, Stephen Thompson and Anthony Pettis will go to war in an unexpected welterweight battle. Thompson is desperately seeking a victory to stay amongst the pack of top contenders at welterweight, and Pettis looks to make a statement in his debut in the division.
We've already previewed the main event bout, and you can read our Thompson vs. Pettis prediction here before proceeding to read our betting tips for the rest of the UFC Fight Night 148 main card.
We'll preview Curtis Blaydes vs. Justin Willis, Jussier Formiga vs. Deiveson Figueiredo as well as the return of Maycee Barber, who will face JJ Aldrich to get the main card started.
Let's get started.
Curtis Blaydes vs. Justin Willis
Saturday, March 23 – 11:00 pm (ET) / 3:00am (GMT)
It wasn't long ago when Curtis Blaydes was considered a top prospect and eventual title contender at heavyweight. He had won five UFC bouts in a row and managed to destroy Alistair Overeem in the middle of last year to earn a rematch with a man who once bested him in his UFC debut. Blaydes stepped back into the cage with Francis Ngannou and was destroyed by the terrifying puncher in just 45 seconds.
Blaydes now takes a step back and looks to regain some momentum if he hopes to earn a shot at the heavyweight title.
And while this may be a step down in the rankings for Blaydes, there's no denying that Justin Willis is as big as a threat as any to Blaydes inside the cage. Willis is undefeated in the UFC after four fights and most recently defeated Mark Hunt in December last year.
When Curtis Blaydes steps into the Octagon, there's no secret what his path to victory is. He's looking for power double-leg takedowns and wants to take his opponent to the mat and keep them there. When he's on top, he's brutal, as proved against Overeem when he sliced him open with elbows from full mount.
The problem for Blaydes in this one, however, is that his stand-up isn't polished at all. Willis has the advantage while this one remains standing, and while he doesn't pack the power that Ngannou does, there's a chance that he can stun Blaydes on multiple occasions throughout this bout.
The overwhelming concern for Willis' bettors is that he may fatigue in the latter stages of the fight and Blaydes may just run through him in the second or third round.
Still, these odds deserve to be tighter, and we're taking the high-value selection that is Justin Willis.
Bet on Justin Willis to win: 3.40Bet €100 to win €34012/5Bet £100 to win £340+240Bet $100 to win $3402.40Bet HK$100 to win HK$3402.40Bet Rp100 to win Rp340-0.4167Bet RM100 to win RM340 at Mybookie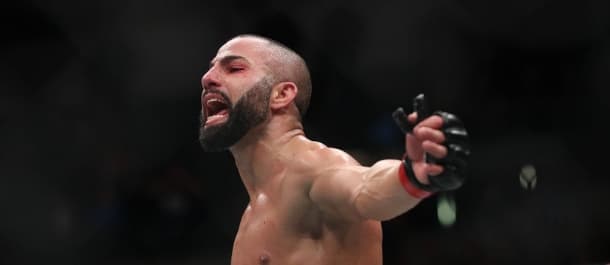 John Makdessi vs. Jesus Pinedo
Saturday, March 23 – 10:30 pm (ET) / 2:30am (GMT)
Unfortunately for John Makdessi, his major opportunity against Nasrat Haqparast failed to eventuate after an injury forced Haqparast to withdraw. But in steps Jesus Pinedo, who made his UFC debut against Devin Powell in November last year.
Makdessi is a tough ask for Pinedo right now and will be entering this fight after two consecutive wins. Victories against Ross Pearson and Abel Trujillo helped him recover from being on the wrong end of a Lando Vannata wheel kick in December 2016.
Pinedo won his debut against Powell but didn't look impressive. He's now undefeated in his last seven fights and is surely facing the toughest test of his 21-fight career this weekend.
Makdessi is a brilliant boxer who will likely win this fight while standing. Sure, Pinedo has decent kickboxing ability and can hold his own against many low-rated UFC opponents, but Makdessi is a level above.
Pinedo doesn't offer much here, and while the odds for Makdessi are fairly wide, we suggest throwing him into a parlay/accumulator bet this weekend.
Bet on John Makdessi: 1.31Bet €100 to win €13131/100Bet £100 to win £131-323Bet $100 to win $1310.31Bet HK$100 to win HK$131-3.23Bet Rp100 to win Rp1310.3100Bet RM100 to win RM131 at Bovada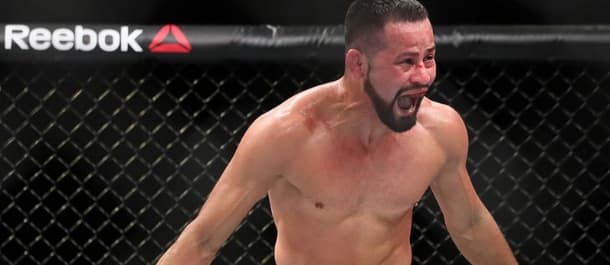 Jussier Formiga vs. Deiveson Figueiredo
Saturday, March 23 – 10:00 pm (ET) / 2:00am (GMT)
Two fast-rising flyweight stars will clash this weekend in Nashville when Jussier Formiga stands toe-to-toe with Deiveson Figueiredo. While the flyweight division appears to be closing soon, that'd be nothing but a shame for Figueiredo and Formiga, who have both put together impressive winning streaks.
Figueiredo joined the UFC in 2017 and has proceeded to win all four of his bouts. He's stepping in after a second-round TKO win against John Moraga.
After losing to Ray Borg in early 2017, Formiga has bounced back with three wins and most recently shot up the rankings after defeating Sergio Pettis at UFC 229.
This has all the makings to be the best fight of the night from any mixed martial arts promotion this weekend.
Formiga is an incredible grappler and underrated striker. He's a well-rounded mixed martial artist and is dangerous wherever the fight takes place.
Figueiredo packs surprising power in his punches for a flyweight fighter, crushing both Moraga and Joesph Morales last year with his hands. He's strong and athletic, and there's a reasonable chance that the athleticism difference alone could be the deciding factor in this fight.
However, Formiga is the more technically sound fighter and has the ability to pick apart a careless opponent. If Figueiredo believes he can just storm forward against Formiga, he's in for a rude awakening.
Formiga's at + odds and makes for an excellent selection ahead of UFC Fight Night 148.
Bet on Jussier Formiga: 2.20Bet €100 to win €2206/5Bet £100 to win £220+120Bet $100 to win $2201.20Bet HK$100 to win HK$2201.20Bet Rp100 to win Rp220-0.8333Bet RM100 to win RM220 at BetOnline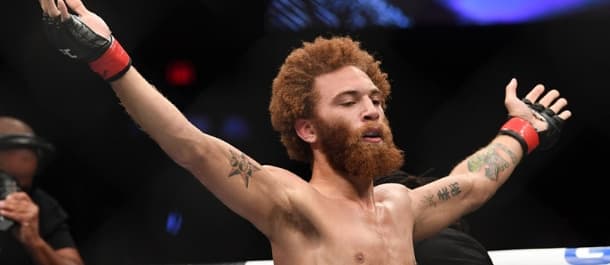 Luis Pena vs. Steven Peterson
Saturday, March 23 – 9:30 pm (ET) / 1:30am (GMT)
At UFC Nashville, Luis Pena will be making the drop down to featherweight and Steven Peterson believes Pena is making a big mistake.
Pena came through The Ultimate Fighter 27 and quickly became popular with fans because of his style and moniker. Known as "Violent Bob Ross," Pena is incredibly tall (and thin) for the featherweight division, walking around at 6'3″ (191cm). He'll come back to the cage after losing a split decision to Mike Trizano last year.
Steven Peterson is now 1-1 in the UFC after a recent split decision win against Matt Bessette. That win helped him move forward after a unanimous decision loss to Brandon Davis earlier in 2018. Most fans are probably familiar with Peterson for his involvement in a brilliant fight with Benito Lopez back in Dana White's Tuesday Night Contender Series in 2017.
Peterson's 24 fights (17-7) means that he has a massive experience advantage over Pena (5-1), so it's all about putting that together and finding a way to implement his gameplan this weekend.
Pena will most certainly be drained in his first featherweight fight, and his frame isn't really suitable for a lot of familiar mixed martial arts positions. Grappling and wrestling with a smaller, stockier fighter can be especially fatiguing for a taller and thinner opponent, and Pena will need to manage his endurance through these three rounds.
Peterson has a couple of paths to victory and could probably end up surprising fans with a knockout finish or a crafty submission on the ground.
These odds are wider than we anticipated, and we'll be betting on Steven Peterson.
Bet on Steven Peterson to win: 3.10Bet €100 to win €31021/10Bet £100 to win £310+210Bet $100 to win $3102.10Bet HK$100 to win HK$3102.10Bet Rp100 to win Rp310-0.4762Bet RM100 to win RM310 at Bovada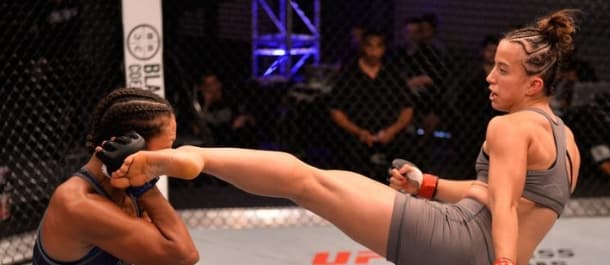 Maycee Barber vs. JJ Aldrich
Saturday, March 23 – 9:00 pm (ET) / 1:00am (GMT)
Maycee Barber is confident that she's the next big thing in mixed martial arts. Barber introduced herself to fans of the UFC in a brilliant way last November by crushing Hannah Cifers with devastating ground and pound in the second round. That'd be Barber's third consecutive win via ground and pound and her sixth straight victory, helping her maintain an undefeated career so far.w
Barber will be competing against JJ Aldrich, who is on a three-fight winning streak of her own and is now 3-1 in the UFC. Her recent victory was arguably her greatest when she defeated Polyana Viana via unanimous decision at UFC 227.
Maycee Barber has a lot of strengths in unique areas that make it hard for an opponent like JJ Aldrich to capitalize on. For instance, Barber's ground and pound means that Aldrich needs to be careful of takedowns. She'll be wanting to keep this one standing to avoid going to the mat with Barber, but even there she isn't safe at all.
Barber is remarkably aggressive and storms forward with all kinds of strikes. She can hunt the head with roundhouse kicks and close the distance at times.
When Barber manages to close the distance in this fight, it'll be difficult for Aldrich to defend takedowns from the clinch.
It's too early to say that Barber is on the same pathway as someone like Tatiana Suarez, but she's closing in and making a name for herself in the process. Expect a win inside the distance here for Barber.
Bet on Maycee Barber to win: 1.43Bet €100 to win €14343/100Bet £100 to win £143-233Bet $100 to win $1430.43Bet HK$100 to win HK$143-2.33Bet Rp100 to win Rp1430.4300Bet RM100 to win RM143 at BetOnline
Best Bets for UFC Fight Night 148 in Nashville
Curtis Blaydes
Maycee Barber
UFC Fight Night 148