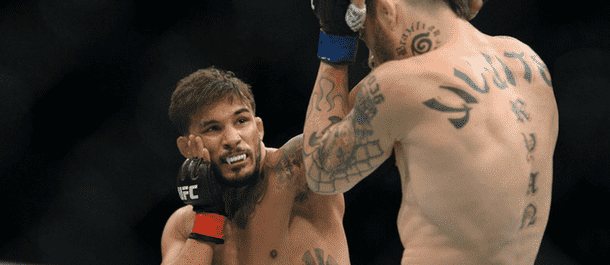 Dennis Bermudez vs. Andre Fili

Dennis Bermudez and Andre Fili will clash in a featherweight battle at UFC on FOX 27.
Bermudez looks to get back on track after losing two consecutive fights to Chan Sung Jung and Darren Elkins. After stringing together two wins in a return to form in 2016, Bermudez has struggled to get going again and looks to score his first victory since UFC Fight Night 62 against Fili.
On the other hand, Fili steps in after winning his last fight – a bout with Artem Lobov at UFC Fight Night 118. Interestingly, Fili has never recorded consecutive victories since 2013 and will hope to do so against Bermudez this weekend. His most recent defeat was to Calvin Kattar, who has since gone on to score a win over Shane Burgos just last weekend at UFC 220.
Breakdown
This is a battle between a relatively compact striker in Bermudez against a 'flowy' and active striker in Fili.
Bermudez, who likes to control the center of the octagon, will likely push Fili back to the cage but Fili is often comfortable with his lateral movement. Against Darren Elkins, Bermudez was at his best when his opponent slowed down and stood still, but had difficulty tracking Elkins when he kept moving. This might be key in the matchup with Fili.
Against Artem Lobov, Fili relied on takedowns and top pressure to defeat his opponent. On the feet, he had trouble tagging Lobov and Lobov actually pounded away at the body of Fili with heavy kicks. If it wasn't for the takedowns to seal the fight, Fili might have had trouble winning that one on the scorecards.
Prediction and Betting Guide
Bermudez should get the better of Andre Fili in this fight across all aspects, as long as he gets going early and doesn't take five-ten minutes to 'warm up'. If he starts fast, he should win one of the first two rounds before finishing strong, as well.
Prediction: Dennis Bermudez via unanimous decision
You can find the best odds for Dennis Bermudez to win at BetOnline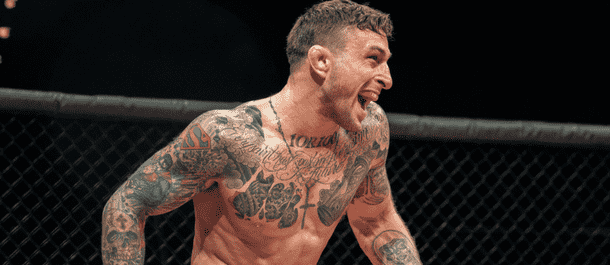 Jordan Rinaldi vs. Gregor Gillespie
Jordan Rinaldi will step into the octagon with one of the best prospects in the UFC's lightweight division, Gregor Gillespie, at UFC on FOX 27.
Gillespie, who is undefeated after ten fights, has made a significant impact since his arrival to the UFC with three consecutive victories. After defeating Glaico Franca via unanimous decision, he went on to defeat Andrew Holbrook and Jason Gonzalez via KO/TKO and submission respectively.
Jordan Rinaldi debuted in the UFC on short notice against Abel Trujillo and lost a unanimous decision in May 2016. Since then, he had close to 15 months to prepare for his next bout against Alvaro Herrera and picked up a first-round submission, Now, he steps back in after another long wait to challenge the rising Gillespie.
Breakdown
Gregor Gillespie, who is a talented wrestler that has transitioned into mixed martial arts will likely rely on his wrestling prowess to overwhelm the tough Jordan Rinaldi. Most recently, Gillespie scored an impressive submission win over Jason Gonzalez but just after trading back-and-forth with Gonzalez for the first round. He timed perfect double-leg takedowns in between striking exchanges and ended up finding an arm-triangle choke to win the fight.
Rinaldi is a tough lightweight who is currently flying under the radar in the UFC, especially in this matchup with Gregor Gillespie – who has attracted plenty of hype. In his last bout, he was rocked by a punch and dropped to the turtle position before his opponent, Herrera, attempted a choke submission. Rinaldi survived the threat of the choke before transitioning to side control all the while as Herrera maintained head control – as such, Rinaldi finished the fight with Von Flue choke.
Prediction and Betting Guide
Gregor Gillespie's crazy desire to finish fights early will either see him make easy work of Rinaldi, or he might get clipped himself. Most likely, Gillespie will eat a shot or two to land one big punch of his own and finish the fight on the mat.
Prediction: Gregor Gillespie by KO/TKO (punches) – round one
You can find the best odds for Total Rounds – Under 2.5 at BetOnline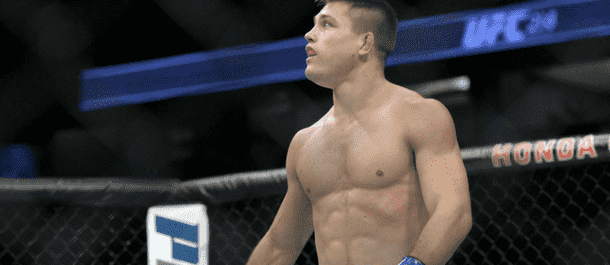 Drew Dober vs. Frank Camacho

Drew Dober and Frank Camacho will battle in what is likely to be an entertaining scrap between two tough welterweights at UFC on FOX 27.
Dober is finally hitting some good form in the UFC. Dober has now recorded three wins in his last four bouts, with just the one defeat to Olivier Aubin-Mercier at UFC 206 in December 2016. In 2017, he competed just once and finished Josh Burkman by KO/TKO in the first round at UFC 214.
Frank "The Crank" Camacho arrived in the UFC mid-2017 to step in and face Li Jingliang in Singapore on short notice, replacing Alex Caceres. He stepped in and really took it to the Chinese star over three rounds before being awarded a 'Fight of the Night' bonus in conclusion. Afterward, he matched with Damien Brown in Australia and again participated in another 'Fight of the Night' – making it two in a row since joining the organization.
Breakdown
After a relatively slow three minutes, Drew Dober crashed a heavy left hand into the head of Josh Burkman to end the fight at UFC 214. While the finish was remarkable, as Burkman stiffened up and fell backward due to the power of the shot, it wasn't the most impressive of setups and it's hard to see this working against Camacho. Dober walked forward and feinted with his right hand before unloading the left and Burkman seemed completely confused by the situation. Dober set this up primarily through his use of grappling against the cage and forward pressure.
Camacho is quite a slick striker and probably hasn't got props for his work in the UFC so far. Yes, he puts his chin on the line and engages in a back-and-forth battle with his opponent more often than not, but he shows great intelligence on when to engage and when to back away. He controlled the clinches against the cage and that indicates that he should be able to survive against Dober's close-range combat. It's offensively where Camacho does his best work – he's almost like a glass cannon, really, but with a better tendency to take shots.
Prediction and Betting Guide
Frank Camacho is being heavily underrated upon entering this fight with Drew Dober. His ability to take a punch combined with his all-out offense could see him cause significant trouble for Dober.
Prediction: Frank Camacho by unanimous decision
You can find the best odds for Frank Camacho to win at BetOnline
Best Bets
Dennis Bermudez vs. Andre Fili
Dennis Bermudez to win
Saturday, January 27 – 9:00 pm (ET) / 2:00am (GMT)
Odds: 1.65Bet €100 to win €16513/20Bet £100 to win £165-154Bet $100 to win $1650.65Bet HK$100 to win HK$165-1.54Bet Rp100 to win Rp1650.6500Bet RM100 to win RM165 – BetOnline
Jordan Rinaldi vs. Gregor Gillespie
Total Rounds – Under 2.5
Saturday, January 27 – 8:30 pm (ET) / 1:30am (GMT)
Odds: 2.30Bet €100 to win €23013/10Bet £100 to win £230+130Bet $100 to win $2301.30Bet HK$100 to win HK$2301.30Bet Rp100 to win Rp230-0.7692Bet RM100 to win RM230 – BetOnline
Drew Dober vs. Frank Camacho
Frank Camacho to win
Saturday, January 27 – 8:00 pm (ET) / 1:00am (GMT)
Odds: 2.50Bet €100 to win €2503/2Bet £100 to win £250+150Bet $100 to win $2501.50Bet HK$100 to win HK$2501.50Bet Rp100 to win Rp250-0.6667Bet RM100 to win RM250 – BetOnline
Andre Fili
Dennis Bermudez
UFC on FOX 27