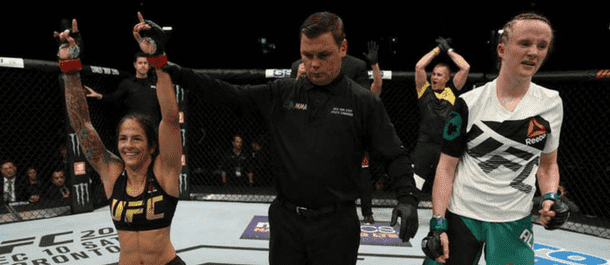 JJ Aldrich vs. Chan Mi Jeon
The 19-year-old Chan Mi Jeon, fighting out of South Korea, will be replacing Nadia Kassem in the headline bout against JJ Aldrich in the UFC Fight Pass Prelims at UFC Fight Night 110.
JJ Aldrich
Record: 4-2-0
Height: 5'5″ (165cm)
Reach: 67.5″ (171cm)
Gym: Freedom Fighters
JJ Aldrich featured on "The Ultimate Fighter: Season 23" but made no progress, losing to the eventual winner Tatiana Suarez. Regardless, Aldrich was gifted an opportunity in the UFC after her work in Invicta and debuted against Juliana Lima at UFC Fight Night 102 on short notice. Lima started the fight with some big takedowns that eventually slowed Aldrich down to walking pace and limited her striking. Aldrich went on to lose the bout via unanimous decision.
Chan Mi Jeon
Record: 5-0-0
Height: 5'6″ (168cm)
Reach: Unknown
Gym: Kukje Gym/Ryeong Promotions
It's rare you see someone of just 19-years-old debuting in the UFC, but it's very exciting. Fortunately, some tape of Chan Mi Jeon was released on YouTube this week. Chan Mi Jeon has stopped three of her five opponents in less than 48 seconds and finished Megumi Yabushita three minutes into the first round. Experience isn't a concern here, considering that her last opponent, Yabushita, had a 19-22 record, and twice as many fights as the age of Chan Mi Jeon.
The Breakdown
Don't be fooled by Chan Mi Jeon being just 19-years-old, she is taller than JJ Aldrich and would outsize most of the division.
What we learned by watching the footage mentioned above, is that she is vulnerable to strikes, especially those that fly down the middle. She has an impressive takedown game but often gets caught in sticky situations and narrowly escaped some submissions.
Aldrich is an experienced and tough competitor with slick lateral movement and a good variety of striking combinations. She makes a perfect entry point for Chan Mi Jeon and a fair gauge of whether she can compete with this level of competition.
I'm thinking that Aldrich will just be a little too good for the South Korean in her debut, but most notably, there's a strong chance at this fight not making the distance.
Betting Strategy
It's difficult to back 'win' markets against a fighter we don't know enough about. I'll be recommending playing the fight not to make the distance with Total Rounds: Under 2.5.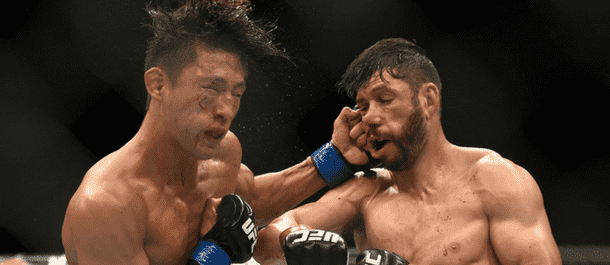 Thibault Gouti vs. Dong Hyun Kim
Thibault Gouti gets one last shot in the UFC against the South Korean "Maestro", Dong Hyun Kim at UFC Fight Night 110 in New Zealand.
Thibault Gouti
Record: 11-3
Height: 5'7″ (170cm)
Reach: 72.5″ (184cm)
Gym: Sausset FightTeam
Thibault Gouti is one of those guys in which when you see their name you wonder how they are still signed with the UFC. Gouti has been absolutely dominated in all of his three contests in the promotion, losing to the likes of Teemu Packalen, Olivier Aubin-Mercier and Chad Laprise all by way of stoppage. Serving out the last fight on his contract, the UFC have decided to send French Thibault Gouti all the way down to New Zealand to take on fan-favourite Dong Hyun Kim.
Dong Hyun Kim
Record: 14-8-3
Height: 5'11" (180cm)
Reach: 70.5″ (179cm)
Gym: Busan Team MAD
Dong Hyun Kim marched into many fan-favourite lists after his 'Fight of the Night' with Polo Reyes back at UFC 199. The fight was a true spectacle, with each fighter going at each other for three rounds before Polo Reyes found a way to stop "The Maestro". Kim bounced back with a victory against Brendan O'Reilly at The Ultimate Fight 24 Finale in December and now looks to make it two consecutive victories.
The Breakdown
It's hard to see this fight panning out any other way than Thibault Gouti being laid out flat by Dong Hyun Kim. Kim has an impressive number of KO/TKO victories on his record and there's no doubting he'll find a home for his hands against the vulnerable Thibault Gouti in New Zealand.
Betting Strategy
We'll be betting on Dong Hyun Kim to finish Thibault Gouti. At the moment, however, we are waiting for the markets to establish before analysing the odds.
Best Bets
JJ Aldrich vs. Chan Mi Jeon
Total Rounds – Under 2.5
Saturday 11th June, 11:00 GMT
Odds: 2.63Bet €100 to win €263163/100Bet £100 to win £263+163Bet $100 to win $2631.63Bet HK$100 to win HK$2631.63Bet Rp100 to win Rp263-0.6135Bet RM100 to win RM263 – BetVictor
Thibault Gouti vs. Dong Hyun Kim
Dong Hyun Kim to Win
Saturday 11th June, 10:30 GMT
Odds: 1.81Bet €100 to win €18181/100Bet £100 to win £181-123Bet $100 to win $1810.81Bet HK$100 to win HK$181-1.23Bet Rp100 to win Rp1810.8100Bet RM100 to win RM181 – Unibet
MMA
UFC
UFC Fight Night 110