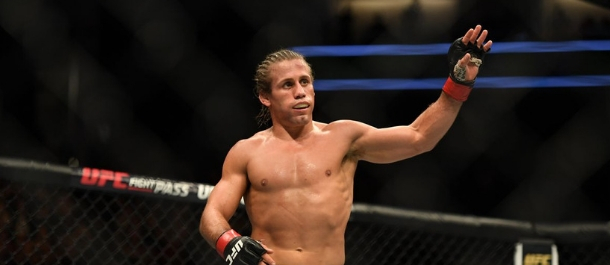 The UFC heads to Sacramento, California, this weekend for UFC Fight Night 155. The main event of Saturday's fight card is a women's bantamweight matchup between Germaine de Randamie and Aspen Ladd. Read our Germaine de Randamie vs. Aspen Ladd breakdown here.
If you're getting ready for Bellator 224, this weekend as well, you should also check out our Julia Budd vs. Olga Rubin breakdown to find the best odds and bets for the Bellator main event.
For now, though, we're going to stick with breaking down the rest of the UFC Fight Night 155 main card. We're here to bring you the best odds out there in the betting industry today, as well as our betting recommendations for every fight on this main card.
Let's get started.
Urijah Faber vs. Ricky Simon
Saturday, July 13 – 11:00 pm (ET) / 3:00am (GMT)
If there's one thing we know about retirement in mixed martial arts, it's that they often don't last long.
Urijah Faber retired from the sport in October 2016 after defeating Brad Pickett. At the time, his retirement made a lot of sense. He was coming off defeats to Dominick Cruz and Jimmie Rivera and seemingly had no business in there mixing it up with the top contenders in the bantamweight division.
But just a few months ago it became known that Faber was ending his retirement and making a return to the octagon. Many thought that a "big" fight with a rival could lure him out of retirement, but instead, we see him matched against a dangerous prospect in Ricky Simon.
Simon is now 3-0 in the UFC since joining in April last year. He picked up a final-second submission win over Merab Dvalishvili in his debut before then backing it up with wins over Montel Jackson and Rani Yahya. Simon is shaping up to be a serious contender in the division in the years to come, which makes it all the stranger that the UFC has decided to book him against a returning Urijah Faber here in Sacramento.
Like any time a fighter returns from a long layoff, the first question that needs to be asked is how will Urijah Faber look in his return to the octagon? Evidence suggests that Faber has remained active in his time away from competition and has been training hard at Team Alpha Male still, which will surely help him remain in shape ahead of this three-round bout.
However, now having been out of serious competition for almost three years, Faber will likely be against the wall in the opening stages of the bout as Simon comes out and looks to set the pace. Faber's timing and reactions may be off. Also, factor in that there should be some small speed deterioration from the aging fighter and it's clear that Simon is going to have a physical advantage in this fight.
In three fights with the UFC, Simon has impressed by defeating considerably different opponents. He's been mixing it up with grappling-focused fighters as well as strikers and came out on top every time.
Faber does have the craftiness required to squeeze out a veteran-like win against the younger opponent, but it's difficult to side against Simon here in this favorable matchup with Faber.
Bet on Ricky Simon to win: 1.31Bet €100 to win €13131/100Bet £100 to win £131-323Bet $100 to win $1310.31Bet HK$100 to win HK$131-3.23Bet Rp100 to win Rp1310.3100Bet RM100 to win RM131 at BetOnline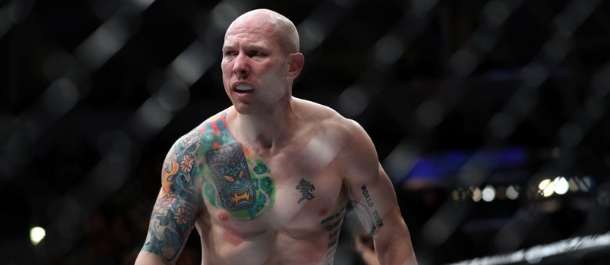 Josh Emmett vs. Mirsad Bektic
Saturday, July 13 – 10:30 pm (ET) / 2:30am (GMT)
Josh Emmett returned to action in March this year and got back to winning ways with a brilliant third-round win against Michael Johnson. For Emmett, it was a much-needed victory after he had previously been stopped by Jeremy Stephens in a vicious way in February last year. With his win over Johnson, he's now cemented his case as a contender to be respected in the division. A win here against Mirsad Bektic will help him emerge as a serious threat to the guys at the top of the division.
It wasn't all that long ago when Mirsad Bektic was viewed as one of the hottest prospects in the featherweight division. After a four-fight undefeated streak in the UFC, Bektic was looking to extend his winning streak to five against Darren Elkins. He won the first two rounds but ended up being run over by Elkins in the third in one of the greatest comebacks of the year (and maybe even all-time). Bektic since regained his momentum in 2018 with back-to-back wins over Godofredo Pepey and Ricardo Lamas.
This is one of the best fights happening this weekend, regardless of the promotion. Josh Emmett is a heavy-handed fighter with true knockout power in his punches. He's athletic, fast, and can sting his oppoennt with heavy punches at boxing range.
That's exactly the range that Mirsad Bektic will want to avoid at UFC Sacramento. Bektic is a talented fighter who has insane ability on the ground, but his stand-up leaves cause for concern, especially against a powerful puncher such as Emmett.
Bektic could easily score takedowns and look to control and damage Emmett for long periods, but it's more likely that we'll see Emmett land some seriously big shots on the feet.
At these odds, Emmett is one of the best bets of the weekend.
Bet on Josh Emmett to win: 2.35Bet €100 to win €23527/20Bet £100 to win £235+135Bet $100 to win $2351.35Bet HK$100 to win HK$2351.35Bet Rp100 to win Rp235-0.7407Bet RM100 to win RM235 at Bovada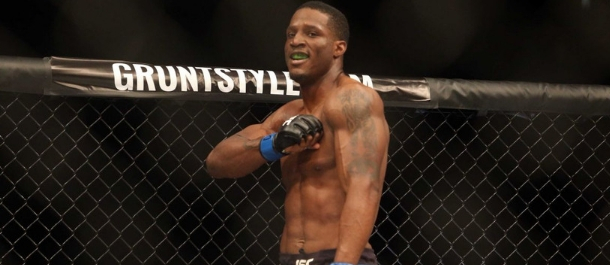 Karl Roberson vs. Wellington Turman
Saturday, July 13 – 10:00 pm (ET) / 2:00am (GMT)
Wellington Turman is set to make his UFC debut this weekend in Sacramento. The 22-year-old Brazilian prospect was recently signed after competing at Future FC 4 in April and will step into the octagon on a four-fight winning streak.
At UFC Fight Night 155, he'll be facing Karl Roberson, a fighter who has won two of his four fights with the promotion so far. Roberson was picked up from Dana White's Contender Series in 2017 after he had impressed when competing for Cage Fury FC. Roberson is coming off a first-round submission defeat against Glover Teixeira.
Wellington Turman's up against the odds here in his short-notice debut. Turman has excellent submission skills and that's likely the clearest pathway to victory in this fight against Karl Roberson, considering that Roberson has been defeated by submission twice before.
Turman excels at using clinch positions and scrambles to find and lock up submission attempts. He's also showcased a decent Thai clinch in previous fights, which could be a surprise factor in this fight on the weekend. He's a monster whne in top position, as well, and can rain down heavy ground and pound from full mount.
Roberson's a former kickboxer with high-level striking by MMA standards. If the fight remains standing, it's likely he'll be able to continually land heavy shots against Turman considering the Brazilian's fairly poor defensive ability. Roberson does need to be careful of the takedown, though, as giving up position to Turman could spell the end of the fight.
We'll be taking Roberson to win, as he should be able to keep it standing long enough to do the required damage to his opponent.
Bet on Karl Roberson to win: 1.49Bet €100 to win €14949/100Bet £100 to win £149-204Bet $100 to win $1490.49Bet HK$100 to win HK$149-2.04Bet Rp100 to win Rp1490.4900Bet RM100 to win RM149 at BetOnline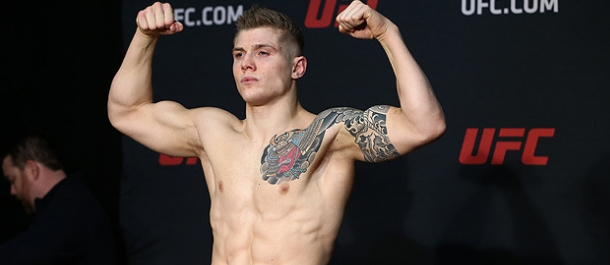 Marvin Vettori vs. Cezar Ferreira
Saturday, July 13 – 9:30 pm (ET) / 1:30am (GMT)
Opening up the main card of UFC Fight Night 155 is a middleweight matchup between Marvin Vettori and Cezar Ferreira.
Due to complications with the United States Anti-Doping Agency, Vettori hasn't competed since April last year. On that night, he lost a tight split decision to current interim middleweight champion Israel Adesanya. That result moved Vettori to 2-2-1 in his five fights with the UFC so far.
Vettori will be facing a veteran of the promotion this weekend in Sacramento. Ferreira has been with the UFC since 2012 and has been quietly successful through the years. Over time, he's picked up big wins against current contenders such as Thiago Santos, Anthony Smith, and Jack Hermansson, but has also dropped fights against the recently cut Elias Theodorou and Sam Alvey.
Vettori's a fairly underrated fighter in this division. He is quite well-rounded and is effective while striking or grappling. In this fight with Ferreira, he does need to be worried about being pinned under his opponent for minutes at a time.
But overall, Vettori does seem to have all the advantages. It's likely he'll be able to hold his own when the two are scrambling during takedown attempts and he may be able to avoid the dangers of Ferreira's grappling. If it remains standing, Vettori should run away with this fight.
Bet on Mavin Vettori to win: 1.71Bet €100 to win €17171/100Bet £100 to win £171-141Bet $100 to win $1710.71Bet HK$100 to win HK$171-1.41Bet Rp100 to win Rp1710.7100Bet RM100 to win RM171 at BetOnline
Best Bets for UFC Fight Night 155
Review all the best bets ahead of UFC Fight Night 155 here.
Josh Emmett
Mirsad Bektic
UFC Fight Night 155
Urijah Faber