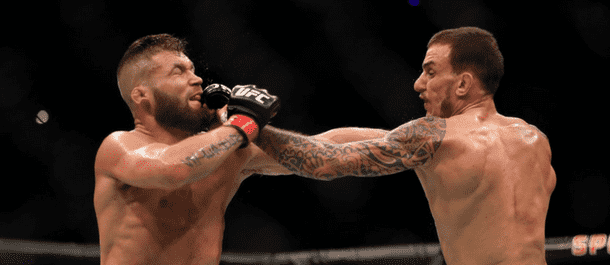 After a short one-week break, the UFC returns this weekend with a regular "Fight Night" card set to take place in Greenville, South Carolina. The event, titled UFC Fight Night 154, will happen on the night of Saturday, June 22, in the United States.
The main event of the evening is a featherweight battle between the talented Renato Moicano and fan-favorite Chan Sung Jung (better known as "The Korean Zombie"). The rest of the fight card features a heap of skilled contenders and rising stars including the likes of John Lineker, Rob Font, Andrea Lee, Montana De La Rosa, and more.
As always, we here at SBO are committed to analyzing the upcoming fight cards and finding the best odds and bets for the weekend. The sites with the best odds for the main event are Bovada and MyBookie, so make sure to add those two to your list of betting sites.
If Renato Moicano was in any other division in the UFC, he might have already been competing for a title. The 30-year-old Brazilian possesses crisp boxing ability and has beaten tough contenders in the featherweight division in recent years. A win over Jeremy Stephens saw him go toe-to-toe with Brian Ortega, a bout that he was winning up until making a costly mistake in the final round. Then wins over Calvin Kattar and Cub Swanson saw him earn a bout with a legend of the sport, Jose Aldo. Again, Moicano was winning the vast majority of that fight until being overwhelmed by Aldo in the second round. He now looks to bounce back and restart his climb to title contention.
Against Moicano this weekend is a man all too familiar with being ahead on the scorecards before dropping the fight in the final moments. There may be no greater example of giving a fight away in the final seconds than the way that Chan Sung Jung was folded up by a Yair Rodriguez elbow in round five of their war back in November last year. Up on the scorecards and just seconds away from a finish, The Korean Zombie engaged with Rodriguez and caught a spinning back elbow that is remembered as one of the greatest MMA knockouts of all time. He returns this weekend for the first time since that event.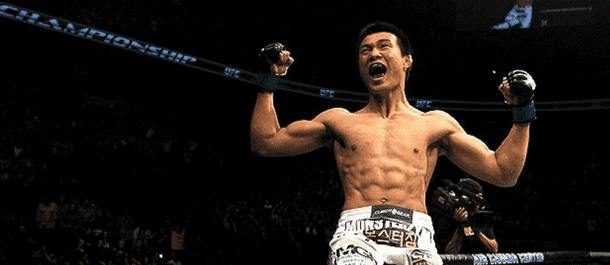 Fight Breakdown
Chan Sung Jung is known for his involvement in wars and if he plans on defeating Renato Moicano this weekend he'll need to go full "Korean Zombie" mode to do so.
Moicano is the superior striker and has a variety of techniques that will likely keep Jung away. Firstly, his kicks are devastating and he times them so well that they act as a solid counter and removal of balance as a fighter moves forward to attack him. We mentioned his boxing earlier, as well, and that's likely to play a key role in this fight as he'll rely on his jab to keep The Korean Zombie from smothering him and closing the distance.
In many ways, that's the best strategy for Jung in this one. He's going to need to close the distance and smother Moicano, where The Brazilian fighter is most vulnerable. However, that's a strategy that we've rarely seen utilized well by the Korean Zombie and he naturally prefers not to apply the required pressure that it would take to back a fighter like Moicano up; when he does move forward, he's dangerous, but he doesn't do it enough.
While Jung is a talented grappler, Moicano is too. It's difficult to see how this fight plays out on the ground ahead of time, but it's likely that neither fighter is willing to take a risk and drag this fight to the mat unless they are up against the odds as the fight progresses.
It sure looks like the type of fight that Moicano will be able to control from start to finish, using expertly timed leg kicks and straight punches to keep Korean Zombie away.
Moicano has the advantages here in this main event and he makes for a great value bet this weekend. You'll find the best odds for Moicano at Bovada.
UFC Fight Night 154: Renato Moicano vs. Chan Sung Jung
Saturday, June 22 – 11:30 pm (ET) / 3:30am (GMT)
Chan Sung Jung
Renato Moicano
UFC Fight Night 154