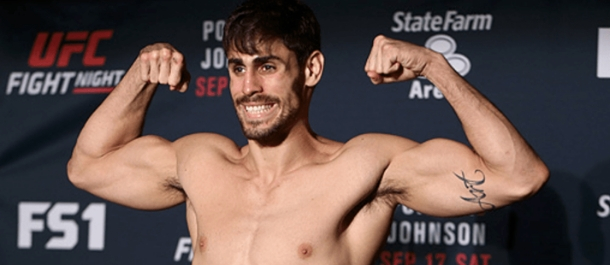 UFC Fight Night 152 is set for Saturday, May 18, and features an exciting welterweight fight as the main event of the evening. Rafael dos Anjos will clash with Kevin Lee in a 170-pound headline fight that has title implications.
The event takes place in Rochester, New York, and the main card has a total of six fights. Antonio Carlos Junior and Ian Heinisch will go head-to-head in the co-main event not long after Megan Anderson is set to welcome Felicia Spencer to the women's featherweight division.
Before checking out our best bets and analysis ahead of the UFC Fight Night 152 main card, make sure to read our Rafael dos Anjos vs. Kevin Lee betting guide.
Let's get started.
Antonio Carlos Junior vs. Ian Heinisch
Saturday, May 18 – 11:00 pm (ET) / 3:00am (GMT)
Antonio Carlos Junior (better known as "Shoeface") has worked up a five-fight winning streak since 2016 and now moved to 7-2 in the UFC. Four of his last five victories have come by way of rear-naked choke and he's now secured three submission victories in a row. Interestingly, Carlos Junior hasn't competed since April 2018 after bouts with Derek Brunson and Elias Theodorou fell through due to various injuries.
Ian Heinisch also steps into this co-main event on the back of some winning efforts, including four consecutive wins and a recent win over Cezar Ferreira to get his UFC career started. Competing for Legacy Fighting Alliance before joining the UFC, Heinisch captured the LFA Interim Middleweight Championship in May last year to gain attention from UFC matchmakers.
There aren't many fighters harder to get a decent read on than Antonio Carlos Junior. We all know that he's a top-level grappler with outstanding back takes and rear-naked choke submissions, but it remains to be seen if he can get decent fighters down and keep them there over time. Most of Carlos Junior's wins have come against low-level competition and Heinisch doesn't fit into that category.
Even then, Carlos Junior 's stand-up isn't terrible in the same way that Ben Askren and Demian Maia are known to have limited success on the feet. There's a chance that he can land powerful strikes and change the fight up at any moment.
But overall, Heinisch is the real value play in this head-to-head market because this one is a lot closer than the bookmakers currently have it set.
Bet on Ian Heinisch to win: 2.50Bet €100 to win €2503/2Bet £100 to win £250+150Bet $100 to win $2501.50Bet HK$100 to win HK$2501.50Bet Rp100 to win Rp250-0.6667Bet RM100 to win RM250 at Mybookie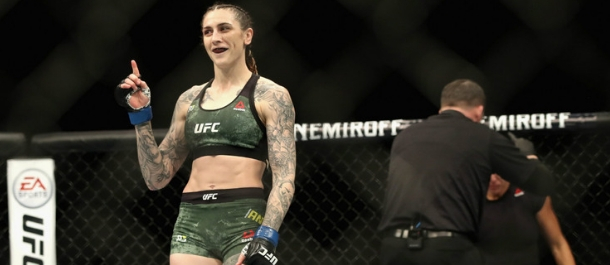 Megan Anderson vs. Felicia Spencer
Saturday, May 18 – 10:30 pm (ET) / 2:30am (GMT)
It's incredible that Megan Anderson vs. Felicia Spencer is a notable bout mostly because it's a genuine matchup between two real featherweight fighters and not those who could realistically compete in the smaller bantamweight division.
Megan Anderson is a former Invicta FC interim featherweight champion and is now 1-1 in the UFC after losing to Holly Holm in her debut and then picking up a somewhat crazy first-round TKO victory against Cat Zingano. Fans will recall that Anderson attempted a high kick and her toe caught Zingano in the eye, causing temporary vision impairment. Zingano wasn't able to continue fighting and Anderson picked up her first win in the UFC.
Megan Anderson's one of the few women in the UFC who need to cut massive amounts of weight just to make the 145-pound limit. She's particularly vulnerable on the mat and a strong wrestler and jiu-jitsu practitioner will likely have an easy pathway to victory against her. However, as much as Spencer has taken down opponents in the past, it's not obvious whether she'll have the ability to get Anderson down in this one.
Anderson has the advantages across the board and we'll be betting accordingly.
Bet on Megan Anderson to win: 1.56Bet €100 to win €15614/25Bet £100 to win £156-179Bet $100 to win $1560.56Bet HK$100 to win HK$156-1.79Bet Rp100 to win Rp1560.5600Bet RM100 to win RM156 at BetVictor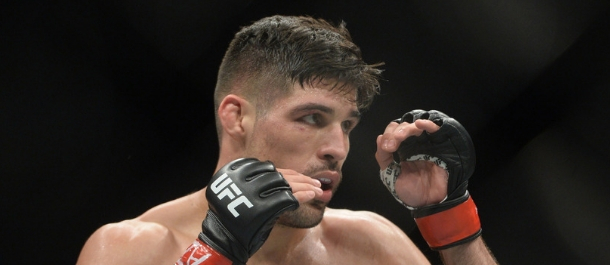 Derrick Krantz vs. Vicente Luque
Saturday, May 18 – 10:00 pm (ET) / 2:00am (GMT)
Vicente Luque was supposed to finally get his shot against a well-known opponent in Neil Magny but now misses out after Magny was flagged by the United States Anti-Doping Agency in the lead-up to the fight.
Without an opponent, the UFC scrambled to find a suitable candidate to compete against Luque. They found one in Derrick Krantz, a fighter who has won all four of his last fights on the regional circuit and scored wins in seven of his last eight bouts.
Luque is quite the challenge for any welterweight mixed martial artist and not just a newcomer to the world's largest MMA promotion. He's won all four of his last fights via stoppage and managed to defeat Bryan Barberena by TKO in the third round at UFC on ESPN 1 to get his 2019 started in a big way.
While Magny vs. Luque would have been a far superior fight for betting purposes, there's still a whole lot of value to extract from this one.
Krantz has a ton of losses on his record already (10) and seven of those are by way of stoppage. We're expecting Luque to get a relatively easy win against Krantz and it's more than likely that it comes inside the distance.
Bet on Total Rounds: Under 1.5 – 1.69Bet €100 to win €16969/100Bet £100 to win £169-145Bet $100 to win $1690.69Bet HK$100 to win HK$169-1.45Bet Rp100 to win Rp1690.6900Bet RM100 to win RM169 at BetVictor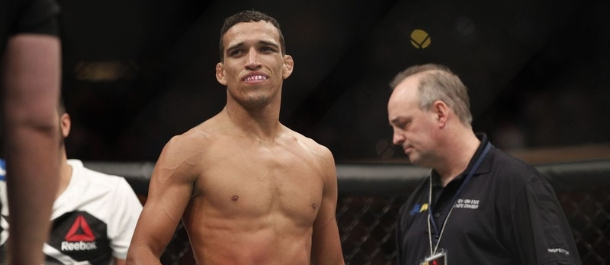 Charles Oliveira vs. Nik Lentz
Saturday, May 18 – 9:30 pm (ET) / 1:30am (GMT)
Charles Oliviera now has the most submissions in UFC history and has a chance to make it five in a row when he meets Nik Lentz at UFC Rochester. Oliveira has always proven to be a challenge in the lightweight division but has had most of his success against low-ranked and unranked 155-pound competitors. With his anaconda choke finish against David Teymur, Oliveira has now strangled each of his last four opponents.
Nik Lentz is the man who is tasked with stopping Oliveira's submission streak this weekend. Having won three of his last four fights and each of his last two, Lentz has managed to defeat Scott Holtzman and Gray Maynard in the last eight months.
Charles Oliveira vs. Nik Lentz is a fun rematch that comes over four years later than their original matchup at UFC Fight Night 67. Oliveira is a wild fighter who has all kinds of aggressive striking techniques in his arsenal. These can be great at times but they often leave him exposed against composed and patient fighters who are capable of working Oliveira's weak spots; that's why we've seen him lose to Paul Felder, Anthony Pettis, Max Holloway and more.
Nik Lentz is an underrated, tough fighter who is now in a great position to score a major upset victory this weekend. He's capable of hanging around whether on the feet or on the mat and can push the pace enough to take Oliveira deep into rounds two or three.
Oliveira is a deserving favorite, but not by this much. Take Lentz to win.
Bet on Nik Lentz to win: 3.70Bet €100 to win €37027/10Bet £100 to win £370+270Bet $100 to win $3702.70Bet HK$100 to win HK$3702.70Bet Rp100 to win Rp370-0.3704Bet RM100 to win RM370 at Bovada
Best Bets for UFC Fight Night 152
Ian Heinisch
Megan Anderson
UFC Fight Night 152