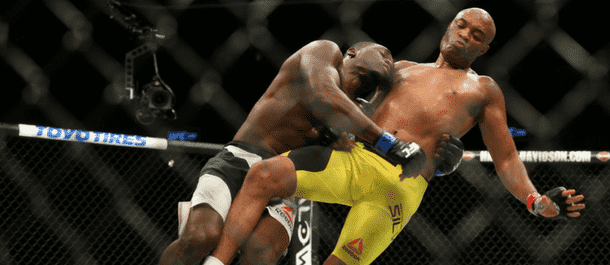 The city of Ottawa in Ontario, Canada, will host this weekend's UFC Fight Night 151 event. Headlined by a fantastic lightweight clash that will see Al Iaquinta and Donald Cerrone battle for the rights to move up in the 155-pound rankings, the card is sure to gain the attention of hardcore fans and casual fans alike.
Also on the card, however, is a handful of other fights that are destined to please. A featherweight bout between Cub Swanson and Shane Burgos may be the best of the bunch, and an intriguing fight between Derek Brunson and Elias Theodorou will be hit-or-miss for as long as it lasts.
As always, we're here to break down a bunch of the main card fights before this weekend's UFC card, bringing you the best bets, picks, and tips for each of the major fights. Make sure to review our Iaquinta vs. Cerrone betting guide before proceeding.
Let's get started!
Derek Brunson vs. Elias Theodorou
Saturday, March 4 – 11:00 pm (ET) / 3:00am (GMT)
Derek Brunson and Elias Theodorou are set to meet in a fight that has the potential to go down as one of the most bizarre of the year. Brunson is a rather one-dimensional fighter who relies on pure aggression and forward movement to overwhelm his opponent. He's now lost two fights in a row to the likes of Israel Adesanya and Ronaldo Souza and is struggling to find his place in the division after beating Lyoto Machida and Daniel Kelly before then. In some ways, Brunson is a deservedly ranked fighter but doesn't have the ability to adapt and improve from fight-to-fight to really challenge the top-tier fighters.
Elias Theodorou is almost the perfect test for Brunson right now. On a three-fight winning streak that includes victories against Eryk Anders, Trevor Smith, and Daniel Kelly, Theodorou has now won five of his last six fights. In fact, Theodorou has only ever been defeated twice in his career, which is quite the impressive feat considering that he doesn't carry stopping power in his hands or feet and has no apparent submission ability, either. All five of Theodorou's most recent wins have come by decision, with the last, against Anders, going to a split decision.
Brunson's ruthlessly aggressive and relies on this pressure and pace to move forward into punching range and crush his opponents with heavy punches. This plan almost succeeded against current champion Robert Whittaker a few years ago now, but Whittaker turned it around before ending Brunson not long after. That fight is arguably the best example of Brunson's ability and gives us a fair indication of what to expect from him in most fights.
When his pressure and aggression is a non-factor, he'll look to mix it up and engage in the clinch or wrestling. However, Brunson rarely makes a memorable impact when it comes to grappling, especially in recent fights. And against Anderson Silva, he was eaten alive in the clinch.
He's going to need to close the distance against a fighter who actively circles around the cage and peppers his opponent with relatively insignificant strikes that serve more as a distraction than one that may deliver fight-ending impact. Theodorou will work the legs and body of his adversary with kicks while occasionally throwing out weird-looking punches. This strategy has worked to great effect against fighters in the UFC who are unable to properly cut the cage and push Theodorou back to the fence.
If given room to continue sliding around the outside freely, Theodorou can run away with a decision against Brunson. However, we're expecting the aggression and fearlessness of Brunson to allow him to close the gap almost immediately and crush Theodorou early.
Derek Brunson to win by TKO – R1
Bet on Derek Brunson to win – 1.91Bet €100 to win €19191/100Bet £100 to win £191-110Bet $100 to win $1910.91Bet HK$100 to win HK$191-1.10Bet Rp100 to win Rp1910.9100Bet RM100 to win RM191 at Bovada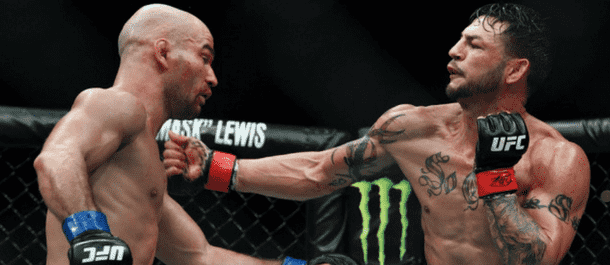 Cub Swanson vs. Shane Burgos
Saturday, March 4 – 10:30 pm (ET) / 2:30am (GMT)
A bout without the attention that it probably deserves, Cub Swanson and Shane Burgos will stand toe-to-toe in what should be one of the most exciting fights of the night.
Swanson is set to return to the cage this weekend in what will be an attempt to snap a three-fight losing streak that started in December 2017. The 35-year-old battled Brian Ortega on that night at UFC Fight Night 123 and was submitted via guillotine choke in the second round. It hasn't been any better for Swanson since, either. He faced Frankie Edgar at UFC Fight Night 128 and lost a clear unanimous decision. He then was submitted by Renato Moicano in August last year. Swanson's a talented fighter but has consistently fallen short against highly-rated opposition.
Burgos might not be considered a top talent just yet, but he's well on his way to being regarded as a dangerous opponent for any featherweight. He's now 4-1 in the UFC after scoring a first-round armbar win against Kurt Holobaugh. That win helped him recover from a somewhat surprising third-round knockout defeat to Calvin Kattar at UFC 220, the first loss of his career.
It's somewhat surprising to see Shane Burgos as a moderate betting favorite in this contest. In terms of ability, sure, Burgos is a high-potential fighter who is rapidly developing. But in terms of name value – and that sometimes has more effect on the odds – he's not even close to the level of big-name featherweight fighters Swanson has competed against recently.
To describe Burgos' style in a few words, it'd be "all attack." Shane Burgos sets a ridiculous pace in all of his fights. He lands an incredibly high number of significant strikes per minute but also takes lots of damage in return. His stats also show that he defends the majority of incoming strikes, but takes a lot of damage merely because of the pace. His takedown defense is also rather impressive.
So, we can expect Burgos to set a blistering pace and that will be welcomed by Swanson. If the two are throwing down at a ridiculous pace, it's hard to see this one lasting the distance. Right now, the odds for this fight to finish inside the distance is 2.15Bet €100 to win €21523/20Bet £100 to win £215+115Bet $100 to win $2151.15Bet HK$100 to win HK$2151.15Bet Rp100 to win Rp215-0.8696Bet RM100 to win RM215 and that's a perfect line to bet.
Shane Burgos to submit Cub Swanson – Round Two
Bet on Fight Doesn't Go To Decision – 2.15Bet €100 to win €21523/20Bet £100 to win £215+115Bet $100 to win $2151.15Bet HK$100 to win HK$2151.15Bet Rp100 to win Rp215-0.8696Bet RM100 to win RM215 at BetOnline
---
Brad Katona vs. Merab Dvalishvili
Saturday, March 4 – 10:00 pm (ET) / 2:00am (GMT)
Undefeated Brad Katona gets one of his toughest tests to date when he meets Merab Dvalishvili at UFC Fight Night 151 this weekend.
Unbeaten after eight fights, Katona was one of the more impressive fighters to come through from The Ultimate Fighter Season 27. Katona defeated Jay Cucciniello at The Ultimate Fighter 27 Finale in July 2017 and then defeated Matthew Lopez at UFC 231 to move his UFC winning streak to two.
He's up against Merab Dvalishvili, who is arguably better than his record suggests. A split decision defeat to Frankie Saenz looks like a blemish on his record, and so does a last-second technical submission loss to Ricky Simon in April last year that proved to be quite controversial. Dvalishvili picked up his first win in the UFC by winning a unanimous decision against Terrion Ware late last year.
Merab Dvalishvili will have a noticeable wrestling advantage in this fight, but it's all going to come down to how he'll use it. While he may earn dominant positions against Brad Katona after expending lots of energy, he'll need to focus on keeping Katona down in order to start landing ground and pound. Through Dvalishvili's career in the UFC so far, that's not something we've seen from him.
Katona is a decent scrambler and has great jiu-jitsu to go with it. There's a legitimate submission threat here against Dvalishvili and that's what we'll be betting.
Brad Katona to win by submission – Round Two
Bet on Brad Katona to win – 2.45Bet €100 to win €24529/20Bet £100 to win £245+145Bet $100 to win $2451.45Bet HK$100 to win HK$2451.45Bet Rp100 to win Rp245-0.6897Bet RM100 to win RM245 at BetOnline
Best Bets for UFC Fight Night 151
We've taken an in-depth look at a select few of the UFC Fight Night 151 main card fights to bring you our best bets and picks before this event in Ottawa.
Here they are:
Derek Brunson
Elias Theodorou
UFC Fight Night 151