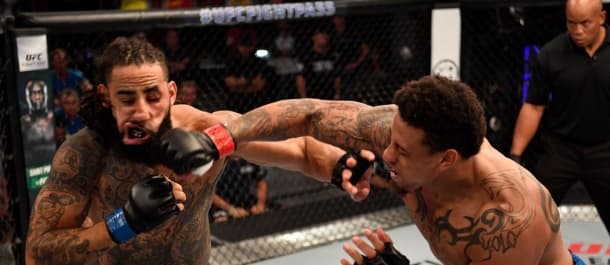 UFC Fight Night 150 is almost upon us and with it comes a six-fight main card featuring a handful of potentially very exciting fights between some of the best athletes in the UFC today.
The main event will see Ronaldo "Jacare" Souza battle with Jack Hermansson over five rounds. We're predicting that it doesn't make it that long, however, so make sure to read our Souza vs. Hermansson prediction and best bet here before proceeding.
The co-main event sees Greg Hardy's return, as he looks to score his first win in the UFC against Dmitrii Smoliakov. But arguably the two greatest fights to look forward to are John Lineker vs. Cory Sandhagen and Alex Oliveira vs. Mike Perry, both of which are destined to be as good as mixed martial arts gets.
For now, let's break down four of the main card fights to bring you our recommended bets and analysis before the weekend.
Greg Hardy vs. Dmitrii Smoliakov
Saturday, April 27 – 11:00 pm (ET) / 3:00am (GMT)
In a co-main event bout that really should be buried somewhere on the preliminary card, Greg Hardy will make his return to the cage to face Dmitrii Smoliakov.
Hardy made his UFC debut in January this year and lost via disqualification in the second round after a shocking illegal knee to a downed opponent. That fight marked the first time that Hardy had ever been in relatively 'deep water' in his mixed martial arts career, as Allen Crowder took him to the second round. Before then, Hardy had managed to finish all three of his professional opponents inside the first minute, and his amateur career was much of the same. This allows Greg Hardy to bounce back from the first defeat of his career. Although, Hardy doesn't necessarily consider it as a loss and is approaching his upcoming bout with Smoliakov as a 'will-win' fight at UFC Fight Night 150.
And while many will be quick to view this as all about Greg Hardy, it's just as much as an opportunity for his opponent, Dmitrii Smoliakov, who is returning to the UFC after seemingly being released by the promotion. It's Smoliakov's chance at redemption after losing his only two bouts in the UFC.
Allen Crowder did expose many of the glaring weaknesses in Hardy's game in January, but that doesn't mean that Smoliakov will be able to capitalize on them. In the first round, Hardy showed great takedown defense and managed to keep the fight standing. His athleticism obviously carries his effectiveness when inside the cage as he does possess somewhat unseen explosiveness for a man of his size in mixed martial arts.
Smoliakov's best hope is to get this one to the ground and keep Hardy down there. The Russian has a wealth of fighting experience – somewhere close to 20 years of combat sports training – unlike his opponent and that should count for something, especially if the fight lasts longer than the first round.
But there's always the constant threat of Hardy's impressive punching power. Can Smoliakov stay away from his devastating attacks? Maybe. But it takes just one or two of Hardy's hardest strikes to end the fight.
This isn't the fight to bet against Greg Hardy, but that time is coming.
Bet on Greg Hardy to win: 1.31Bet €100 to win €13131/100Bet £100 to win £131-323Bet $100 to win $1310.31Bet HK$100 to win HK$131-3.23Bet Rp100 to win Rp1310.3100Bet RM100 to win RM131 at Mybookie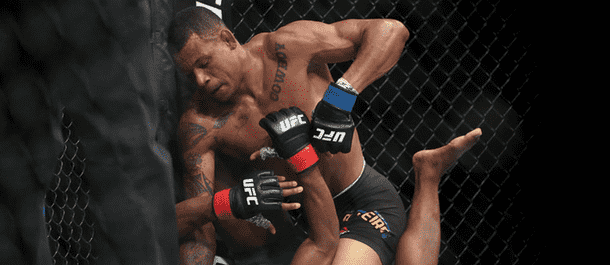 Alex Oliveira vs. Mike Perry
Saturday, April 27 – 10:30 pm (ET) / 2:30am (GMT)
This is a fight fan's dream. Alex Oliveira and Mike Perry are two of the most reckless and exciting fighters in their division today and are set to clash in a fight that could be remembered as one of the best of the year.
Alex Oliveira's streak of success came to an end recently when he met Gunnar Nelson in December. Oliveira had won six of his last seven fights before being submitted by Nelson at UFC 231. With stoppage wins over Carlos Condit and Carlo Pedersoli it did seem like Oliveira was making the next jump required in his career. He was initially scheduled to fight Li Jingliang at this event, but after Jingliang experienced an injury, Mike Perry stepped up.
Mike Perry's impressed when he first entered the UFC and proceeded to win four of his first five fights. Those wins rocketed Perry to fighters with better and more notable opponents, but that has ultimately been his downfall. Perry lost unanimous decision fights to Santiago Ponzinibbio, Max Griffin and Donald Cerrone while managing to defeat Paul Felder – who moved up from lightweight – in July last year.
Oliveira and Perry are both so wild that almost any outcome is entirely possible in this welterweight bout. Perry might come out looking much improved and begin to walk Oliveira down while throwing his heavy hands. But that's unlikely because Oliveira does a good job of managing distance with his long-range punches and kicks.
Arguably the most significant factor to consider in this fight is Oliveira's grappling ability and how that gives him a significant edge over Perry. If Oliveira isn't having the success he expects on the feet, look for him to wrestle with Perry and take him down to change the course of the fight.
Oliveira should win this one if he isn't drawn into a brawl.
Bet on Alex Oliveira to win: 1.61Bet €100 to win €16161/100Bet £100 to win £161-164Bet $100 to win $1610.61Bet HK$100 to win HK$161-1.64Bet Rp100 to win Rp1610.6100Bet RM100 to win RM161 at BetOnline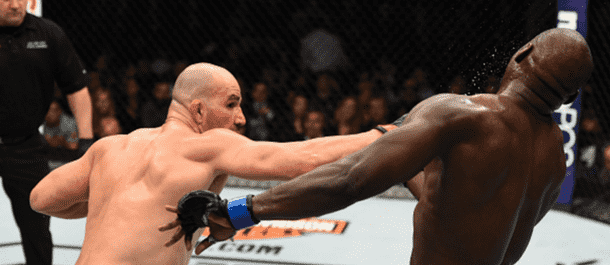 Glover Teixeira vs. Ion Cutelaba
Saturday, April 27 – 10:00 pm (ET) / 2:00am (GMT)
Glover Teixeira is just one stoppage victory away from tying the light heavyweight division record. He gets the opportunity to join Chuck Liddell and Tito Ortiz when he meets Ion Cutelaba at UFC Fort Lauderdale this weekend.
Teixeira has been alternating wins and losses since April 2016. He's consistently made it a trend of defeating mid-to-low ranked and unranked competitors in the division while losing to those who have formerly been in title contention or very close to it. In his most recent fight, Teixeira earned a fast arm-triangle choke submission victory against Karl Roberson after some early adversity.
Despite losing two of his first three fights with the UFC, Ion Cutelaba is viewed as a high-potential prospect considering his age and ability. In 2017, Cutelaba managed a ridiculously fast knockout victory against Luis Henrique Da Silva at UFC Fight Night 110, knocking him out in just 22 seconds. He has since backed up that impressive win by beating Gadzimurad Antigulov at UFC on FOX 30 last year. He's now back after injury and has the opportunity to score the biggest win of his career.
There are a few ways to look at this one as we approach UFC Fight Night 150. On one hand, Teixeira is getting old, and at the age of 39, it's hard to see how he can hang in there with athletic fighters such as Cutelaba for much longer. But on the other, much of Teixeira's best work comes from reasonably unathletic techniques and tactics anyhow. Sure he packs power in his hands, but he is great when the fight hits the mat and can easily control an opponent and make them look unworthy of sharing the cage with him. A good example of this was how he managed to control Jared Cannonier rather easily.
Ion Cutelaba is strong and powerful but there's a good chance that he can't defend all of Teixeira's takedown attempts. It might just take that one takedown to change the entire course of the fight, as Teixeira on top is always bad news for his opponents. Cutelaba will be a threat early in the fight, for sure, but after that, it might be all Teixeira.
Bet on Glover Teixeira to win: 1.92Bet €100 to win €19223/25Bet £100 to win £192-109Bet $100 to win $1920.92Bet HK$100 to win HK$192-1.09Bet Rp100 to win Rp1920.9200Bet RM100 to win RM192 at Mybookie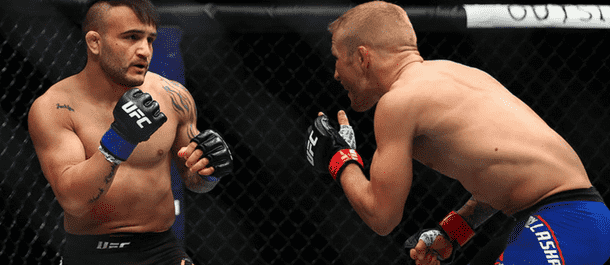 John Lineker vs. Cory Sandhagen
Saturday, April 27 – 9:30 pm (ET) / 1:30am (GMT)
This has all the potential to be 'Fight of the Night' at UFC Fort Lauderdale. Heavy-hitting puncher John Lineker finally clashes with fast-rising fighter Cory Sandhagen this weekend.
Lineker's only lost one fight since 2014, and that was to TJ Dillashaw, who was recently found using PEDs in his latest bout with Henry Cejudo. Over that time, Lineker has managed eight wins including his two most recent efforts against Brian Kelleher and Marlon Vera.
Against him is Cory Sandhagen, a talented, well-rounded fighter who is undefeated in the UFC after three fights. Sandhagen has stopped all five of his last opponent's and managed to get rid of Mario Bautista in the first-round in January.
Lineker's striking game might appear as simple as stalking his opponent and then unloading with hooks to the body and head when they are backed to the cage, but it works very well for him in the UFC. His constant forward pressure disables his opponent from setting up their desired game. And because his opposition is always on the back foot, Lineker uses this to expertly cut the cage and trap them.
Lineker isn't afraid to take a shot or two in return for landing several heavy hooks to his opponent and it's proven to be an incredibly tough fight for everyone who has stood across from him.
Sandhagen has a decent striking game of his own and utilizes both punches and kicks well, together with a reasonably impressive grappling game, but it's hard to imagine his style faring well against the always-forward moving Lineker.
Nearly everyone is drawn into a brawl with John Lineker and that's an area that Cory Sandhagen wants to stay away from.
Bet on John Lineker to win: 1.67Bet €100 to win €16767/100Bet £100 to win £167-149Bet $100 to win $1670.67Bet HK$100 to win HK$167-1.49Bet Rp100 to win Rp1670.6700Bet RM100 to win RM167 at 888Sport
Best Bets for UFC Fight Night 150 in Fort Lauderdale
We've analyzed the UFC Fight Night 150 main card to bring your our best bets, tips and picks for this event.
View them all below. You can also read our Ronaldo Souza vs. Jack Hermansson betting guide here.
Alex Oliveira
Greg Hardy
Mike Perry
UFC Fight Night 150