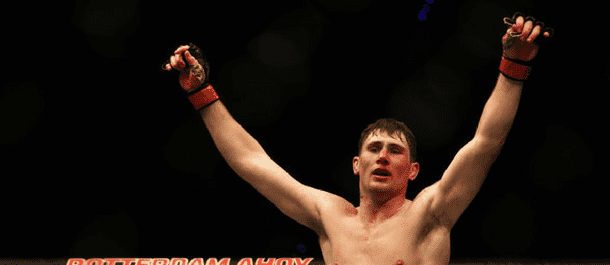 The UFC travels to London, England, for the 11th time in the promotion's history this weekend with an action-packed UFC Fight Night 147 event set to take place at the O2 Arena.
The event, which is also referred to as "UFC London," will host some of the best European and international mixed martial artists.
The main event of the evening is a spectacular welterweight clash between former title challenger, Darren Till, and the always exciting Jorge Masvidal. This 170-pound bout will top off a brilliant main card that will see the likes of Leon Edwards, Gunnar Nelson, Volkan Oezdemir, and Dominick Reyes competing on the main card.
Before we move on to those fights, let's focus on the main event and break down who will come out on top when Darren Till meets Jorge Masvidal.
Darren Till sure looked like one of the hottest prospects as we entered 2018, and he lived up to his expectations by delivering against Donald "Cowboy" Cerrone and Stephen Thompson, to earn himself a title shot against Tyron Woodley. Till failed on the big stage, and didn't land a single significant strike in almost two rounds of action with the champion. Almost entirely dangerous because of his work on the feet, Till was stuck being too patient against the champion and waited too long to get his own offense moving. Once a major blow struck him, Till fell to the mat and Woodley cruised to a second-round submission win after heavy ground and pound.
He'll be matched with Jorge Masvidal this weekend, in what should be a more competitive fight than his last. Masvidal returns for the first time since losing to Stephen Thompson at UFC 217 in November 2017. That defeat was Masvidal's second consecutive downfall after he also lost a split decision to Demian Maia earlier that year. Masvidal passes the 'eye test' as being a downright dangerous fighter, but his record shows that he has never exactly been competitive against higher-level competition. Right now, Till rates as a high-level competitor – so this makes for a true test for both fighters.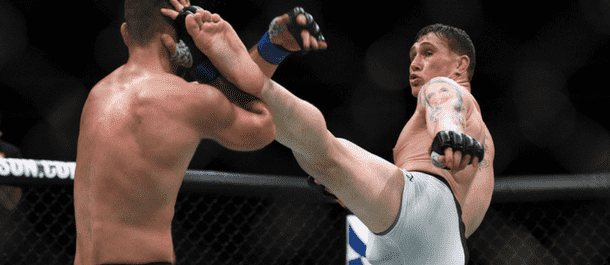 Fight Breakdown
Unlike many major mixed martial arts bouts, there are no direct pathways to victory for either fighter – unlike a potential wrestler vs. striker matchup. This fight, instead, will entirely depend on each of these two striking-focused fighters implementing their gameplan while negating the desired strategy of the other.
For Till, most of his best work comes when he is moving forward and pressuring his opponent. When controlling the center of the cage, Till likes to move his opponent back and overload their senses with excellent use of feints and footwork. We've seen Till's forward pressure freeze even the best of strikers at times, and this has allowed him to land his devastating left hand with relative ease.
Till's massive size for the welterweight division helps him dominate the control aspect of a fight, and he was pressuring Tyron Woodley for the majority of their bout (despite not landing any strikes). Till became too cautious of unloading his own weapons, with the thought that Woodley might crush him with his counter right hand.
He won't need to be overly concerned about his opponent sitting back and waiting this weekend, as Jorge Masvidal is exactly the type of guy who comes to fight every time. Don't let the fact that Masvidal's street fights are available on YouTube distract you from the reality that Masvidal is a technically superb fighter. Whereas Till is mostly limited to a counter left-hand striking game, Masvidal has a huge array of options featuring an outstanding kicking game and in-fighting. Masvidal excels at all ranges and proved this by outworking Stephen Thompson at long range with low kicks and also proving his danger at close range.
When Masvidal's on point, he's a hard man to deal with. If he closes the distance with Till, he'll likely get the better of hometown athlete. But Darren Till is big and strong enough to push away whenever Masvidal enters close range, and he'll likely pick apart Masvidal during the middle rounds.
In what could be considered a relatively competitive contest, we also need to consider the fact that Till was helped by what seemed to be favorable judging the last time he competed in the United Kingdom. If it goes to the scorecards, Masvidal is truly up against all the odds.
UFC Fight Night 147: Darren Till vs. Jorge Masvidal
Saturday, March 16 – 6:30 pm (ET) / 10:30am (GMT)
Darren Till
Jorge Masvidal
UFC Fight Night 147