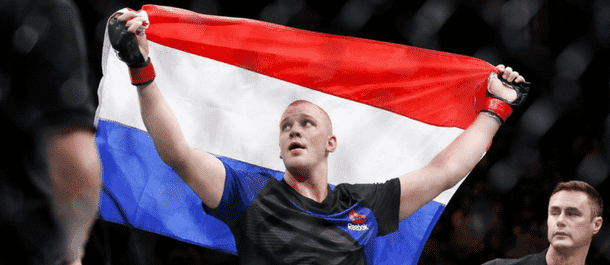 The UFC heads to the Czech Republic for the first time this weekend with a European-focused card titled UFC Fight Night 145.
The headline bout of the evening is a spectacular light heavyweight clash between Jan Blachowicz and Thiago Santos. Make sure to read our breakdown and prediction for Blachowicz vs. Santos before proceeding to discover our best bets for the rest of the main card.
This main card has plenty of interesting fights but arguably none more so than the bantamweight showdown between John Dodson and Petr Yan. However, there's plenty of value to be had elsewhere on this event in Prague, and we've gone ahead and identified all of the best bets and odds for you before the fight card takes place on Saturday, Feb 23.
Before we get started, it's worth noting that Bovada's MMA odds have dramatically improved in recent weeks. Whereas they would usually fall behind BetOnline on most markets, they have the best odds for three of our selections this weekend.
Stefan Struve vs. Marcos Rogerio de Lima
Saturday, Feb. 23 – 5:00 pm (ET) / 1:00am (GMT)
A strange co-main event will feature at UFC Fight Night 145 in Prague that sees Stefan Struve do battle with Marcos Rogerio de Lima in a heavyweight bout.
Stefan "Skyscraper" Struve, the man who stands at an incredible 7-foot, has dropped all three of his last fights, losing to Alexander Volkov, Andrei Arlovski, and Marcin Tybura. Struve hasn't been victorious since October 2016, but still somehow finds himself in this featured bout of the evening. The 31-year-old was knocked out by Volkov after three rounds of action but managed to last the distance against Arlovski and Tybura.
Marcos Rogerio de Lima isn't exactly enjoying a wave of success right now, either. He's been trading wins and losses for the last three years and steps into this contest after a unanimous decision victory against Adam Wieczorek. After repeatedly missing the weight limit for the light heavyweight division's 205-pound cutoff, Marcos Rogerio de Lima has since moved up to heavyweight where he won't need to be concerned with weight cutting any longer. The Brazilian fighter moved to heavyweight for his fight at UFC 230 against Adam Wieczorek and looked impressive.
In his last bout, Marcos Rogerio de Lima utilized a takedown game that we had never previously seen from him in the UFC. After failing to secure a takedown in all of his eight fights before last, De Lima then proceeded to drag Wieczorek to the mat three times in their 15-minute bout.
These takedowns could be key against Stefan Struve, who has been taken down 11 times in his last three fights. Tybura was able to drag Struve down to the mat five times in their bout; Arlovski succeeded on four attempts, and Volkov managed two takedowns.
Giving up 10-inches in height and 9-inches in reach, De Lima may look for those takedowns early and often, and that's arguably why the bookmakers have slotted the Brazilian in as a favorite for this fight against Struve.
While we're predicting De Lima to be victorious in this bout, the odds are slightly shorter than what we would have liked.
Therefore, we're going to be extracting value from the 'Fight Goes the Distance' option which is currently sitting at 3.00Bet €100 to win €3002/1Bet £100 to win £300+200Bet $100 to win $3002.00Bet HK$100 to win HK$3002.00Bet Rp100 to win Rp300-0.5000Bet RM100 to win RM300 over at Bovada.
Struve has gone the distance in each of his last two fights and De Lima's new takedown-heavy approach might see this one last longer than anticipated, as well.
Bet on Fight Goes the Distance: 3.00Bet €100 to win €3002/1Bet £100 to win £300+200Bet $100 to win $3002.00Bet HK$100 to win HK$3002.00Bet Rp100 to win Rp300-0.5000Bet RM100 to win RM300 at Bovada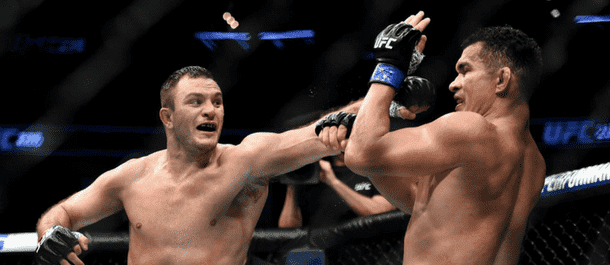 Gian Villante vs. Michal Oleksiejczuk
Saturday, Feb. 23 – 4:30 pm (ET) / 12:30am (GMT)
Michal Oleksiejczuk looks to extend his 14-fight winning streak at UFC Fight Night 145 in Prague when he meets UFC-vet Gian Villante.
Villante steps into this fight night after working his way to his fourth consecutive split decision outcome. This time, he was on the winning end of things, defeating Ed Herman at UFC Fight Night 138. The win was enough to move Villante to 17-10
Villante isn't exactly the smartest of fighters, but he's one insanely tough dude. For instance, he continually drags himself down to the level of his opponent and finds himself in a war that he had no business being in. Villante really should have been able to piece up the slower Ed Herman with ease, but ultimately was tagged repeatedly by his adversary.
He won't have a problem with trying not to fight down to the level of his opponent this weekend, because he may need to fight up to the level of Michal Oleksiejczuk. Oelksiejczuk isn't technically superior in many ways, but he has found a way to win fights and win them convincingly over time. The 23-year-old packs power in his hands and has recently stopped opponents with brutal body shots and ground and pound.
But there's no looking past the fact that Oleksiejczuk is a brawler and this may assist Villante's case in this fight.
With Villante typically excelling in toe-to-toe throwdowns, as well as recently expressing an interest in taking future opponents down to the mat rather than just standing across from them and not changing his strategy, Villante makes for a great value bet here.
Bet on Gian Villante to win: 2.75Bet €100 to win €2757/4Bet £100 to win £275+175Bet $100 to win $2751.75Bet HK$100 to win HK$2751.75Bet Rp100 to win Rp275-0.5714Bet RM100 to win RM275 at BetOnline
Liz Carmouche vs. Lucie Pudilova
Saturday, Feb. 23 – 4:00 pm (ET) / 12:00am (GMT)
The only female fight to feature on the UFC Fight Night 145 main card is a flyweight bout that will see Liz Carmouche face off with Lucie Pudilova.
There was a time when Liz Carmouche was only ever losing to the very best fighters in the division. With defeats against Ronda Rousey and Miesha Tate and wins against flyweight champion Valentina Shevchenko and now-top contender Jessica Andrade, Carmouche was seriously amongst the best. There's a reason to believe she's still got the same level of talent, with recent wins against Katlyn Chookagian and Jennifer Maia helping her to win three of her last four.
Carmouche will be facing Lucie Pudilova, who now sits at 2-2 with the UFC after joining in March 2017. Pudilova has never been stopped in her career, even against tough fighters such as Irena Aldana (lost by split decision) and Lina Lansberg (lost by unanimous decision). This battle with Carmouche is the ultimate test for the 24-year-old.
Here we have a talented American-style wrestler and grappling-focused fighter in Liz Carmouche matched against a striking-focused opponent, Lucie Pudilova.
Carmouche is most likely going to be shooting for takedowns in the hope of getting this fight to the ground, but that could be a difficult task. Pudilova has maintained 78% takedown defense through her four fights with the UFC, effectively shutting down opposing grapplers along the way. While standing, she's managed to light up her opposition and land 5.53 strikes per minute in the UFC. This compares favorably to Carmouche's 3.30 strikes landed per minute.
Pudilova's aggressive striking techniques could play into the hands of Carmouche, who is a better wrestler than any of Pudilova's previous opponents. There's no reason to believe Carmouche won't be able to get this fight to the mat and control it.
Bet on Liz Carmouche to win: 1.71Bet €100 to win €17171/100Bet £100 to win £171-141Bet $100 to win $1710.71Bet HK$100 to win HK$171-1.41Bet Rp100 to win Rp1710.7100Bet RM100 to win RM171 at Bovada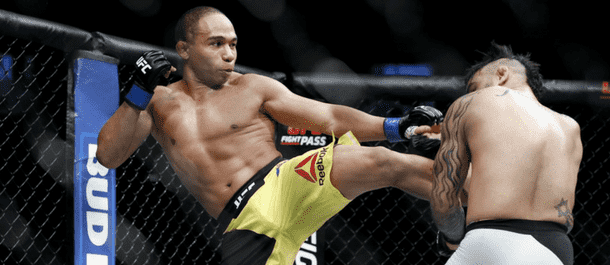 John Dodson vs. Petr Yan
Saturday, Feb. 23 –3:30 pm (ET) / 11:30am (GMT)
Petr Yan, one of the most exciting new additions to the UFC's roster, will be locked in the cage for three rounds against John Dodson this weekend.
Yan debuted with the UFC in the middle of last year and has already racked up three victories with the promotion, quickly proving his worth. The UFC agrees with the majority of fans who hold Yan in high-regard, giving him a matchup with former title challenger John Dodson in what should be the biggest test of Yan's career to date.
Dodson isn't exactly at the same level he once was, and that's more than fair to say after he has been alternating wins and losses since 2015. He'll step into this fight after losing a unanimous decision to Jimmie Rivera that came not long after he had worked his way to a split decision win against Pedro Munhoz, who is now fighting Cody Garbrandt next weekend. Dodson still has many of the same tricks that we've seen from the past, but this new breed of bantamweight fighters could prove to be difficult for him to manage.
Pressure and power will meet speed at UFC Fight Night 145.
For Petr Yan, he's successfully pressured all of his opponents and won fights merely by smothering them and leaving them with no clear pathway to victory. Against Douglas Andrade, a fighter with heavy hands and a decent grappling game, Yan beat him up and earned a stoppage at the end of the second round. Yan was landing clean punches going forward and moving back, successfully leading and countering throughout the fight.
If anything, Yan has an incredibly versatile striking game that is based upon technique and not athleticism or power, like many other athletes in the UFC possess.
And that's probably where John Dodson lies. "The Magician" has a bag of tricks, but they're mostly a result of his athleticism and speed, allowing him to zoom in and out of range while landing combinations of strikes. Dodson's relatively passive in fights lately, however, and takes a cautious approach to his fights. Against pressurers such as John Lineker, Dodson speedily zipped around the edge of the octagon and attempted to unload combinations as Lineker stepped into range to throw bombs of his own.
Yan might struggle with Dodson's speed for maybe a couple of minutes before eventually gaining a read on his opponent and timing his forward movements. From here, expect Yan to land the cleaner, more impactful punches and win on the scorecards.
Bet on Petr Yan to win: 1.36Bet €100 to win €1369/25Bet £100 to win £136-278Bet $100 to win $1360.36Bet HK$100 to win HK$136-2.78Bet Rp100 to win Rp1360.3600Bet RM100 to win RM136 at Bovada
Best Bets for UFC Fight Night 145
We've analyzed all of the main card fights coming up at UFC Fight Night 145 to bring you the best bets for this fight night:
Marcos Rogerio de Lima
Stefan Struve
UFC Fight Night 145