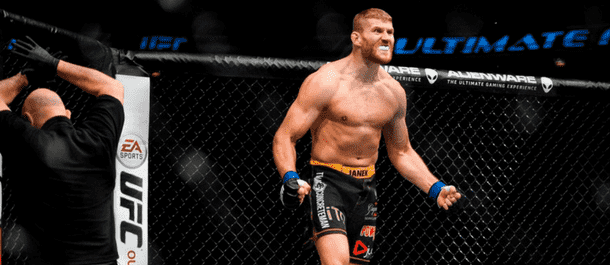 The UFC travels to the O₂ Arena in Prague, Czech Republic, this weekend for UFC Fight Night 145.
The event features many of the most talented fighters from Europe and South America and is headlined by a brilliant battle between heavy-hitters, Jan Blachowicz and Thiago Santos. Also on the card is fast-rising Petr Yan, who'll aim to move past John Dodson in a highly anticipated bantamweight fight.
In an attempt to create some sort of new top contender in the light heavyweight division, the promotion has scheduled Blachowicz and Santos to stand toe-to-toe for five rounds. The matchup is sure to be an exciting one, and the winner is arguably amongst the best in the division today. More so, the fight is a truly competitive battle, and the bookmakers have this one sitting at near-even, unlike the currently scheduled light heavyweight title fight between Jon Jones and Anthony Smith – further highlighting the fact that Jones is well ahead of anyone else in the division today.
Jan Blachowicz vs. Thiago Santos odds
Jan Blachowicz is currently on a tremendous rise through the light heavyweight division. He's always been considered a legitimate fighter and contender, but never before has he managed to string wins together the way he did when competing for KSW. After losing two in a row to Alexander Gustafsson and Patrick Cummins, Blachowicz looked to be falling out of contention with the top-to-mid tier group. But even in those two fights, he never looked out of place. He's since scored a rear-naked choke win against Devin Clark before then winning unanimous decisions against Jared Cannonier and Jimi Manuwa. Most recently, Blachowicz scored an impressive victory over the returning Nikita Krylov, who has always been considered a genuine threat to most 205-pounders. A win against Santos not only makes it five in a row but finally garners the respect that this man deserves.
Blachowicz will be standing across from a man who has also impressed over a recent stretch of fights. Thiago Santos has been more consistent than ever, winning his last three fights and having his hand raised after seven of his previous eight contests. Santos was mostly beating middle-ranked competition such as Jack Marshman and Jack Hermansson before eventually finding his form in higher-stakes fights with the likes of Eryk Anders and Jimi Manuwa. Santos is coming off two stoppage victories, one of which was a retirement from Eryk Anders in late 2018. The Manuwa win was impressive, as he damaged his opponent early and then secured a stoppage 42 seconds into the second round.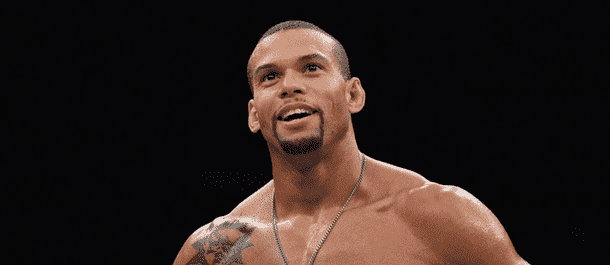 Fight Breakdown
Here we have a matchup between an extremely powerful and naturally athletic light heavyweight fighter, Thiago Santos, up against a more technically sound but less athletic opponent in Jan Blachowicz.
Blachowicz is by far the better boxer and grappler in this contest and he will likely rely on these advantages early and often. At close range, Blachowicz can be extremely devastating, as he'll attempt to connect with all sorts of wild hooks and uppercuts until one lands. But as wild as these punches are, they're not often thrown without concern. The 35-year-old will often chase an opponent and make them move directly backward, where he can continue his forward momentum and ultimately clip their chin.
His boxing ability isn't excellent by any means, but when combined with his aggression and durability, Blachowicz has been able to contend with even some of the higher-tier 205-pound fighters such as Alexander Gustafsson. Blachowicz looked to be on his way to an incredible upset victory before Gustafsson successfully found the takedown and changed the course of the fight.
This forward momentum will be critical against Thiago Santos, who is a beast at long-range.
Santos' best fighting distance isn't at punching range; instead, he's at his best when he can stick back and pepper his opponent with powerful kicks to the midsection and legs. Technically speaking, Manuwa is – like Blachowicz – a better boxer than Santos, but the Brazilian was able to damage Manuwa so early in the contest that he was effectively fighting a shadow of the Brit as the fight progressed. Santos' power is legitimate, and he has proven this by stopping otherwise insanely durable fighters. Anthony Smith's night was ended in round two after a destructive kick connected with his body. Smith was able to take many of Volkan Oezdemir's best shots and then keep coming forward only recently, proving Santos' finishing ability.
Santos carries miraculous power in his attacks, and this can often throw predictions and breakdowns such as these out of the window, but there's enough reason here to believe that Blachowicz's ability to fight while moving forward will cause all sorts of troubles for Santos in this main event.
Sure, Santos might come out and straight-up 'Francis Ngannou' Blachowicz early in the fight, but the chances of that are less than likely.
Instead, put your money on the always underrated Jan Blachowicz to earn a win in Prague.
UFC Fight Night 145: Jan Blachowicz vs. Thiago Santos
Saturday, Feb. 23 – 5:30 pm (ET) / 1:30am (GMT)
Jan Blachowicz
Thiago Santos
UFC Fight Night 145