The UFC travels to Fortaleza, Brazil, this weekend with a brilliant fight card. In fact, a quick glance at some of the final bouts of the evening might lead you to believe this was a pay-per-view event and not one that will be available on ESPN+.
The main event is a well-timed rematch between Raphael Assuncao and Marlon Moraes. The winner of that fight will go on to fight TJ Dillashaw for the bantamweight title, most likely. We've covered that fight in great detail and you can find our best bet for Assuncao vs. Moraes here.
But for now, let's stick to the rest of the main card and focus on bouts such as Jose Aldo vs. Renato Moicano and Demian Maia's fight with Lyman Good.
We break down both of those fights and more to bring you the best bets, odds, and predictions for UFC Fight Night 144.
Jose Aldo vs. Renato Moicano
Saturday, February 2– 10:30 pm (ET) / 2:30am (GMT)
The co-main event of UFC Fight Night 144 is a brilliant one.
One of the greatest mixed martial artists of all-time, Jose Aldo, will defend his status as top contender in the featherweight division against a fellow Brazilian, Renato Moicano.
Moicano has been on a roll lately, earning big wins in the 145-pound division to cement himself as a true title threat. A win here against Aldo will likely skyrocket him to the top of the line and allow him to earn the next shot at featherweight champion, Max Holloway.
Across from him, though, is the former champion of the division, Jose Aldo. Aldo is getting on in age now, at 32, and has spent a total of 269 minutes inside the cage to date. Despite this, he's still a strong, ever-dangerous threat to anybody who enters the cage with him for a multitude of reasons but none more than his experience, striking proficiency, and defensive wrestling.
This matchup has a plethora of realistic possibilities.
Moicano's boxing has looked superb lately and there's a real chance that he can outwork Aldo from a distance for three rounds. But more likely is that Aldo's power and expert timing will be the game-changer in this one.
While Moicano is offensively one of the best at 145 pounds, Aldo is both offensively and defensively sound – that's not something that can be said about many of the other top contenders in the division, such as Brian Ortega, Alex Volkanovski and others. Despite losing to Max Holloway on consecutive occasions recently, Aldo won rounds in each of the two fights and didn't look out of place against the current champion. The first time he met Holloway, Aldo cracked him with a solid combination of punches and looked to be on the way to securing a first-round finish. Most recently, he utilized his punching prowess again to smash Jeremy Stephens' body with a left hook that crippled him and sent him to the mat.
For as much as it's all well and good to say Aldo might not be what he once was, his boxing certainly hasn't dropped off. The only real noticeable difference from today's version of Aldo compared to prior is that the leg kicks don't feature as consistently in his attack anymore. Instead, he sits just outside of punching range before loading up bombs and ripping the body and head with punches. It's a simple plan, but it works.
Yes, Moicano worked Calvin Kattar recently and earned other notable wins, but Jose Aldo is still one level above and he represents terrific value at these odds.
Bet on Jose Aldo to win 2.10Bet €100 to win €21011/10Bet £100 to win £210+110Bet $100 to win $2101.10Bet HK$100 to win HK$2101.10Bet Rp100 to win Rp210-0.9091Bet RM100 to win RM210 at Mybookie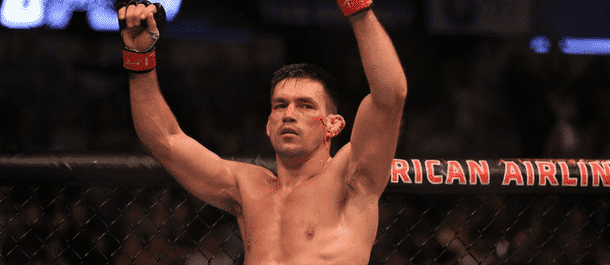 Demian Maia vs. Lyman Good
Saturday, February 2 – 10:00 pm (ET) / 2:00am (GMT)
Demian Maia was once one of the most feared competitors in the UFC's welterweight division. A big, strong, submission-focused grappler with underrated takedown technique and finishing ability, Maia has lost that perception after three consecutive defeats. It's worth noting, though, that Maia has been consistently matched with his worst possible opponent in each of these occasions.
Tyron Woodley dominated Maia after easily denying the takedown for five rounds. Then Colby Covington did it. And then Kamaru Usman did it. Each of these high-level wrestlers found it almost too easy to shut down Maia's game and outwork him on the feet. And in a matter of no time, Maia has gone from top contender and title challenger to just another guy in the division.
He'll meet a rising welterweight named Lyman Good this weekend in Brazil. Good was most impressive in his last bout when he secured a first-round finish of Ben Saunders with seemingly no trouble. A couple of years ago, you'd have never expected Good to be fighting someone the likes of Demian Maia on a UFC main card. After all, he was competing – and losing – in Bellator and on The Ultimate Fighter Season 19. But now, he's 2-1 in the UFC with two KO/TKO victories to his name.
Can he add another one?
While the majority of the public might seem to think that Demian Maia has lost touch, we're more inclined to believe that he has been a victim of poor matchups more than anything else. Sure, he might have declined slightly as of late, but he's also been challenged by world-class counter-wrestlers who were able to keep the fight upright.
Can Good deny Maia's takedown attempts and keep this one standing?
Probably not.
There's no real indication out there to suggest that Lyman Good will be able to deny Maia's chain wrestling attempts. Remember, the Brazilian made it a habit of dragging people to the mat with well-timed single-leg takedowns. Once there, it's almost a certainty that Maia will lock up the rear-naked choke and force the submission – unless it's against Jorge Masvidal who stopped the submission attempts. But even then, Maia rode him all the way to a split decision win. He did the same against Gunnar Nelson, who was – and still is (?) – regarded as a top welterweight.
There's not enough evidence to suggest that backing Lyman Good is a good idea.
Bet on Demian Maia to win 1.56Bet €100 to win €15614/25Bet £100 to win £156-179Bet $100 to win $1560.56Bet HK$100 to win HK$156-1.79Bet Rp100 to win Rp1560.5600Bet RM100 to win RM156 at BetOnline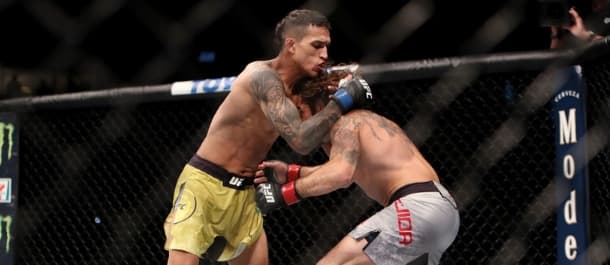 Charles Oliveira vs. David Teymur
Saturday, February 2 – 9:30 pm (ET) / 11:30am (GMT)
Lost beneath the sea of fascinating fights at UFC Fight Night 144 is a lightweight clash between two unranked guys who are only just outside the top-15. Don't be fooled into thinking that Charles Oliveira and David Teymur aren't world class mixed martial artists, though, as they'd likely dominate other lightweight divisions you'll find elsewhere around the world; it's more a matter of how stacked the UFC's 155-pound division is.
To say that Charles Oliveira is a submission specialist is a bit of an understatement. In many ways, he's almost entirely reliant on needing a submission to actually win the fight. You may have seen boxers or mixed martial artists that need a KO to win? Well, Oliveira's on the other end of the spectrum with 17 submission wins from 25 career victories.
David Teymur is one of the most interesting matchups to make for Oliveira right now, as well. A nasty kickboxer with effective outside weapons and counter striking ability at close range, Teymur has worked his way to an undefeated record in the UFC after five fights.
Teymur is another of the UFC's many international athletes that seem to fly under the radar of fans from North America (the predominant fanbase of mixed martial arts). For that reason, he hasn't garnered the respect he deserves just yet. At 8-1, his record does look largely unproven, and this is undoubtedly his biggest challenge to date, yet he looks more than prepared for this matchup with Oliveira.
The Brazilian is incredibly reliant on getting the fight to the mat and securing a submission. In recent fights, Oliveira has taken down and submitted Jim Miller, Christos Giagos and Clay Guida. There's a fair argument to be made here that none of these guys are on Teymur's level. When Oliveira has been matched with decent opposition in the division, he's almost always lost. Seven of his eight career defeats have come via way of stoppage.
If you're familiar with Oliveira you'll know one thing for sure – if he can't get the early submission, he becomes discouraged and strays away from the gameplan. We've seen enough from Teymur lately to suggest that he'll have a fair chance of scrambling away and defending the takedown attempts of Oliveira. If he can, he might just turn the tables and overrun Oliveira in the second or third round. More than likely, he'll earn a stoppage win.
Bet on David Teymur to win 2.00Bet €100 to win €2001/1Bet £100 to win £200+100Bet $100 to win $2001.00Bet HK$100 to win HK$2001.00Bet Rp100 to win Rp2001.0000Bet RM100 to win RM200 at BetOnline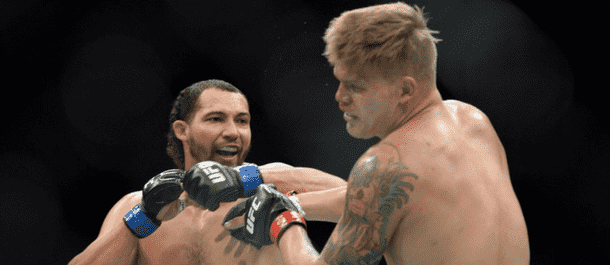 Johnny Walker vs. Justin Ledet
Saturday, February 2 – 9:00 pm (ET) / 1:00am (GMT)
Johnny Walker looks to be an incredibly exciting addition to the UFC's light heavyweight roster. A tall and powerful stand-up fighter, Walker not only has desirable attributes and abilities but he also knows how to use them to his advantage. In his UFC debut in November last year, Walker crushed Rountree in under two minutes after entering the fight as a moderate underdog. Walker is now 7-0 in his last seven fights and has 12 KO/TKO victories to his name after 15 career wins.
Justin Ledet is 3-1 in the UFC since joining in August 2016 and is most recently coming off a disappointing unanimous decision defeat against Aleksandar Rakic in July last year. The 30-year-old is an unsuspecting fighter who has decent boxing ability.
Ledet seems to be getting no love from the public and bookmakers in this contest. Could it be the Brazilian crowd and judging factor? Or could it be that Walker is merely too strong and powerful for him? It could be both.
Walker is a deserving favorite for no other reason than his work from the Thai clinch is absolutely deadly against mid-to-low level competition. Ledet classifies as mid-to-low level competition and could be brutalized by knees and elbows from close range. But there's a real possibility that Ledet is able to make this one a great fight by keeping Walker away with his sound jab. It'll take discipline and great skill to do this in Brazil for three rounds, but at these odds – against an unproven new entry to the UFC's 205-pound division – we'll take a stab.
Bet on Justin Ledet to win 2.75Bet €100 to win €2757/4Bet £100 to win £275+175Bet $100 to win $2751.75Bet HK$100 to win HK$2751.75Bet Rp100 to win Rp275-0.5714Bet RM100 to win RM275 at Bovada
Best Bets for UFC Fight Night 144
We've analyzed all of the fights at UFC Fight Night 144 to bring you the best bets for this fight card in Brazil.
Make sure to also review our UFC Fight Night 144 main event preview.
Jose Aldo
Renato Moicano
UFC Fight Night 144