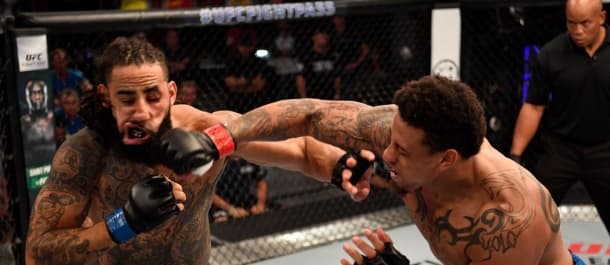 The UFC's first-ever event on ESPN airs this Saturday, January 19
Titled UFC Fight Night 143 (or UFC on ESPN+ 1), the event is headlined by a super fight between Henry Cejudo and TJ Dillashaw
Ex-NFL star Greg Hardy is set to make his debut on the main card
UFC Fight Night 143 is an impressive card, even for typical UFC standards. The promotion has loaded up the first-ever event on ESPN with several recognizable names, exciting fighters, and up-and-coming talents.
We've gone through all of the matchups set to take place this weekend and dissected the bouts to bring you valuable betting opportunities.
If you haven't already, you can read our preview and prediction for Henry Cejudo vs. TJ Dillashaw before UFC Fight Night 143.
But for now, let's get into the five remaining fights on the main card so that we can all make some cash this weekend!
Greg Hardy vs. Allen Crowder
Saturday, January 19 – 11:50 pm (ET) / 3:50am (GMT)
Greg Hardy has not just made it to the UFC, he's already featuring in the co-main event of the first-ever event to be aired on ESPN.
An ex-NFL star, Hardy is a controversial addition to the UFC's roster considering his history with domestic abuse.
Regardless, Dana White and the UFC are sticking by their decision to add him to the stable of fighters, and he'll make his debut with the organization this weekend against Allen Crowder.
Greg Hardy's results as a mixed martial artist have been as perfect as can be. With three first-round, first-minute stoppages by KO/TKO, Hardy's strategy of rushing out of the gates to land bombs on his opponent has been both exciting and effective.
Of course, this is a strategy that won't work against experienced and highly skilled athletes in the division, but Hardy is going to be running through anyone who is below average skill level in these early days.
And Allen Crowder looks like exactly the type of fighter that Hardy will have a field day with.
Lacking defensive striking abilities such as adequate head movement, blocking, or even well-timed counter strikes, Crowder will more than likely succumb to Hardy's insane pressure.
This is a heavyweight fight, so be prepared for anything to happen, but the odds are most certainly in Hardy's favor considering his explosiveness, athleticism and raw power.
That'll be enough in this one.
Bet on Greg Hardy to win: 1.19Bet €100 to win €11919/100Bet £100 to win £119-526Bet $100 to win $1190.19Bet HK$100 to win HK$119-5.26Bet Rp100 to win Rp1190.1900Bet RM100 to win RM119 BetOnline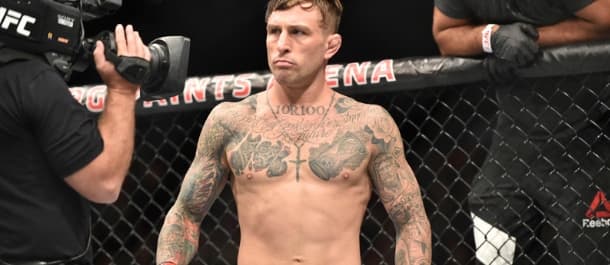 Gregor Gillespie vs. Yancy Medeiros
Saturday, January 19 – 11:30 pm (ET) / 3:30am (GMT)
Gregor Gillespie, one of the most talented prospects in the UFC's lightweight division, will be taking another step forward when he meets Yancy Medeiros this weekend.
Gillespie is widely regarded as a fighter with remarkable potential. At the age of 31, he's undefeated as a professional mixed martial artist after 12 fights. He only recently joined the UFC in 2016 and has since compiled an excellent record through five fights. In each of his last four outings, Gillespie has managed to stop the contest before the third round – very impressive.
Medeiros is almost the perfect test for Gillespie at this point in time. Dropping down from welterweight, Medeiros will be appearing in the lightweight division for the first time since 2016. The Hawaiian hasn't competed since early last year when he had his three-fight winning streak snapped by Donald "Cowboy" Cerrone.
Gregor Gillespie is highly touted for a number of reasons, but probably none more so than his elite wrestling ability – whether defensive or offensive.
While standing, he's aggressive and exciting, but he does his most effective, efficient, and impactful work when he's on top position on the ground. After shooting in for a takedown, Gillespie excels at maintaining control and hammering down significant strikes.
For as much as Yancy Medeiros is to be feared while upright, it's difficult to see him keeping Gillespie away from him when it matters the most. On the mat, expect Medeiros to panic and give up even worse positions to the dominant wrestler – therefore allowing Gillespie to secure a finish either by strikes or a surprising submission.
Bet on Gregor Gillespie to win: 1.18Bet €100 to win €1189/50Bet £100 to win £118-556Bet $100 to win $1180.18Bet HK$100 to win HK$118-5.56Bet Rp100 to win Rp1180.1800Bet RM100 to win RM118 at Bovada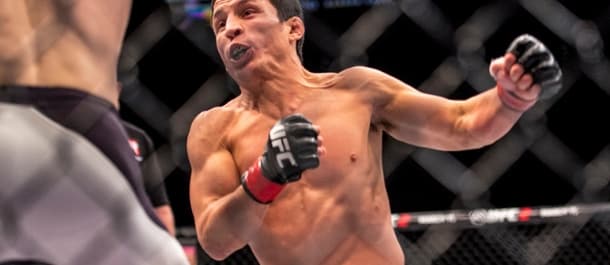 Joseph Benavidez vs. Dustin Ortiz
Saturday, January 19 – 11:00 pm (ET) / 3:00am (GMT)
One of the greatest fighters not to win a title in the UFC, Joseph Benavidez will be marching forward against Dustin Ortiz in a flyweight contest this weekend.
That announcement might come as a surprise to those fans who had learned of the UFC's intention to close the flyweight division. Fortunately, however, Benavidez has signed a four-fight contract and will be sticking around for a little longer.
After picking up a quick win at The Ultimate Fighter 28 Finale, Benavidez will return to action this weekend against Dustin Ortiz.
Dustin Ortiz is a highly skilled competitor who doesn't get the appreciation he deserves. In his last fight, he masterfully found an opening for a high kick and crushed Matheus Nicolau's head with his shin to earn a fast knockout finish. On the feet, Ortiz is defensively sound and capable of moving around to evade strikes all while setting up openings of his own.
He'll need to bring his A-game against Benavidez, who is relatively well rounded. It's unsure what gameplan Benavidez will be utilizing this time around against Ortiz, but we know for sure that Ortiz represents a tougher test than Benavidez's last opponent, Alex Perez.
At these odds, it's worth having a crack at Dustin Ortiz to win – especially considering that we have this fight closer to 50/50 than either fighter by a wide margin.
Bet on Dustin Ortiz to win: 2.90Bet €100 to win €29019/10Bet £100 to win £290+190Bet $100 to win $2901.90Bet HK$100 to win HK$2901.90Bet Rp100 to win Rp290-0.5263Bet RM100 to win RM290 at Mybookie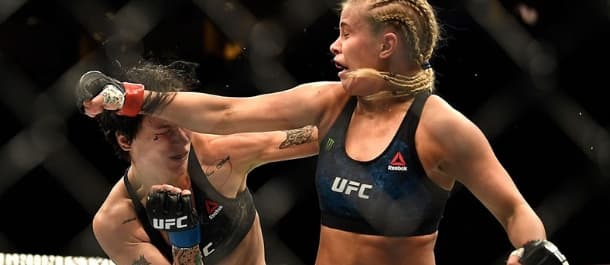 Paige VanZant vs. Rachael Ostovich
Saturday, January 19 – 10:30 pm (ET) / 2:30am (GMT)
The battle between Paige VanZant and Rachael Ostovich is a great way to open up the UFC's time on ESPN.
VanZant is an exciting striker who utilizes all kinds of jumping and spinning kick attacks, while Rachael Ostovich is always down for a scrap. Both girls are also desperate for a win in the UFC, too.
"12 Gauge" Paige has lost three of her last four bouts and most recently was defeated by Jessica-Rose Clark at UFC Fight Night 124. Her prior two defeats – to Michelle Waterson and Rose Namajunas – came via stoppage.
The 27-year-old Ostovich has alternated between wins and losses in her last seven fights, throughout the last four years. Two of those fights were exhibition bouts during the 26th season of The Ultimate Fighter. During the show, Ostovich was eliminated after losing a unanimous decision to Barb Honchak.
While the bookmakers and public seem to be suggesting that this fight will be relatively competitive, we're on a different train of thought.
Paige VanZant isn't elite for the weight class, as proved by her recent defeats to high-level competitors, but she is definitely amongst some of the better contenders out there. Here at flyweight, she'll find a home and settle into what could be a top-6 ranked position.
Respect for Ostovich for her journey, but she'll be outmatched by VanZant for every moment this fight remains standing. Expect VanZant to blitz from the very start with her patented highlight-reel worthy kicks to the head and body, all while making it hard for Ostovich to shoot in for a takedown and secure control on the mat.
This is VanZant's to lose and these odds are generous.
Bet on Paige VanZant to win: 1.67Bet €100 to win €16767/100Bet £100 to win £167-149Bet $100 to win $1670.67Bet HK$100 to win HK$167-1.49Bet Rp100 to win Rp1670.6700Bet RM100 to win RM167 at BetOnline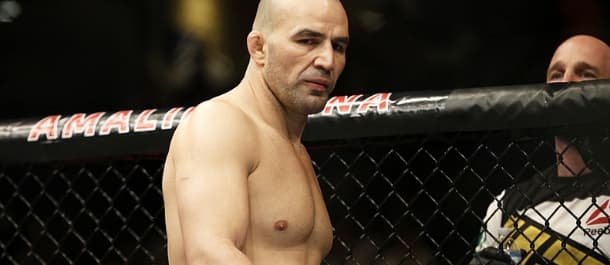 Glover Teixeira vs. Karl Roberson
Saturday, January 19 – 10:00 pm (ET) / 2:00am (GMT)
Glover Teixeira lost out on his brilliant matchup with Ion Cutelaba but fortunately found a short-notice opponent in Karl Roberson.
Roberson steps in to take on the always-dangerous light heavyweight fighter and will look to move to 3-1 in the UFC since joining in late 2017. Roberson first appeared on Dana White's Tuesday Night Contender Series where he impressed Dana White and the team with a 15-second finish of his opponent via elbows. In May last year, Roberson experienced his first-ever defeat when he lost to Cezar Ferreira via arm-triangle choke in the first round.
It wasn't that long ago when Glover Teixeira was one of the very top contenders in the light heavyweight division. After crushing Rashad Evans, Patrick Cummins and Ovince Saint Preux, Teixeira was rising through the ranks. But all of his work came undone after he was brutally knocked out by Anthony Johnson in 13 seconds at UFC 202 in August 2016. He's since gone 2-2 to end up as a middle-ranked contender in the division and no longer the giant threat he once was.
Glover Teixeira is a superb power puncher, but has no business standing and trading against Karl Roberson. Alexander Gustafsson boxed up Teixeira for almost 25 minutes in Sweden and proved that the aging Teixeira is now a little too slow to keep up with the big boys of the division. Roberson isn't as well-rounded as Gustafsson and will suffer when this fight hits the mat, of course, so he'll need to do his best work while upright.
For Teixeira, this fight looks a lot like his recent bout with Jared Cannonier. Another tough boxer, Teixeira took Cannonier down to the ground and controlled him for the majority of the contest to score a decisive victory on the scorecards. Can he do that again? Sure. But at these + odds on Roberson, it's worth taking the chance that Roberson can get Teixeira out of there early,
Bet on Karl Roberson to win: 2.30Bet €100 to win €23013/10Bet £100 to win £230+130Bet $100 to win $2301.30Bet HK$100 to win HK$2301.30Bet Rp100 to win Rp230-0.7692Bet RM100 to win RM230 at BetOnline
Best Bets for UFC Fight Night 143 Main Card
We've done the tape study and analysis to bring you our best bets for the UFC Fight Night 143 main card that'll air on ESPN+ this weekend.
Make sure to also review our preview and prediction for Henry Cejudo vs. TJ Dillashaw before UFC Fight Night 143.
Greg Hardy
Paige VanZant
Rachael Ostovich
UFC Fight Night 143