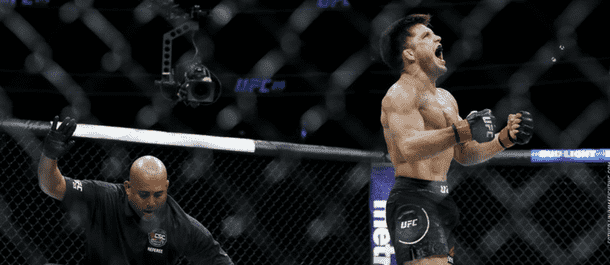 The UFC moves over to ESPN starting this Saturday, January 19 for its first-ever card on ESPN+
The event is headlined by a champion vs. champion matchup between Henry Cejudo and TJ Dillashaw
Dillashaw will be making the drop from the 135-pound division to challenge Cejudo for his 125-pound title
What a way to get things started over at ESPN.
The UFC has loaded up their UFC Fight Night 143 card (also known as UFC on ESPN+ 1) with a super fight between bantamweight champion TJ Dillashaw and flyweight champion Henry Cejudo.
Also on the card is several other fascinating battles including the always entertaining Donald "Cowboy" Cerrone up against rising lightweight, Alexander Hernandez.
We're here to take you through the main event and more so that you can make educated betting decisions and cash in on the first UFC event of the year.
Henry Cejudo vs. TJ Dillashaw
It seems incredible that Henry Cejudo is now not only the UFC's flyweight champion but also defending his title from the bantamweight champion in his first title defense. Cejudo recently knocked over the long-reigning champion, Demetrious "Mighty Mouse" Johnson in what was a close, competitive five-round battle that many scored for the champion, not the challenger.
But, here we are.
Cejudo timed takedowns to land in top position and essentially stall long enough to win some rounds in the eyes of the judges. But it was Johnson doing all of the damage while standing. While on the mat, Cejudo seemingly didn't do enough. However, the judges are easily persuaded in mixed martial arts and he dethroned the man who was deemed the greatest pound-for-pound fighter in the sport.
So, while Cejudo is certainly defending his title at UFC Fight Night 143, he's also fighting to earn respect.
And he'll certainly gain the admiration and respect of fight fans around the world if he can top the ever-dangerous TJ Dillashaw this weekend.
Dillashaw is regarded as one of the most well-rounded mixed martial artists on the roster. With elite striking and superb grappling ability, Dillashaw cruises around the cage all while landing clean, heavy shots and tagging up his opponent. He most recently reclaimed the UFC Bantamweight Championship by knocking out Cody Garbrandt in the first round at UFC 227. That win made it four in a row for Dillashaw and two in a row against Garbrandt, effectively positioning himself as not just the best bantamweight today but one of the very best of all-time.
He has a chance to make history by becoming the first UFC fighter to ever become a two-division champion by moving down a weight class this weekend.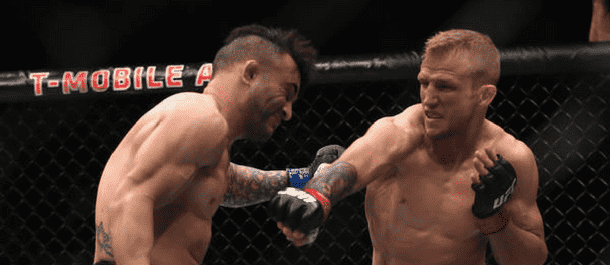 Fight Breakdown
At first glance, this fight is about Cejudo's Olympic-winning wrestling up against TJ Dillashaw's very well-rounded attributes and abilities at UFC Fight Night 143.
But it's a little more evolved than that.
Cejudo has developed a karate striking style in his last few bouts, showcasing this against Wilson Reis to great effect. And while he attempted to use his new techniques and skills against Johnson at UFC 227, it was "Mighty Mouse" who was getting the better of the exchanges. Cejudo has effectively moved up from a C-level striker to a B+ level striker very quickly – faster than most who make the transition from wrestling to mixed martial arts.
But this time, he's up against an arguably greater striker in TJ Dillashaw; a man who packs power in his punches, kicks, and is amazingly elusive and hard to catch. Dillashaw is an intelligent fighter who identifies opportunities and threats and makes incredible in-fight adjustments to defeat his opponent. His most recent win, the first-round KO of Cody Garbrandt, was mostly the result of perfect gameplanning that saw him execute on a brilliant strategy.
At the moment, Dillashaw is not just the best bantamweight in the UFC, but a champion who could have a very long reign on top of the division.
It's going to take a little more than wrestling for Cejudo to get the win here.
Of course, well-timed takedowns and offensive wrestling will be enough to get Dillashaw down to the ground, but it's all about what he can do with the position once he achieves it. Even against "Mighty Mouse," Cejudo showed that he wasn't the best at doing much with top position – he just maintained top control when he could.
He's also not likely to get a stoppage against Dillashaw. The champion is rarely ever stopped, and Cejudo isn't known to be a fight finisher himself. Cejudo's path to victory is a slow and grinding five-round decision, and we can't see a way he manages to outclass Dillashaw in three of the five rounds at UFC Fight Night 143.
More likely, Dillashaw will earn a finish inside the first couple of rounds.
UFC Fight Night 143: Henry Cejudo vs. TJ Dillashaw
Saturday, January 19 – 11:30 pm (ET) / 3:30am (GMT)
Henry Cejudo
TJ Dillashaw
UFC Fight Night 143