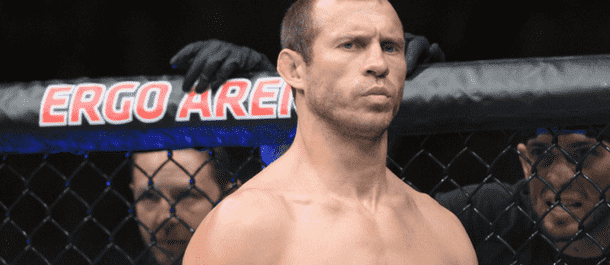 The UFC heads to Denver, Colorado, this weekend for UFC Fight Night 139.
This is a purposefully selected time, place, and event, to celebrate the 25th anniversary of the UFC.
Headlining UFC Fight Night 139 is a brilliant main event clash between "The Korean Zombie" Chan Sung Jung and Yair Rodriguez. You can expect a fast pace, lots of flurries from Jung, and gorgeous spinning taekwondo technique from Rodriguez. We've already done the work by breaking down that main event for you and you can find our prediction for "The Korean Zombie" vs. Yair Rodriguez here.
If you came looking for the best bets for the rest of the main card action at UFC Fight Night 139, you're in the right place.
Join us as we preview, predict, and share our best bets for every main card battle this weekend.
Let's get started.
The best odds for UFC Fight Night 139 can be found at MyBookie, Bovada, and BetOnline.
Donald Cerrone vs. Mike Perry
Saturday, November 10 – 11:55 pm (ET) / 3:55am (GMT)
Donald Cerrone vs. Mike Perry should be nothing else but phenomenal.
And that's just from a pure fighting standpoint, without even considering all of the conflict and drama behind the scenes.
For a guy who had never suffered consecutive defeats until mid-2017, Cerrone is now in uncharted territory after losing four of his last five fights. It could be as simple as measuring the quality of opponent, though, considering that Cerrone's defeats were to ranked talents such as Jorge Masvidal, Darren TIll, Robbie Lawler, and Leon Edwards.
On the other hand, Cerrone's most recent victories were against the likes of Yancy Medeiros, Matt Brown, Rick Story, Patrick Cote, and Alex Oliveira. Four of those wins came during his ever-impressive four-fight undefeated year in 2016.
When it comes to Mike Perry, it's hard to really know what to expect.
We're used to witnessing a level of unmatched craziness and forward pressure as Perry storms forward at his opponent and looks to demolish them as quickly as possible. But sometimes he shows glimpses of strategy and game planning, hinting at possibly untapped potential. Regardless, Perry hits hard and relies on his power more than anything else.
Cerrone might have an advantage on the feet, and he should have a major advantage on the ground. Can he kick into gear quicker than Perry and win two of three rounds, though?
It's definitely worth taking a shot because there is excellent value here on Cerrone's side.
Bet on Donald Cerrone to win: 2.75Bet €100 to win €2757/4Bet £100 to win £275+175Bet $100 to win $2751.75Bet HK$100 to win HK$2751.75Bet Rp100 to win Rp275-0.5714Bet RM100 to win RM275 at Bovada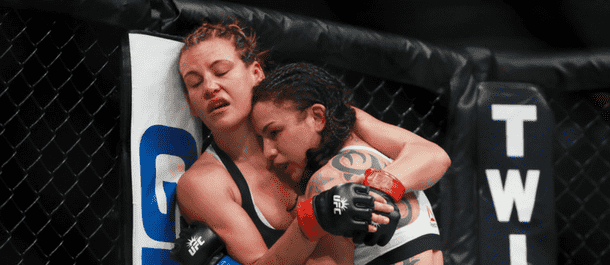 Raquel Pennington vs. Germaine De Randamie
Saturday, November 10 – 11:30 pm (ET) / 3:30am (GMT)
Raquel Pennington returns for the first time since falling short in her title challenge against Amanda Nunes.
She'll face former UFC Women's Featherweight Champion, Germaine De Randamie, who has not fought since defeating Holly Holm and claiming the title in February 2017. She was later stripped of the title and never defended it.
Raquel Pennington had stormed through the women's bantamweight division and impressed fans, media, and the UFC enough to earn a title shot. Yet, when it mattered most, she was outclassed by the slick and powerful Nunes through five rounds. She'll need to find a way to avoid a two-fight skid against the dangerous striker, Germaine De Randamie.
De Randamie is an outstanding kickboxer and proved that by defeating Holly Holm in what was almost a straight-up kickboxing match last year. That win made it three in a row for "GDR" who bounced back strongly after a defeat to the current champion, Amanda Nunes.
If this fight stays standing, and it likely will, it has Germaine De Randamie written all over it. She'll be able to piece Pennington up from long range with her lengthy striking game. Realistically, these odds don't seem wide enough, so we'll be running with a confident bet on "GDR" this weekend.
Bet on Germaine De Randamie to win: 1.57Bet €100 to win €15757/100Bet £100 to win £157-175Bet $100 to win $1570.57Bet HK$100 to win HK$157-1.75Bet Rp100 to win Rp1570.5700Bet RM100 to win RM157 at Bovada
---
Joseph Benavidez vs. Ray Borg
On Wednesday this week, Ray Borg suffered an injury and was forced to withdraw from this bout with Joseph Benavidez. This fight will no longer take place.
Furthermore, the UFC has since proceeded to cut multiple athletes from the flyweight roster, suggesting that the division is coming to an end.
---
Maycee Barber vs. Hannah Cifers
Saturday, November 10– 10:30 pm (ET) / 2:30am (GMT)
If you are not familiar with Maycee Barber and Hannah Cifers, you are forgiven. This isn't a high-level matchup by any means.
Maycee Barber did enough on Dana White's Tuesday Night Contender Series to earn a call-up to the UFC. Barber defeated Jamie Colleen in the third round in July and this will mark her first appearance inside the UFC's Octagon. Barber is undefeated after five fights as a professional.
She will be up against Hannah Cifers, who will step into the fight on short notice after Maia Stevenson withdrew from the bout with Barber for undisclosed reasons almost three weeks ago. Cifers, too, will be making her UFC debut this weekend.
Barber's defense is questionable and there's a reasonable play to be made on the other side in this fight. Cifers stands relatively flat-footed and might get outclassed over three rounds by Barber, but there's also a good chance she lands a fight-ending series of strikes.
We'll take that chance at odds of 10.85Bet €100 to win €1085197/20Bet £100 to win £1085+985Bet $100 to win $10859.85Bet HK$100 to win HK$10859.85Bet Rp100 to win Rp1085-0.1015Bet RM100 to win RM1085 any day!
Bet on Hannah Cifers to win by KO/TKO: 10.85Bet €100 to win €1085197/20Bet £100 to win £1085+985Bet $100 to win $10859.85Bet HK$100 to win HK$10859.85Bet Rp100 to win Rp1085-0.1015Bet RM100 to win RM1085 at BetOnline
---
Michael Trizano vs. Luis Pena
Saturday, November 10– 10:00 pm (ET) / 2:00am (GMT)
After managing victories at The Ultimate Fighter 27 Finale earlier this year, Michael Trizano and "Violent Bob Ross" are ready to clash in a lightweight bout.
Both Trizano and Pena are undefeated through their careers so far. Pena has accumulated a perfect 5-0 record while Trizano has made it to seven fights without the feeling of defeat.
Trizano most recently defeated another top-rated prospect in Joe Giannetti at The Ultimate Fighter 27 Finale earlier this year. Pena's first win in the UFC came against Richie Smullen on that same night.
At first glance, Pena looks like the more talented of the two athletes. His striking is polished and he has servicable grappling ability.
Trizano is a great talent, but Pena could very well be one of the best breakout stars of the year if he manages to secure a masterful finish against Trizano this weekend.
Bet on Luis Pena to win: 1.53Bet €100 to win €15353/100Bet £100 to win £153-189Bet $100 to win $1530.53Bet HK$100 to win HK$153-1.89Bet Rp100 to win Rp1530.5300Bet RM100 to win RM153 with Mybookie
---
Best Bets for UFC Fight Night 139
We've done the research for you and here are the exact same bets that we'll be placing this weekend!
Donald Cerrone
Mike Perry
UFC Fight Night 139