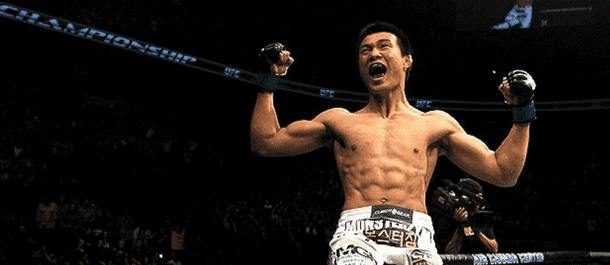 The UFC will travel to Denver, Colorado, for UFC Fight Night 139 on Saturday, November 10.
However, this isn't just a regular UFC Fight Night card. This fight card will mark the UFC's 25th Anniversary and will take place almost exactly 25 years after the UFC's first event in Denver in November 1993.
Frankie Edgar was originally scheduled to fight "The Korean Zombie", Chan Sung Jung, in the main event. However, an injury to Edgar in late October forced the UFC to find a new opponent for "The Korean Zombie."
In steps The Ultimate Fighter: Latin America winner Yair Rodriguez, who will be looking to bounce back from losing to Frankie Edgar in May last year.
Chan Sung Jung, better known as "The Korean Zombie," is returning to the cage for the first time in quite a while. In fact, it's now ticked over 640 days since we last saw the South Korean fighter compete inside the UFC's Octagon.
On that night, Jung stunned fans in attendance and watching around the world when he overcame a relatively slow start and manage to crush the jaw of Dennis Bermudez with a monstrous right uppercut. Our fears of 'ring rust' soon faded as we saw "The Korean Zombie" return to his classic ways in the blink of an eye.
Yair Rodriguez has been away from the cage for an extended period, as well. Easily one of the most exciting prospects in the UFC, with superb striking and slick movement, Rodriguez is in desperate need of returning to the win column after a lackluster 18 months of inactivity. Before then, he was destroyed by Frankie Edgar in one of those too fast, too soon, kind of fights, which pitted the prospect against one of the veterans of the sport.
Rodriguez was recently scheduled to return against Zabit Magomedsharipov in what would have been a fantastic featherweight clash, but Rodriguez withdrew due to an injury.
Now, Jung and Rodriguez will meet in what should be an entertaining fight that likely doesn't last the distance.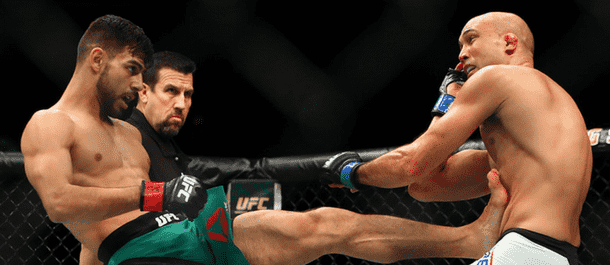 Fight Breakdown
There's no overwhelmingly confident side to take in this main event and the odds reflect that belief with Chan Sung Jung currently sitting as a slight favorite against Yair Rodriguez.
An intelligent read could be made to state a case for victory for each fighter.
For "The Korean Zombie," his relentless always-forward momentum could be enough to put Rodriguez on the back foot and disallow him from setting up his patented spinning kicks and creative striking techniques. If Jung can smother Rodriguez and close the distance quickly and consistently, Rodriguez will surely be in for a tough night in the cage.
And then for Rodriguez, one could argue that there are major opportunities for the taekwondo black belt in this fight considering Jung's defensive lapses and tendency to walk forward with his hands down. A quick look at Jung's record reveals that he was knocked out previously by a devastating head kick from George Roop in 2010 and that's something Rodriguez is more than capable of.
Realistically, though, we'll the best of both guys this weekend at UFC Fight Night 139. Jung will undoubtedly do his best to overwhelm Rodriguez, and there'll be moments when Rodriguez's elusive footwork helps him evade danger and reset near the center of the cage.
If Jung wants to take this to the mat, he might have an advantage. Rodriguez's scrambling ability and wild risk-taking on the floor could see him score an unexpected submission at any given time, or likewise, it could result in him being trapped underneath his opponent for the majority of a round – just like his last outing with Frankie Edgar.
We'll be banking on Jung's pressure to be too much for Rodriguez before eventually defeating him inside the distance.
UFC Fight Night 139: Chan Sung Jung vs. Yair Rodriguez
Saturday, November 10 – 11:50 pm (ET) / 3:50am (GMT)
The Korean Zombie
UFC Fight Night 139
Yair Rodriguez