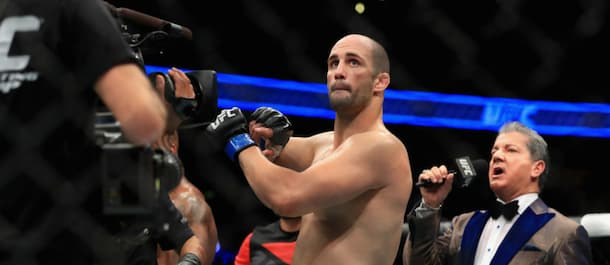 The UFC returns this weekend with a fascinating UFC Fight Night event in Moncton, New Brunswick.
The event, set to take place at the Avenir Centre on Saturday, October 27, will be the UFC's first since the memorable showdown between Khabib Nurmagomedov and Conor McGregor at UFC 229 on October 6.
Headlining UFC Fight Night 138 this weekend is a light heavyweight showdown between former title challenger Volkan Oezdemir and rising a star of the 205-pound category, Anthony Smith.
For Oezdemir, this will be his first outing since losing to the champion, Daniel Cormier. He'll be looking to snatch a win from Smith, who has won his last two fights since moving up to the light heavyweight division.
Also on the bill is a co-main event between Michael Johnson and Artem Lobov, which is sure to capture the attention of many fans.
Volkan Oezdemir scored one of the most unsuspecting title challenges in recent memory when he stormed through the light heavyweight division and knocked out multiple contenders with remarkably devastating power. After navigating to a split decision victory against Ovince Saint-Preux, Oezdemir proceeded to crush Misha Cirkunov in only 28 seconds. That knockout earned him a shot at Jimi Manuwa, and Oezdemir managed to flatten him in only 22 seconds.
It was against Daniel Cormier when Oezdemir looked human for the first time in a while. Cormier marched him down before securing a second-round finish in convincing style.
Much like Oezdemir did before him, Anthony Smith has gained the attention of fans around the world by starching Mauricio Rua and Rashad Evans in just a matter of months. These two victories quickly erased our memories of a second-round defeat to Thiago Santos at middleweight in what was one of the most exciting fights of the year so far.
Smith looks to have found his home in the light heavyweight division and a win over Oezdemir would rank him up there near the very top of the division. And as strange as it may seem, he might be the next in line to face the winner of Jon Jones vs. Alexander Gustafsson if Daniel Cormier never returns to light heavyweight.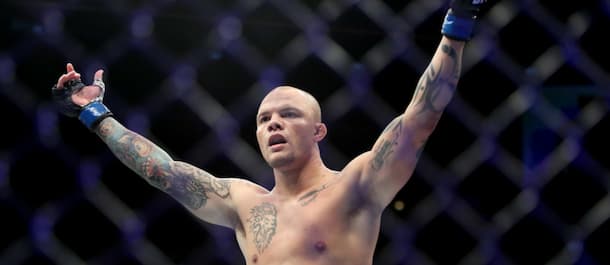 Fight Breakdown
To say Anthony Smith is on the receiving end of a lot of strikes is a massive understatement, so it's going to be absolutely necessary to properly evaluate Volkan Oezdemir's power.
Let's start by saying that no one had ever crushed Misha Cirkunov or Jimi Manuwa with the same ease that Oezdemir did.
It almost looked like Oezdemir's gloves were padded with cement.
While resting against the cage in the clinch, Oezdemir pummeled a series of quick, short left hands into Manuwa's head and rattled him enough to secure the eventual finish.
Against Cirkunov, Oezdemir turned and touched him on the side of the head in what must have been the most perfect of positions because Cirkunov fell to the floor immediately.
Against Daniel Cormier, many of us were wondering if Oezdemir's power would hold true. Although starting the fight with relentless pace and constant pressure, Oezdemir didn't land with the same power we have seen in the past – mostly because Cormier is a genuinely tricky opponent to tag. And when Cormier eventually found his rhythm later in the first round, Oezdemir wasn't able to hang with the light heavyweight champion.
That fight also highlighted his vulnerability on the ground.
So, will he be able to hang with Anthony Smith?
Smith is another high-pressure fighter who mixes it up at all distances and angles. He's especially powerful inside the clinch, where he can do damage with knees and elbows. At range, his occasional flurry of lengthy strikes is also very dangerous.
When we're talking about Smith, though, there's a point to be made that he is often struck with powerful shots. Despite this, he manages to hang in there for long enough to regain his composure either by securing a takedown or defending the onslaught.
His defense isn't his strongest of suits, and his 46% striking defense rates as one of the worst in the division. In fact, statistically speaking, Smith doesn't stand out as the type of fighter you'd expect to see fighting against a #2 contender. But statistics can't and don't measure some of the intangibles that Smith brings to the cage such as pure determination and grit. He's a hard man to stop.
It's difficult to separate these two fighters on the feet. Yes, Oezdemir lands more often and with arguably more power, but his technique is often sloppy. There will be opportunities for Smith to land his shots, we don't doubt that, it's just whether he'll be able to recover after being struck with one of Oezdemir's powerful punches.
An interesting point of discussion to be had before this fight is what happens if the fight hits the mat. We haven't seen much of Oezdemir down there in the UFC so far, except against Cormier who controlled him with ease and battered him on the ground. This vulnerability was first uncovered by Kelly Anundson who ragdolled Oezdemir over and over at Bellator 115 many years ago.
Smith has a couple of ways to win this one; arguably more so than his opponent. But we're going to stick with our instinct that sees another Volkan Oezdemir knockout in "no time."
UFC Fight Night 138: Volkan Oezdemir vs. Anthony Smith
Sunday, October 28 – 12:30 am (ET) / 4:30am (GMT)
Anthony Smith
UFC Fight Night 138
Volkan Oezdemir