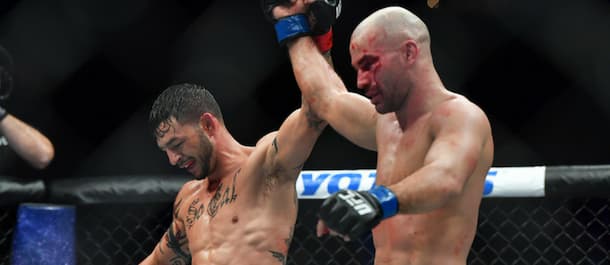 Life feels a little empty without the UFC gracing our screens with pure violence every weekend.
Fear not, though, because the world's premier mixed martial arts organization returns this Saturday with a great main card in Moncton, New Brunswick.
The event is headlined by a full-force light heavyweight clash that no one expects to last the distance. If you haven't already done so, you can review our preview of the main event and discover our best bets for Volkan Oezdemir vs. Anthony Smith.
The main card also features many exciting battles including none other than the return of Artem Lobov, who will be facing Michael Johnson in the co-main event.
We'll ready to break down all of the main card fights, uncover the best odds, and also share our best bets for every fight – so let's get started!
Michael Johnson vs. Artem Lobov
Saturday, October 27 – 11:50 pm (ET) / 3:50am (GMT)
Many might consider Michael Johnson vs. Artem Lobov to be the people's main event.
Lobov grew into an "attraction" of his own by training alongside the superstar mixed martial artist from Ireland, Conor McGregor. Not renowned for his ability inside the cage (his 14-14-1 record isn't terrifying), Lobov is still a draw because of his rising popularity.
This fight was initially supposed to be the second chapter of Khabib vs. Conor, with Lobov originally paired against Zubaira Tukhogov. Tukhogov was withdrawn from the card after the crazy events that happened after the UFC 229 main event.
Despite this fight having the potential to be 15 minutes of meme-worthy Artem Lobov moments, it's also expected to be a reasonably fun battle between two strikers.
Johnson is fast and dangerous and will skip in and out to land heavy shots. He's arguably most dangerous when he plants his feet and attempts to counter; we saw this against Dustin Poirier when he flattened the now rising lightweight with a crushing right hook and left straight. It's important to note that there'll be a considerable reach advantage in this fight, with Johnson having a 73.5-inch reach against the T-Rex armed Lobov, who has a 65-inch reach.
Despite what the odds say, Lobov is still a threat to surprise Johnson here in this co-main event. Johnson's obviously coming in on late notice, and his style might leave him vulnerable to the now counter-focused Lobov. He showcased his counter striking against Cub Swanson and managed to last five rounds with him when no one thought he could. Granted, two judges scored the fight 50-40 in Swanson's favor, but there was much to like about Lobov's performance that day.
Now, though, he'll need to find an answer for the much larger and longer Johnson.
While everyone leans towards Johnson by decision, we're going to snap up the unbelievable odds for Johnson to win inside the distance.
Bet on Michael Johnson to win
Best Odds: -600 at Bovada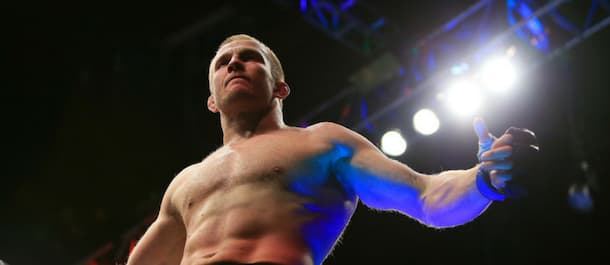 Misha Cirkunov vs. Patrick Cummins
Saturday, October 27 – 11:30 pm (ET) / 3:30am (GMT)
It wasn't that long ago when seemingly everyone, we included, considered Misha Cirkunov to be one of the best talents in the light heavyweight division. But then he lost to Volkan Oezdemir in devastating style (while Oezdemir would go on to challenge for the title). And then he lost to Glover Teixeira by KO/TKO, as well.
Now, we're not sure where Misha Cirkunov is at.
He'll be facing Patrick Cummins, who has dropped three of his last five fights and is recently coming off a unanimous decision defeat to Corey Anderson. That defeat that ruined his streak of wins against Gian Villante and Jan Blachowicz.
Oh, Patrick Cummins…
When you think that Cummins couldn't eat any more damage, he goes out and proves that he can – and that's not a good thing. Corey Anderson mauled Cummins for three rounds in his most recent fight. Long-time followers of Cummins could be excused for thinking Cummins would pinch a split decision after dropping the first round (like he always does), but this was not the case.
We do not doubt that Misha Cirkunov is going to crush Patrick Cummins for moments at a time, but will it be enough to put him away for good? Sadly, not even we can comprehend Cummins' ability to take damage.
Cirkunov was landing heavy shots on Glover Teixeira in the first few minutes before being taken down in the middle of round one. Those same shots are likely enough to send Cummins stumbling all over the place.
Maybe, just maybe, Cirkunov can be the first in a little while to send Cummins home early.
Bet on Misha Cirkunov to win
Best Odds: -460 at BetOnline
Andre Soukhamthath vs. Jonathan Martinez
Saturday, October 27 – 11:00 pm (ET) / 3:00am (GMT)
Andre Soukhamthath had his chance to shine against Sean O'Malley at UFC 222 in March this year but flopped in a big way when he ruined his chances of securing what seemed to be an easy victory. O'Malley had injured himself badly, but Soukhamthath was seemingly rocked from earlier in the fight and allowed O'Malley to go to the mat and recover, rather than forcing him to stand. That defeat was Andre's third in his four fights with the UFC, and he'll now need to get back on track much like how he did against Luke Sanders late last year.
Against him will be UFC newcomer, Jonathan Martinez, who will step in to replace Gavin Tucker. Martinez is a young prospect with plenty of potential, managing nine wins in his ten-fight career. His one defeat was due to an illegal knee against Matt Schnell in December 2015 as Schnell attempted to return to his feet. Most recently, he's scored some sweet submission victories and showcased outstanding jiu-jitsu against regional-level opponents.
Firstly, Andre Soukhamthath is better than your typical 1-3 fighter in the UFC. He was on the end of some narrow decision defeats and did manage to finish Luke Sanders, who is a tough opponent, as well. Although outclassed by Sean O'Malley, O'Malley looks to have the potential to turn into a contender in the division one day, so there's no real harm.
On the feet, it'll be Soukhamthath's boxing that separates the two in close exchanges.
Possibly the most interesting aspect of this fight is whether Jonathan Martinez's submission ability will hold up in the UFC. So far in his career, we've seen an incredibly active guard player who likes to transition into armbars or chokes when possible. From a betting perspective, it's the activity that matters, as he is always trying to finish the fight on the mat. While standing, he's quite dangerous. He has power in his kicks but is too often caught and taken down to the mat. But then again, if he is as dangerous down there as he looks, is it a major problem?
One point to consider is that Martinez was ready to cut down and compete at 125-pounds, and intends to fight there at flyweight in the future. He's definitely not the long and rangy O'Malley type and strength won't be a factor.
Bet on Total Rounds – Under 2.5
Best Odds: +185 at BetOnline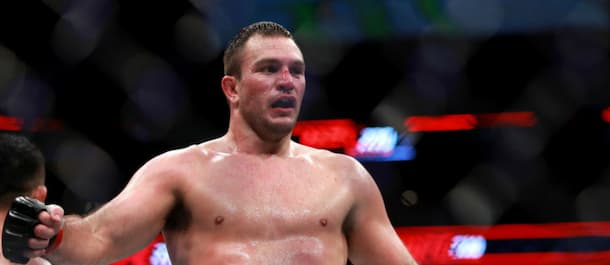 Gian Villante vs. Ed Herman
Saturday, October 27 – 10:30 pm (ET) / 2:30am (GMT)
It hasn't been smooth sailing for Gian Villante, who has lost four of his last six bouts. Strangely enough, all of Villante's last three contests ended in a split decision, and he was on the wrong end of two of them, including the last one against Sam Alvey. If there's ever been a great opportunity to return to winning ways, it's this one here against Ed Herman.
Herman is currently on a two-fight losing skid, but if it's any consolation he wasn't knocked out by C.B. Dollaway at The Ultimate Fighter 25 Finale. He was crushed by Nikita Krylov and Derek Brunson in recent memory, however, and that's exactly what Gian Villante will be hoping to achieve this weekend.
If there was ever one quality or attribute that we'd like to add to Gian Villante's game, it's cardio.
Villante might hit like a truck, but he crashes into a burning fire after the end of the first round. Fatigue hits the big man hard, and his power and speed are greatly diminished. Of course, Villante has managed to stick around against heavy hitters recently, proving that he still has a decent chin, but he'll likely need to starch Herman early in this contest.
Simply speaking, Herman's going to need to wear on Villante and eventually get him to the mat.
It might not happen in the first minute, while Villante is still fresh, but if Herman can fatigue his opponent and remain standard after many of Villante's devastating strikes, there's a chance that Herman can gain top position and end the fight. It's not much of a chance. But it's a chance…
Villante should land his punches early, and a well-timed punch from the light heavyweight is enough to send Herman packing. We'll be betting on Villante.
Bet on Gian Villante to win
Best Odds: -250 at BetOnline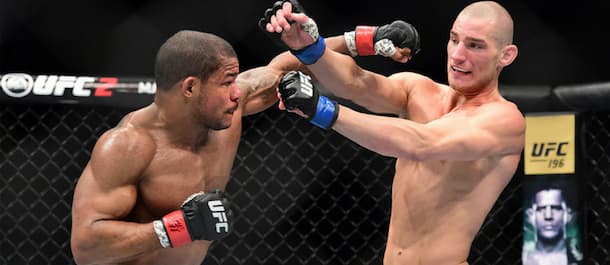 Alex Garcia vs. Court McGee
Saturday, October 27 – 10:00 pm (ET) / 2:00am (GMT)
There's a thing called consistency, and Alex Garcia has none of it. The same could be said about momentum. Every time Garcia scores a UFC victory he returns to the losing column almost immediately. In his most recent fight, Garcia dropped a unanimous decision to Ryan LaFlare in April 2018.
And yes, Court McGee is still fighting. Despite losing three of his last four contests, the former The Ultimate Fighter winner will be looking to return to old ways.
Alex Garcia vs. Court McGee is essentially a war between raw power vs. volume – that's to ignore the wrestling threat of Garcia, of course.
On the feet, Garcia packs tremendous power into his punches but is way too often caught waiting for the right opportunity. Garcia is known to wait, wait, and wait, but it is often too late, and he is caught on the wrong end of a decision. As the fight progresses, there's a real chance that the judges favor McGee, who is one of the most active fighters in the division.
Garcia's explosive wrestling is a point of consideration here – just like in every Garcia fight. With fast single-leg takedowns or powerful double-leg takedowns, Garcia is capable of timing an incoming strike before ducking underneath and securing top position.
While the bookmakers seem to believe this one will last the distance, we're more inclined to think that one fighter will gain a point of edge and secure a finish in this fight.
Bet on Total Rounds – Under 2.5
Best Odds: +220 at MyBookie
Best Bets for UFC Fight Night 138
We've done the research and here are our best bets for UFC Fight Night 138.
Artem Lobov
Michael Johnson
UFC Fight Night 138