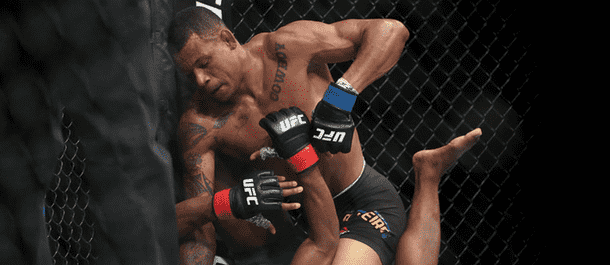 UFC Fight Night 137 Betting Guide
UFC Fight Night 137 marks the return to Sao Paulo, Brazil, with a 14-fight card stacked with Brazilian mixed martial arts talent.
If you haven't already, check out our preview of the main event between Thiago Santos and Eryk Anders.
Let's get started!
Alex Oliveira vs. Carlo Pedersoli
Sunday, September 23 – 12:00 am (ET) / 4:00am (GMT)
The always exciting Alex "Cowboy" Oliveira will feature in a co-main event battle in front of his fans in Brazil this weekend. Oliveira was originally scheduled to meet Neil Magny, but Magny was moved to the UFC event in Buenos Aires to face Santiago Ponzinibbio.
Carlo Pedersoli's fame skyrocketed when he defeated Nicolas Dalby in Cage Warriors earlier this year. Before then, he was a mostly unknown mixed martial artist with wins over unremarkable opponents in regional competition. However, he scored a split decision win against Dalby at Cage Warriors 93 and then gained entry to the UFC. In his promotional debut with the UFC just one month later in May, Pedersoli managed yet another split decision win and improved his record to 11-1.
Alex Oliveira is not just one of the most exciting fighters on the entire roster; he's also managed to win five of his last six fights in the UFC (excluding a "No Contest" with Tim Means, that he was losing at the time of an illegal knee). Most recently, Oliveira scored arguably the biggest win of his career when he finished Carlos Condit with a guillotine choke in the second round.
How do these two match up?
Well, Oliveira's bouncy and fast-paced style of fighting might spell trouble for Pedersoli who usually utilizes a slow and patient approach while standing. That doesn't mean he isn't creative or explosive, however, as he typically sets up destructive spinning high kicks and pounds left kicks to the body. Pedersoli is intelligent enough while standing to outwork Oliveira over the course of three rounds, but does he have enough of an edge on the mat to withstand Oliveira's offensive grappling style and submission skill?
Pedersoli frequently looks for submissions of his own and rolled for a calf slicer in his fight with Nicolas Dalby. Oliveira is also relatively vulnerable against submission attacks, and Condit almost caught him with a rear-naked choke in the first round.
The standard play would be to take the highly-skilled Brazilian "Cowboy" to secure a victory, but we'll lean on the value side for this fight and take Carlo Pedersoli to win.
Prediction: Carlo Pedersoli to win by submission
Bet on Carlo Pedersoli to win – 4.20Bet €100 to win €42016/5Bet £100 to win £420+320Bet $100 to win $4203.20Bet HK$100 to win HK$4203.20Bet Rp100 to win Rp420-0.3125Bet RM100 to win RM420 with BetOnline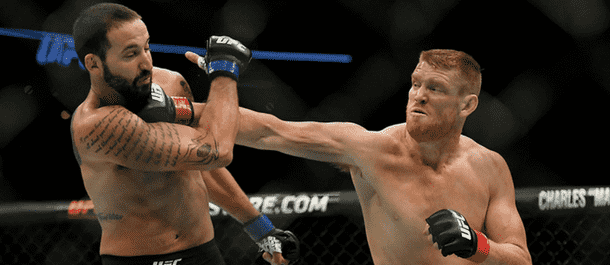 Sam Alvey vs. Antonio Rogerio Nogueira
Saturday, September 22 – 11:30 pm (ET) / 3:30am (GMT)
Antonio Rogerio Nogueira will find himself locked in a cage with Sam Alvey this weekend in Brazil…
Or is it the other way around?
Sam Alvey is on a roll again for the first time in almost two years. Although regarded for his heavy punching power, Alvey has finished his opponent in only one of his last seven bouts; that was Marcin Prachnio who was careless enough to walk right into Alvey's punches. Besides Prachnio, it seems as if everyone else has worked out Alvey and his remarkably limited abilities as a mixed martial artist. As long as you can avoid the powerful punches that are coming your way, it seems as if you can cruise past Alvey on the scorecards considering his low volume of strikes.
Antonio Rogerio Nogueira will be returning to action for the first time since November 2016. On that day, "Little Nog" was outworked by Ryan Bader and was handed his third defeat in his last four fights. "Little Nog" has managed just one win since defeating Rashad Evans in February 2013, and that was when he finished Patrick Cummins with punches in 2016.
When it comes to analyzing how these two fighters match up against each other, there's not much else to say other than Antonio Rogerio Nogueira desperately needs to avoid being tagged by Alvey's solid right hand. If he manages to do so, he could sneak a decision victory against the low-volume Alvey and cash in as one of the best underdog bets of the evening.
Alvey isn't the young up-and-coming fighter that would easily cause problems for "Little Nog." Instead, he's a heavy-handed and predictable fighter that can easily be exploited.
Prediction: Antonio Rogerio Nogueira to win by split decision
Bet on Antonio Rogerio Nogueira to win – 3.55Bet €100 to win €35551/20Bet £100 to win £355+255Bet $100 to win $3552.55Bet HK$100 to win HK$3552.55Bet Rp100 to win Rp355-0.3922Bet RM100 to win RM355 with MyBookie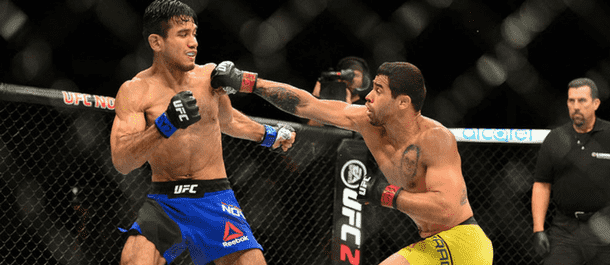 Renan Barao vs. Andre Ewell
Saturday, September 22 – 11:00 pm (ET) / 3:00am (GMT)
Former UFC champion Renan Barao will attempt to get back on track against UFC newcomer Andre Ewell in Brazil.
Barao has won just one of his last five bouts and seems to be a shadow of his former self. Ewell will enter the cage after an impressive four-fight winning streak outside of the UFC.
Something needs to change for Renan Barao, but we're not exactly sure what that is. Many of Barao's recent defeats were to high-quality competition, including one loss to the current champion T.J. Dillashaw, but we're used to seeing more from Barao.
Andre Ewell is a fight-finishing machine who has recorded seven stoppage victories (and eight wins) in his most recent nine fights. Ewell has shown an impressive range of stoppage techniques, mixing up submission stoppages with several KO/TKO finishes.
Ewell is slick on his feet, but he's not as dangerous as a T.J. Dillashaw or Aljamain Sterling inside the cage. Barao will also need to be careful of Ewell's submission ability, as he recently wrapped Dinis Paiva in a D'Arce choke after Paiva attempted to take him down. The D'Arce is just one of the dangers of Ewell's long reach, as he also uses his length to pick apart an opponent with jabs.
Of all recent opponents, Ewell represents arguably the best opportunity for Barao to look like his former self. If Barao can utilize his wrestling and put Ewell on his back, then we might witness a dominant performance from Brazilian. If not, however, Ewell might easily outwork him while standing for three rounds.
Prediction: Andre Ewell to win by unanimous decision
Bet on Andre Ewell to win – 2.05Bet €100 to win €20521/20Bet £100 to win £205+105Bet $100 to win $2051.05Bet HK$100 to win HK$2051.05Bet Rp100 to win Rp205-0.9524Bet RM100 to win RM205 with Bovada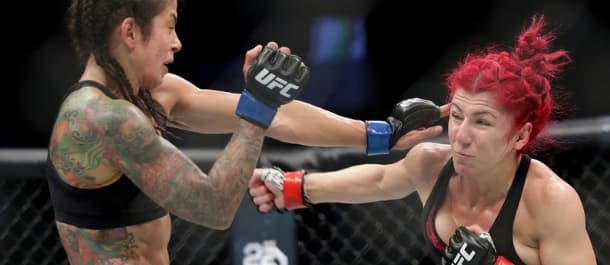 Randa Markos vs. Marina Rodriguez
Saturday, September 22 – 10:30 pm (ET) / 2:30am (GMT)
Randa Markos will welcome Marina Rodriguez to the UFC this weekend in a strawweight clash.
Randa Markos has alternated wins and losses all the way back to October 2013. Since then, she's never once managed consecutive wins or experienced consecutive defeats in 12 professional bouts. She's coming off a defeat to Nina Ansaroff in July this year in which she managed to control Ansaroff for the majority of the first round but then had all nine of her takedowns stuffed in the second and third round.
Marina Rodriguez is a Muay Thai specialist who recently overwhelmed Maria Oliveira on a Dana White's Tuesday Night Contender Series show with effective striking. She's particularly strong in the clinch and uses her advantage to control her opponent while connecting with damaging knees.
We're yet to see how Marina Rodriguez handles takedown attempts, and this could be the deciding factor of this fight with Markos. Markos typically uses dirty boxing techniques and her clinch work to close the distance and take the fight to the mat. Against Rodriguez, however, the inside might be a disaster for Markos, and she could be pieced up by the accurate and high-volume striking of the newcomer. Also look for the calf lick, which Rodriguez should have tremendous success with in this fight.
Prediction: Marina Rodriguez to win by split decision
Bet on Marina Rodriguez to win – 2.00Bet €100 to win €2001/1Bet £100 to win £200+100Bet $100 to win $2001.00Bet HK$100 to win HK$2001.00Bet Rp100 to win Rp2001.0000Bet RM100 to win RM200 with BetOnline
Best Bets for UFC Fight Night 137
Here are our best bets for UFC Fight Night 137 in Sao Paulo, Brazil, this weekend!
Make sure to also read our preview of the main event bout between Thiago Santos and Erky Anders.
Alex Oliveira
Carlo Pedersoli
UFC Fight Night 137