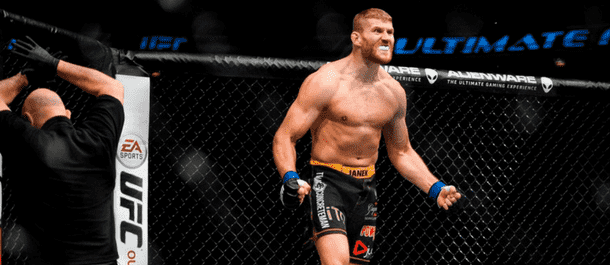 UFC Fight Night 136 – Main Card Betting Guide
The UFC is heading to Moscow, Russia, for the very first time and we're here to break down all of the action and share our best bets for the main card.
If you haven't already, check out our preview of the main event battle between Mark Hunt and Aleksei Oleinik.
Let's get started!
Jan Blachowicz vs. Nikita Krylov
Saturday, September 15 – 3:00 pm (ET) / 7:00pm (GMT)
Two winning streaks will collide in the co-main event of UFC Fight Night 136 when Jan Blachowicz welcomes the returning Nikita Krylov back to the Octagon.
Blachowicz, who has now managed three consecutive victories and snapped a 1-4 skid through five fights, is in career-best form after defeating Jimi Manuwa, Jared Cannonier, and Devin Clark. Most of this improvement can be attributed to Blachowicz returning to his old coach, Robert Jocz, who has helped him focus on his strongest abilities.
He'll be facing the highly-touted Ukranian fighter, Nikita Krylov, who parted ways with the UFC in 2016 after losing to Misha Cirkunov. Since then, Krylov has managed four victories and claimed the Fight Nights Global Light Heavyweight Championship by defeating Fábio Maldonado by KO/TKO in the second round. Krylov's loss to Cirkunov was the end of a five-fight winning streak in the UFC, and he now hopes to get back on track here by defeating the surging Blachowicz.
This fight should be nothing else but pure excitement for fight fans around the world. Nikita Krylov is known for his entertaining style and has never made it to the scorecards in his 30-fight career. In fact, he's only ever started the third round once in his career. On the other hand, Jan Blachowicz has now had 11 of his last 14 fights decided by the scorecards.
If we're speaking about styles, we'll also need to consider that these two approach combat in the cage very differently. Nikita Krylov is a high-volume striker with an array of devastating kicks. He prefers to keep away from his opponent and pepper them with strikes from long range. Krylov will occasionally mix things up and throw a series of straight punches down the line, including a stiff jag or two for good measure. However, he's seemingly vulnerable to a counter attack when attempting a strike, as Misha Cirkunov highlighted at UFC 206.
And then there's Jan Blachowicz, who will patiently wait for his opportunity to land a counter punch. It's not just one or two strikes, either. Blachowicz will reach out and feel the gloves and range of his opponent before unloading a flurry of punches with extreme power. The majority of Blachowicz's strikes are thrown with nasty intentions, and he has displayed an ability to knock down and damage his opponents in his recent fights despite not scoring a KO/TKO victory since 2014.
Prediction: Jan Blachowicz to win by KO/TKO
Bet on Jan Blachowicz to win at odds of +105 with BetOnline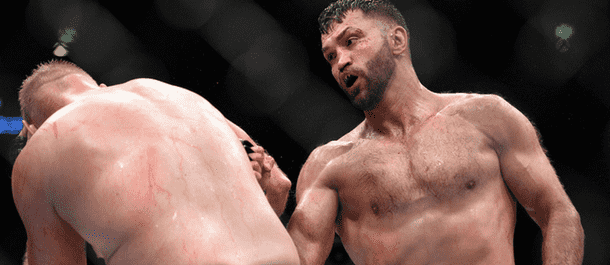 Andrei Arlovski vs. Shamil Abdurakhimov
Saturday, September 15 – 2:30 pm (ET) / 6:30pm (GMT)
Another pair of heavyweight fighters will clash on the UFC Fight Night 136 main card when Andrei Arlovski meets Shamil Abdurakhimov in a three-round bout.
Arlovski will be stepping into the cage for the third time in 2018 this weekend to bounce back from a defeat to rising heavyweight star Tai Tuivasa. That defeat marked the end of a two-fight turnaround for Arlovski, who had returned to winning ways and erased memories of a five-fight losing streak that stretched through 2016 and 2017.
Abdurakhimov will be planning to improve his record to 4-2 with the UFC and 19-4 overall with a win against Arlovski in Moscow, Russia, this weekend. As the main and co-main event do not feature a Russian fighter, Abdurakhimov is the highest-billed Russian for the UFC's first-ever event in Russia. Most recently, Abdurakhimov scored a first-round victory against Chase Sherman in November 2017 in his first appearance inside the cage for nearly a year.
Andrei Arlovski will enter this fight as the betting underdog for the ninth consecutive time. The last time that Arlovski was a favorite was when he faced Frank Mir all the way back in September 2015, at the pinnacle of a six-fight winning streak. Now, after losing to heavyweight talent such as Stipe Miocic, Alistair Overeem, and now Tai Tuivasa, there's not much faith in Arlovski to get the job done.
Yet, he's still got all the usual tricks. He still has relatively fast reflexes for a heavyweight and has shown an ability to land fast and powerful counter strikes when available. Even in his defeat to Tuivasa, Arlovski looked great while standing there was a minor argument to be made that he actually won that fight. In reality, though, he took Tuivasa – who had finished all of his opponents in the first round – the distance, which is a major achievement in itself.
Arlovski's defense will need to be on point against Abdurakhimov, who destroyed Sherman with some missile-like punches that connected over and over again with outrageous power. This was a vastly different version of Abdurakhimov from the hesitant (and arguably afraid) fighter that we had seen against Derrick Lewis in 2016.
Prediction: Andrei Arlovski to win by unanimous decision
Bet on Andrei Arlovski to win at odds of 2.10 with Bovada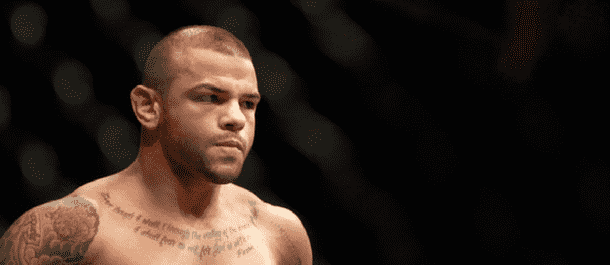 Alexey Kunchenko vs. Thiago Alves
Saturday, September 15 – 2:00 pm (ET) / 6:00pm (GMT)
Alexey Kunchenko will make his highly anticipated UFC debut this weekend when he faces Thiago Alves in a three-round welterweight battle.
Kunchenko is undefeated as a professional mixed martial artist and has managed 18 victories in his 5+ year career so far. He won the M-1 Challenge Welterweight Championship in April 2016 and went on to defend it five times against stiff Russian competition. Many have felt as if Kunchenko could slot right into the upper echelon of the UFC's welterweight rankings upon arrival, so we're specifically intrigued to see how Kunchenko handles the always-dangerous Thiago Alves.
To say that Thiago Alves isn't the same fighter he once was is a significant understatement. After an impressive seven-fight winning streak in the UFC through 2006-2008, Alves went on to challenge Georges St-Pierre for the UFC Welterweight Championship. He failed in his quest for gold, of course, and has since struggled to regain any momentum. Alves has competed just once in the last 12 months, when he lost by KO/TKO to Curtis Millender at UFC Fight Night 126.
If you're wondering whether Kunchenko's unbeaten record is the real deal, let us assure you that Kunchenko is every bit worthy of the hype. The 34-year-old has been fighting tough competition all throughout his career and has rarely looked troubled.
Kunchenko is a violent fighter with an undeniable willingness to pursue the finish when it is presented. He packs heavy power in his strikes and is generally quite reliable when it comes to speed, accuracy, and timing.
Alves is going to have his hands full this weekend against Kunchenko considering that he'll be outmatched in both the striking and grappling elements of this bout. The Brazilian's collection of powerful kicks certainly cannot be ignored, but it's tough to see a way for him to consistently land these strikes without being countered by Kunchenko's hands.
Prediction: Alexey Kunchenko to win by KO/TKO – Round 1
Bet on Alexey Kunchenko to win at odds of 1.22 with 888Sport
Best Bets for UFC Fight Night 136
Just want the best bets for UFC Fight Night 136? Here they are!
Make sure to also review our breakdown of the main event between Mark Hunt and Aleksei Oleinik!
Andrei Arlovski
Jan Blachowicz
UFC Fight Night 136