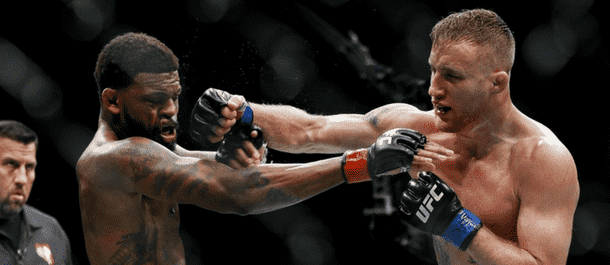 Justin Gaethje vs. James Vick
Lincoln, Nebraska – Sunday, August 26– 12:45 am (ET) / 4:45 am (GMT)
UFC bonus-winning machine Justin Gaethje will do battle with James Vick in what is sure to be a thrilling way to end UFC Fight Night 135 in Lincoln, Nebraska, this weekend.
When it comes to ranking the most exciting fighters in the UFC today, Justin Gaethje deserves to be near the very top of every one of those lists. A fearless warrior who never takes a backward step, Gaethje chops his opponent down with leg kicks before drilling them with stiff punches to the head. Since arriving at the UFC last year, he has since laid claim to arguably the best fight of 2017 against Michael Johnson, possibly the second best fight of 2017 when he battled Eddie Alvarez, and then one of the very best fights of 2018 so far when he clashed with Dustin Poirier. Gaethje is a must-watch fighter, but his exciting style hasn't necessarily translated into the results he wanted in MMA's premier organization so far.
After defeating Johnson in his UFC debut, Gaethje eventually took too much damage against Alvarez and Poirier before being stopped in the later rounds. This fight with James Vick will test Gaethje's mentality as he is faced with calls for a change in style – one that promotes a longer career as a mixed martial artist (and maybe even a longer life).
James Vick finally gets his big-name fight. Vick has been calling for a highly-ranked opponent for over a year now after storming past the likes of Abel Trujillo, Polo Reyes, Joe Duffy, and Francisco Trinaldo in a matter of 12 months. Arguably his toughest test was Trinaldo, who was the only one of Vick's last four opponents to make it the distance.
Interestingly, not many in the lightweight division seem willing to accept a fight with James Vick. Not only does he have a well-rounded skill set, but he is also freakishly large for the 155 lbs division, coming in at a very tall 6'3″ (190cm) and a reach of 76.0″ (193cm). A win against Gaethje will see him shoot right up the UFC's lightweight rankings.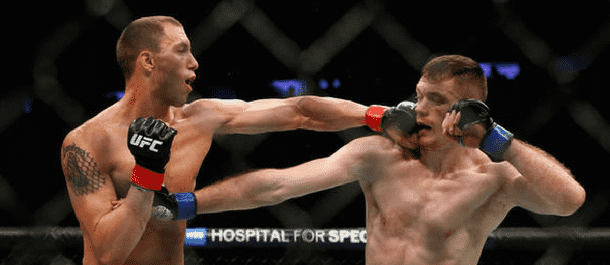 Fight Breakdown
Styles make fights, and Justin Gaethje's style might be problematic for James Vick.
Gaethje, who is renowned for his walk em' down style, has recently had trouble against in-fighters who have pieced him up with combinations. See, Gaethje walks forward with his hands high to deflect all incoming punches. This allows him to walk into range and unload heavy blows of his own to the head while mixing in leg kicks occasionally, as well.
The blueprint to defeat Gaethje is now out there, however. Alvarez and Poirier both stood inside the pocket with Gaethje and let go combinations of punches to the head and the body while Gaethje blocked high. Rather than shelling up, they returned shots and eventually finished Gaethje while standing.
Now, can James Vick do this?
Vick is at his best when he is controlling the center of the Octagon and striking his opponent from long distance. At times, he looks uncomfortable being backed up – although, he did show improved lateral movement against Francisco Trinaldo.
The critical takeaway is that James Vick doesn't want to engage in the infighting with Justin Gaethje, the strategy that Alvarez and Poirier used to defeat Gaethje. If he stands toe-to-toe with Gaethje, Vick will be giving up his massive size and reach advantage.
There's also the concern that Vick leaves his lead leg out there ready to be chopped up. Gaethje will likely work Vick's leg early and remove some of that ability for the lateral movement we mentioned before.
Of course, Vick has knockout power, as he displayed against Joe Duffy, and he also has insane submission finishing ability. He's a legitimate threat, but it's going to be an extremely challenging stylistic matchup.
Justin Gaethje vs. James Vick Odds
After starting at -115, James Vick's odds have since crashed into -155 at BetOnline as many believe his size will cause problems for Justin Gaethje.
This means that Gaethje, who began near-even with Vick at -115 has since moved out to +135 with Bovada.
Best Bet and Prediction
We get it, James Vick is a terrifying contender in the UFC's lightweight division, and Justin Gaethje has shown more weaknesses than strengths lately.
In this relatively even (and sure to be exciting) fight, we'll be leaning toward the underdog with confidence.
Best Bet: Justin Gaethje to win +135 at Bovada.
James Vick
Justin Gaethje
UFC Fight Night 135