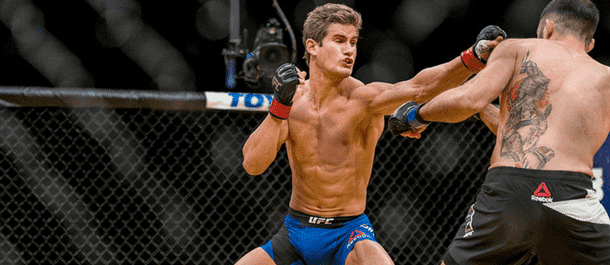 Sage Northcutt vs. Zak Ottow
Sunday, July 15 – 12:30 am (ET) / 4:30 am (GMT)
Sage Northcutt and Zak Ottow will step under the bright UFC lights in Boise, Idaho, this weekend as they do battle in a welterweight fight.
It's important to note that important aspect that we just mentioned – welterweight. Sage Northcutt will be moving up a division after managing a couple of wins at lightweight and will look to keep his momentum going against the very durable Zak Ottow. Northcutt has looked tremendous since making the switch to Team Alpha Male and has begun showing a well-rounded mixed martial arts game that includes takedowns, distance strikes, and even aggressively hunting for the stoppage victory.
Zak Ottow is the man who hopes to send Northcutt straight back down to the lightweight division. In fact, Ottow believes that he will 'rag doll' Northcutt, as soon as he gets his hands on him. That certainly makes us all the more interested in this fight, as it will be interesting to see if the rising prospect can shake away a dangerous opponent.
Betting Market and Prediction
The odds for this one are a little tighter than you may have expected. Despite looking like a brand new fighter in recent bouts, bookmakers are respecting the size and strength of Ottow and have him as just a slight underdog against Northcutt.
At the moment, Northcutt still represents good value at -130 with BetOnline and that's where we are rushing to place our money.
Bet: Sage Northcutt to win -130 with BetOnline
Dennis Bermudez vs. Rick Glenn
Sunday, July 15 – 12:00 am (ET) / 4:00 am (GMT)
Just before the co-main event is a brilliantly matched fight between Dennis Bermudez and Rick Glenn.
Dennis Bermudez really needs a win. He's on a three-fight losing skid and anything more than that is always a dangerous environment in the UFC. Fortunately, the matchmakers are throwing him more of a winnable fight this time around. But, I guess we all thought that when he was scheduled against Andre Fili earlier this year, as well. That defeat came just after losing to Darren Elkins and Chan Sung Jung.
Rick Glenn is almost the perfect test for Dennis Bermudez right now. He's not in red-hot form, but he's capable of shutting down a talented fighter, as he proved against Gavin Tucker at UFC 215. Unfortunately for Glenn, however, his stunning win over the undefeated Canadian was soon forgotten after losing to Myles Jury at UFC 219.
Betting Market and Prediction
Despite the value at +235 with BetOnline, you won't catch us risking it all on Rick Glenn this weekend. Instead, we'll be backing Dennis Bermudez to cruise to victory at odds of 1.35 over at 888Sport.
Bet: Dennis Bermudez to win 1.35 with 888Sport.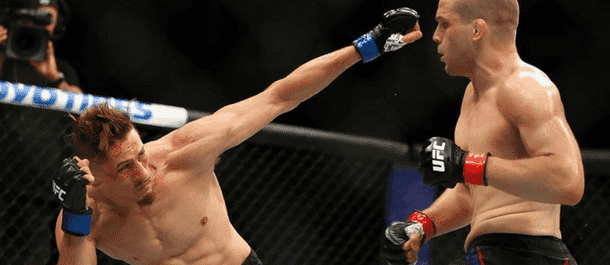 Randy Brown vs. Niko Price
Saturday, July 14 – 11:30 pm (ET) / 3:30 pm (GMT)
Randy Brown vs. Niko Price might not be a matchup that fans are flocking to see, but it's surely one of the most competitive here on the main card.
Randy Brown has produced mixed results during his two-year stint with the UFC. After joining in 2016, Brown has won four and lost two of his contests, with his most recent victory coming at the hands of Mickey Gall at UFC 217 last year. That win marked a huge step forward for Brown after he had only just been defeated by another rising prospect in the division, Belal Muhammad.
Niko Price is a heavily underrated welterweight fighter who has enjoyed good form within the UFC through a similar time period to Randy Brown. Joining in 2016, as well, Price has defeated Brandon Thatch, Alan Jouban, and George Sullivan with his only defeat coming against Vicente Luque. Price is a known fight-finisher, having scored stoppages in all but one of his 11 career victories.
Betting Market and Prediction
The bookmakers are favoring Randy Brown in this contest, and he can currently be found at odds of -118. However, we won't be taking his side in this one, and will instead opt for Niko Price to win with the odds of +105 with trusty BetOnline.
Bet: Niko Price to win +105 with BetOnline.
Myles Jury vs. Chad Mendes
Saturday, July 14 – 11:30 pm (ET) / 3:30 pm (GMT)
While this fight certainly looks like it marks the return of Chad Mendes, it might just be used as a stepping stone for Myles Jury to thrust himself toward the top of the UFC's featherweight rankings.
Myles Jury was long-regarded as one of the best prospects in the UFC, yet he disappeared from competition after two consecutive losses a while back. He's since returned and is now looking to keep the momentum strong. After defeating Mike De La Torre at UFC 210, Jury has since defeated Rick Glenn by decision and moved further up the rankings.
Chad Mendes is finally back. Mendes was suspended by USADA for two years after violating the anti-doping policies. Now, he'll be entering the cage for the first time since December 2015 when he lost to Frankie Edgar at The Ultimate Fighter 22 Finale. Even way back then, Mendes was regarded as one of the very best in the division and was on his way to defeating Conor McGregor at UFC 189 before McGregor eventually overran him in the second round.
Betting Market and Prediction
All of the attention is on Chad Mendes and no one is talking about Myles Jury, who is a real chance to upset the return of Mendes this weekend.
It's interesting, too, because +210 on Myles Jury is our favorite bet of the weekend.
Bet: Myles Jury to win +210 at BetOnline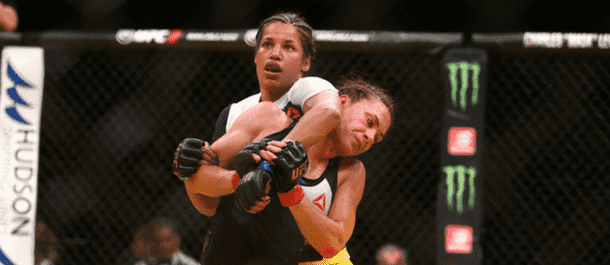 Cat Zingano vs. Marion Reneau
Saturday, July 14 – 11:30 pm (ET) / 3:30 pm (GMT)
Again, this isn't an overly exciting matchup on paper but at this point in their respective careers, this could very well turn into a truly incredible women's fight between Cat Zingano and Marion Reneau.
Cat Zingano was once defeating some of the very best names in the division. For instance, a three-fight winning streak of hers came against current champion Amanda Nunes, former champion Miesha Tate, and the most recent title challenger, Raquel Pennington. That form has long been forgotten since Zingano was destroyed by Ronda Rousey in just 12 seconds and she has since been unable to recover lost ground. Since that dark day at UFC 184, Zingano has also lost to Julianna Pena and then Ketlen Vieira.
Marion Reneau is storming through the women's bantamweight division at the moment and wouldn't be all that far away from a title shot with a win against Zingano here. Reneau hasn't tasted defeat since February 2016 and has since defeated Milana Dudieva, Talita Bernardo, and Sara McMann.
Betting Market and Prediction
This is an intriguing fight to try and predict. On paper, Zingano has really only lost to some of the best in the division (and Ketlen Vieira is on her way there). Marion Reneau's wins have come against lower-quality opponents, that's for sure. What's to like regarding Zingano, though, is that despite losing her most recent fight, she actually looked decent!
We'll be backing her to put in a masterful display this weekend and top Reneau in a close fight. At the moment, Zingano's odds are -105 with Bovada.
Bet: Cat Zingano to win -105 with Bovada.
Betting Plays
Best Bets:
Sage Northcutt to win -130 with BetOnline
Dennis Bermudez to win 1.35 with 888Sport
Niko Price to win +105 with BetOnline
Myles Jury to win +210 with BetOnline
Cat Zingano to win -105 with Bovada
Sage Northcutt
UFC Fight Night 133
Zak Ottow