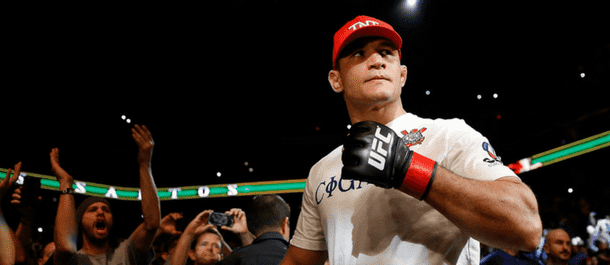 Boise, Idaho – Sunday, July 15 – 1:00 am (ET) / 5:00am (GMT)
Well, here we go! Another heavyweight battle will headline a UFC event as Junior Dos Santos and Blagoy Ivanov square off in what is a contest between two striking-focused fighters.
Junior Dos Santos hasn't stepped foot inside the UFC's Octagon since being suspended by USADA for violating their anti-drug policy. "JDS" was uncovered for the unauthorized use of a banned diuretic, and received a temporary ban. But this weekend, Dos Santos will make an appearance for the first time since May 2017 when he challenged Stipe Miocic for the UFC Heavyweight Championship.
That night, if you'll remember, didn't go well for "JDS." Up against the reigning champion, and arguably the best heavyweight in the history of the UFC, some of Dos Santos' many flaws were exposed by Miocic. We'll touch on those in the breakdown section. For now, however, Dos Santos looks to establish himself as a top contender in the division once again and he will be well on his way to doing so if he can defeat Blagoy Ivanov in memorable style.
Blagoy Ivanov is a name that might not be familiar to the typical UFC audience. See, Ivanov is making his first-ever appearance with the UFC and he's had to earn his spot on the roster the difficult way. At the age of 31, Ivanov has amassed a 16-1 record with major wins in Bellator and WSOF/PFL. In 2017, Ivanov vacated his WSOF/PFL Heavyweight Championship and will now be looking to make a statement when he arrives in the UFC's heavyweight division this weekend in Boise, Idaho.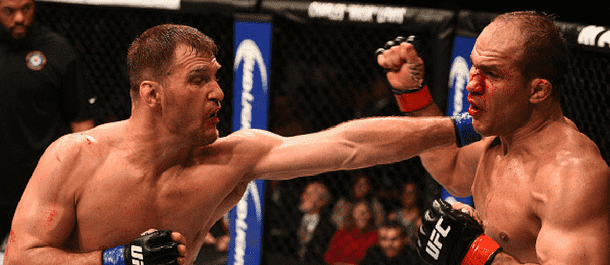 Fight Breakdown
Let's begin with Junior Dos Santos' most recent efforts against Stipe Miocic, and understanding the fundamental flaws that we picked up on before that fight took place.
If you can recall from our breakdown that night, we noted that "The one part of Dos Santos' game that always worries me is that he habitually backpedals from disadvantaged exchanges with his chin facing the sky." It was exactly this concern that saw Dos Santos looking up at the roof of the arena while Miocic successfully defended his title. Dos Santos moved away from being pressed against the cage with seemingly no desire to defend himself and Miocic caught him cleanly.
Now, the reason we backed Miocic against Dos Santos was that he has shown an ability to track down opponents and land heavy shots on them as they look to evade. Ivanov, on the other hand, doesn't really have that same ability.
Rather, Ivanov is more of a heavy-handed type who simply wants to land that one devastating blow that ends the night early. That's not to downgrade his abilities by any means, but he's a different breed to Miocic. Ivanov is more than happy to have his back against the cage and let his opponent do the stalking, knowing that all it takes is that one well-timed counterpunch to finish the fight.
For that reason, we might not see Dos Santos have to worry about having his back to the cage. It will also allow him to establish his jab in the center of the Octagon, and therefore start setting up his other excellent combinations.
This one has Dos Santos written all over it.
Betting Market
Junior Dos Santos opened at 1.83Bet €100 to win €18383/100Bet £100 to win £183-120Bet $100 to win $1830.83Bet HK$100 to win HK$183-1.20Bet Rp100 to win Rp1830.8300Bet RM100 to win RM183 but has since been smashed all the way into 1.59Bet €100 to win €15959/100Bet £100 to win £159-169Bet $100 to win $1590.59Bet HK$100 to win HK$159-1.69Bet Rp100 to win Rp1590.5900Bet RM100 to win RM159 at BetOnline. That's a fair price for one of the greatest heavyweight fighters in the UFC against a guy who is making his first steps into the Octagon. For those looking to back Blagoy Ivanov, you can do so at odds of 2.45Bet €100 to win €24529/20Bet £100 to win £245+145Bet $100 to win $2451.45Bet HK$100 to win HK$2451.45Bet Rp100 to win Rp245-0.6897Bet RM100 to win RM245 with Bovada.
Betting Play
We're definitely backing Junior Dos Santos all the way down to 1.54Bet €100 to win €15427/50Bet £100 to win £154-185Bet $100 to win $1540.54Bet HK$100 to win HK$154-1.85Bet Rp100 to win Rp1540.5400Bet RM100 to win RM154. It remains to be seen how he gets the job done, however. Will it last the distance or can he finish it inside the opening rounds? We'll find out.
Best Bet: Junior Dos Santos to win 1.59Bet €100 to win €15959/100Bet £100 to win £159-169Bet $100 to win $1590.59Bet HK$100 to win HK$159-1.69Bet Rp100 to win Rp1590.5900Bet RM100 to win RM159 at BetOnline.
Blagoy Ivanov
Junior Dos Santos
UFC Fight Night 133