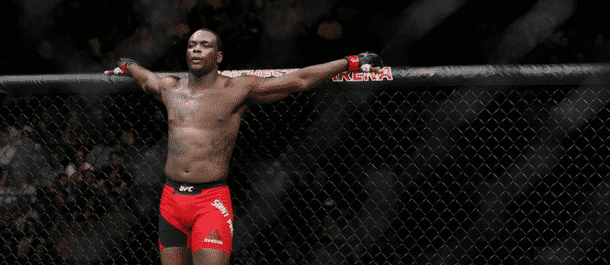 Ovince Saint Preux vs. Tyson Pedro
Saturday, June 23 – 9:00 am (ET) / 1:00am (GMT)
The co-main event of UFC Fight Night 132 will feature a light heavyweight war between two hard-hitting fighters.
Ovince Saint Preux's epic run came to an end when he lost via first-round submission to Ilir Latifi earlier this year. A winning streak of three soon was forgotten and "OSP" has since been asked to work his way back up the rankings, yet again. His run of success included multiple Von Flue chokes – an extremely rare submission from top position – and a KO/TKO victory against Corey Anderson. For a while there, it looked like "OSP" had tapped into the potential that we always thought he possessed. However, his same weaknesses are still there and Tyson Pedro will surely be aware of what it takes to beat the experienced light heavyweight this weekend.
Tyson Pedro is yet another Australian who is surging through the ranks and making a name for themselves in the UFC. Just after UFC 225, which featured Robert Whittaker, Tai Tuivasa, and Megan Anderson, Pedro will take the stage with other Australians in Singapore as he looks to score a big win here over Ovince Saint Preux. Pedro debuted in a big way with the UFC when he scored a first-round submission win over Khalil Rountree. He then backed it up with an impressive first-round KO/TKO win over Paul Craig. However, his hot streak came to an end when he met Ilir Latifi, who was too well-rounded for the Australian. Most recently, Pedro returned to winning form with a first-round submission of Saparbek Safarov.
Betting Market and Prediction
As it currently stands, Ovince Saint Preux is a slight underdog against Tyson Pedro for this three-round bout.
Pedro is anywhere from -125 to -130 on most sites, while "OSP" is sitting at a 5/4 with 888Sport.
And that's who we'll be backing for this co-main event, because Ovince Saint Preux looks to be yet another dangerous opponent for Pedro and is certainly capable of finishing him in a multitude of ways.
Prediction: Ovince Saint Preux inside the distance
Bet: Ovince Saint Preux to win 5/4 at 888Sport.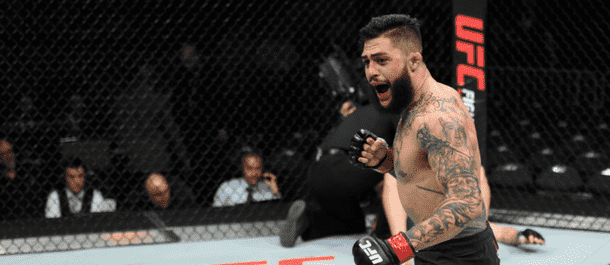 Jessica-Rose Clark vs. Jessica Eye
Saturday, June 23 – 8:30 am (ET) / 12:30pm (GMT)
The first of two Australians to compete on the main card in Singapore will do so when Jessica-Rose Clark steps into the cage with Jessica Eye at UFC Fight Night 132.
Jessica-Rose Clark is relatively untalked about, especially when it comes to new signings with plenty of potential. Of course, some of that hype isn't there for the simple reason that she is already 30-years-old, but in her short time with the UFC she has shown an impressive skillset. She's now 2-0 during her time with the promotion after big wins against Bec Rawlings and then Paige VanZant.
Jessica Eye has been around for much, much longer than Jessica-Rose Clark, who made her debut last year, but that doesn't mean she has achieved anything more. In fact, despite being in the organization for four years longer than Clark, they both share the same number of wins (two). One of those two wins came in her most recent bout when she picked up an important unanimous decision victory over Kalindra Faria. She since moved to 12-6 as a professional and will look to make it two in a row against the 9-4 Clark.
Betting Market and Prediction
Now, this one is going to be a conflicting one for bettors all over the world. Clark certainly seems to be riding a wave of momentum, all while Eye is coming off a victory herself. Honestly, it seems as if Clark has a slight edge, but the odds are out in her favor a little more than we would like.
Currently, Clark is -135 and Eye is +130. We'll take the underdog.
Prediction: Jessica Eye by decision
Bet: Jessica Eye to win +130 at BetOnline.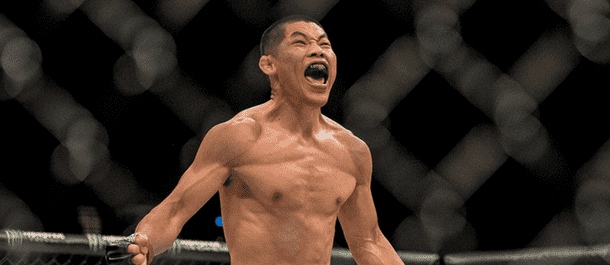 Li Jingliang vs. Daichi Abe
Saturday, June 23 – 8:00 am (ET) / 12:00pm (GMT)
Chinese fighter Li Jingliang will look to bounce back and regain momentum when he battles with Daichi Abe in Singapore.
Li Jingliang's 2017 was about as impressive as it gets. He went undefeated through three fights by picking up KO/TKO wins over Bobby Nash and Zak Ottow to go with a decision win over Frank Camacho. Those three are not necessarily top contenders in the division, but they are still very difficult fights. "The Leech" would go on to lose his first fight in 2018 when he dropped a decision to Jake Matthews in Australia.
Daichi Abe is the man who will stand across from the ever-ferocious Li Jingliang this weekend. At the age of 26, Abe has enjoyed plenty of success through his short career. In fact, he entered the UFC undefeated after five fights and scored a win over Hyun Gyu Lim the first time inside the UFC's Octagon, as well. However, this is a sport that is incredibly difficult to remain undefeated, and Abe went on to lose a decision to Luke Jumeau in Australia earlier this year. Now, both he and "The Leech" are looking to avoid a two-fight skid.
Betting Market and Prediction
As expected, "The Leech" is a heavy favorite for this main card opener.
You can find Li Jingliang at -360 at BetOnline, and Daichi Abe is a heavy underdog sitting at [+285] at Bovada.
Prediction: Li Jingliang by decision
Bet: Li Jingliang to win -360 at BetOnline.
Betting Plays
Best Bets:
Ovince Saint Preux to win 5/4 at 888Sport
Jessica Eye to win +130 at BetOnline
Li Jingliang to win -360 at BetOnline
Ovince Saint Preux
Tyson Pedro
UFC Fight Night 132