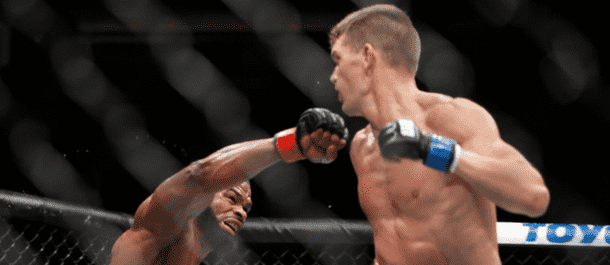 Liverpool, England – Sunday, May 27 – 3:30 pm (ET) / 7:30pm (GMT)
Stephen Thompson will step back inside the UFC's Octagon in an attempt to make it two wins in a row as he faces Darren Till in Liverpool. Thompson worked his way to a title shot against Tyron Woodley in November 2016 but narrowly missed out on becoming a champion when the fight was declared a majority draw. Woodley and Thompson jumped back into the cage just four months later at UFC 209, and it was Woodley who came out on top by way of majority decision. It was another competitive contest between Woodley and Thompson, but Thompson will have to do some incredible things if he wants the UFC to allow him another shot at Woodley and the belt.
He's certainly gained some momentum in the right direction after defeating Jorge Masvidal in November last year. Now, he'll be tested by the seemingly unstoppable Darren Till as he continues his climb through the ranks.
Darren Till is one of the most talented youngsters in the game today. Hailing from Liverpool, he'll be fighting in front of thousands of fans this weekend as he looks to continue his dominant run. Most recently, Till launched into fame when he obliterated Donald "Cowboy" Cerrone in just one round. Many people thought that it was too much too soon for the rapidly improving welterweight, but he proved doubters wrong by piecing apart "Cowboy" and claiming a Performance of the Night award.
Now, there are just as many people believing that Stephen Thompson is too much too soon for Till. If there is one thing that we have learned about the talented 25-year-old, however, it's that we shouldn't doubt Darren Till.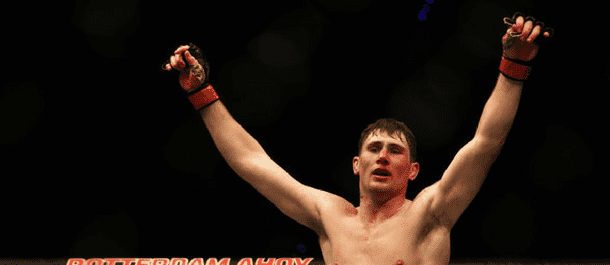 Fight Breakdown
This is a fight that has all the makings to be one of the most highly-skilled stand-up wars in recent memory.
Stephen Thompson is a striking genius who uses a blend of kickboxing and other striking techniques to punish his opponents with long-range blows. Thompson is especially outstanding at fighting from both stances. He can seamlessly transition between orthodox and southpaw, all while using a variety of strategies from each stance. From an orthodox stance, Thompson employs his usual kickboxing style approach and looks to punch his opponent into the ground (similar to what he did against Johny Hendricks). While fighting with his right foot forward in a southpaw stance, Thompson likes to batter his opponent with a selection of different kicks before also sending a thunderous straight left hand through when he can, as well.
For as much praise that Darren Till has recently received as an elite striker in the division, he's still relatively underrated. Till uses swift in-and-out movement with a long stance to confuse his opponent and crush them with strikes from unsuspected distances. Till possesses true power in his hands and his kicks have developed into a devastating weapon, as well.
There are indeed a few untested holes in Till's striking game, though. A long stance can be a disadvantage as much as it is an advantage. Against Thompson, Till will need to be ready to slam kicks into the legs and body when the opportunity presents itself, and a longer stance will add valuable seconds to the equation. The longer stance also makes Till's lead leg slightly more vulnerable to attack.
No matter the outcome, it's going to be an incredible display of striking back-and-forth between two of the very best strikers in the welterweight division, if not the UFC.
Betting Market
Bettors seem to be in the belief that Darren Till isn't ready for Stephen Thompson – for now, anyway. Till opened at 2.25Bet €100 to win €2255/4Bet £100 to win £225+125Bet $100 to win $2251.25Bet HK$100 to win HK$2251.25Bet Rp100 to win Rp225-0.8000Bet RM100 to win RM225 and has since moved out to 2.38Bet €100 to win €23869/50Bet £100 to win £238+138Bet $100 to win $2381.38Bet HK$100 to win HK$2381.38Bet Rp100 to win Rp238-0.7246Bet RM100 to win RM238. As for Thompson, the best odds for those wanting to be on "Wonderboy" are 1.67Bet €100 to win €16767/100Bet £100 to win £167-149Bet $100 to win $1670.67Bet HK$100 to win HK$167-1.49Bet Rp100 to win Rp1670.6700Bet RM100 to win RM167.
Betting Play
Darren Till is seriously good and is a huge welterweight, but I haven't seen enough to believe he can outwork Stephen Thompson in a striking contest. Thompson is experienced and has sharpened his game against the very best of the division for a long time now.
I'll be taking Stephen Thompson to win.
Best Bet: Stephen Thompson win 1.67Bet €100 to win €16767/100Bet £100 to win £167-149Bet $100 to win $1670.67Bet HK$100 to win HK$167-1.49Bet Rp100 to win Rp1670.6700Bet RM100 to win RM167 at BetOnline
https://www.youtube.com/watch?v=tVqx0pYRtcw
Darren Till
Stephen Thompson
UFC Fight Night 130