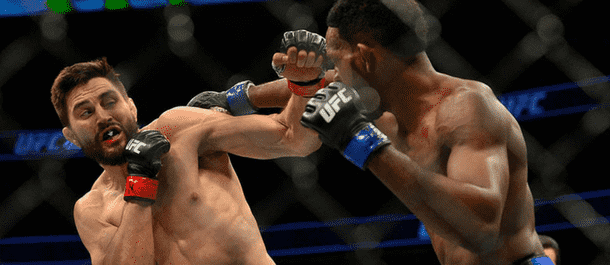 Neil Magny vs. Craig White
Sunday, May 27– 3:00 pm (ET) / 7:00pm (GMT)
The co-main event of the evening isn't what was planned, but Neil Magny vs. Craig White should still be an entertaining fight.
Neil Magny was initially scheduled to take on Gunnar Nelson in a welterweight battle here in Liverpool. However, an injury to Nelson in the lead-up to the contest forced him to withdraw from the event. Fortunately, the UFC scrambled to find an opponent for Magny and ended up booking him against local fan-favorite Craig White in a short-notice matchup.
Magny steps in after defeating Carlos Condit, and he looked outstanding in the process of doing so. Neil Magny tends to be a little up-and-down, or inconsistent, with his approach to fighting. Against Condit, he used a perfect strategy to outscore the veteran over three rounds.
Craig White has a record of 14-7 and has been gifted a shot in the UFC. Hailing from England, White will undoubtedly have the full support of the fans in attendance in Liverpool. After moving to 10-7 in his career, White has since been victorious in four consecutive fights and will enter this one with a wave of momentum behind him.
Betting Market and Prediction
It should be no surprise that Neil Magny is the betting favorite in this one. The bookmakers heavily favor him, and the only tempting odds can be found at BetOnline, where he is -500.
I can't recommend selecting White, so I'd say adding Magny to your bet slip is the best move.
Bet: Neil Magny to win -500 at BetOnline
Arnold Allen vs. Mads Burnell
Sunday, May 27– 2:30 pm (ET) / 6:30pm (GMT)
Before the co-main event gets underway, fans will be treated to a European featherweight clash between Arnold Allen and Mads Burnell.
Arnold Allen has been on a roll since joining the UFC in 2015. He's now 12-1 after three consecutive victories with the organization. It all began with a submission win over Alan Omer, before then backing it up with a decision win against Yaotzin Meza and a split decision victory over Makwan Amirkhani. Another win here in Liverpool could create much-needed attention for the 24-year-old who has been flying under the radar.
Mads Burnell is 1-1 since joining the UFC late last year. He debuted against Michel Prazeres (a tough matchup by any standard) and lost by submission in the last round. He got back to winning ways with a unanimous decision victory over Mike Santiago in January this year, however.
Betting Market and Prediction
Arnold Allen is a moderate betting favorite as we approach UFC Fight Night 130 in Liverpool. He can be found at -260 at Bovada, and that play seems to be the most logical considering his massive improvements lately.
Bet: Arnold Allen to win -260 at Bovada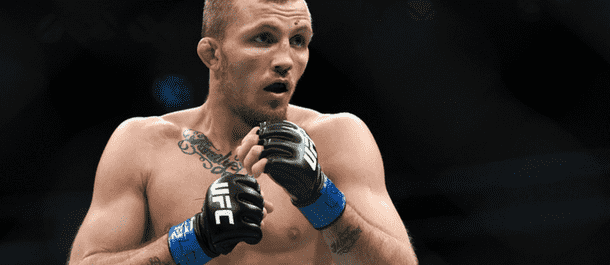 Jason Knight vs. Makwan Amirkhani
Sunday, May 27– 2:00 pm (ET) / 6:00pm (GMT)
Universal fan-favorite Jason Knight will be facing Makwan Amirkhani in what should be a fast-paced featherweight fight.
Jason Knight is one of the most exciting fighters on the roster. He's certainly not the most talented, or the most complete fighter you're ever going to see, but he brings the pain every time he steps into the UFC's Octagon and the fans love him for it. He's got an array of brilliant mat techniques stemming from his experience in 10th Planet Jiu-Jitsu, and his Muay Thai has developed significantly by training with Phuket Top Team in Thailand.
Makwan Amirkhani, who goes by the name of "Mr. Finland," will be looking to return to winning form after Arnold Allen defeated him in his last contest by split decision. The defeat snapped a winning streak of Amirkhani and was the first time that he had lost a bout in the UFC. He's now 13-3 and a win over Jason Knight would be a significant feather on his cap.
Betting Market and Prediction
Jason Knight opens as the betting favorite for this fight at UFC Fight Night 130. He's currently sitting at -150 at numerous bookmakers, while Makwan Amirkhani is a juicy +135.
We're getting the feeling that this could be a submission victory for Jason Knight, who recently shared that he thinks Makwan Amirkhani is underestimating him.
Bet: Jason Knight to win -150 at MyBookie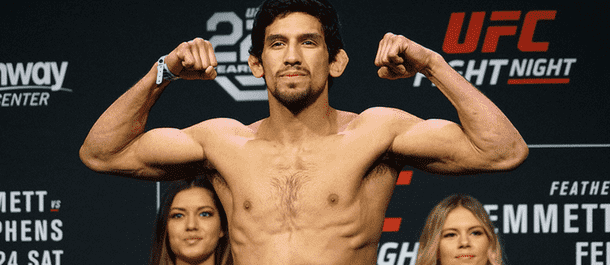 Davey Grant vs. Manny Bermudez
Sunday, May 27– 1:30 pm (ET) / 5:30pm (GMT)
Submission-wiz Manny Bermudez has a great chance to make it to wins in a row with the UFC when he fights in Liverpool.
Davey Grant will be the man testing Manny Bermudez's submissions skills this weekend. Grant first appeared on The Ultimate Fighter Season 18 in 2013, but we haven't seen much from him since. He's had three fights with the UFC and has only one win to his name. A loss to Bermudez could be a dangerous outcome for Grant, who is now 32-year-old and without much value left to give.
Manny Bermudez could be one of the most underrated fighters on the roster. He entered the UFC with plenty of momentum, but not the appropriate level of hype to go with it, unfortunately. Now, he'll be flying over to Liverpool to face Grant and lock up one of his famous triangle chokes and improve his record to 13-0.
Betting Market and Prediction
Manny Bermudez is a moderate favorite to win this fight at UFC Fight Night 130. The best odds for a Bermudez victory can be found at BetOnline, and he is currently good value at -210.
Bet: Manny Bermudez to win -500 at BetOnline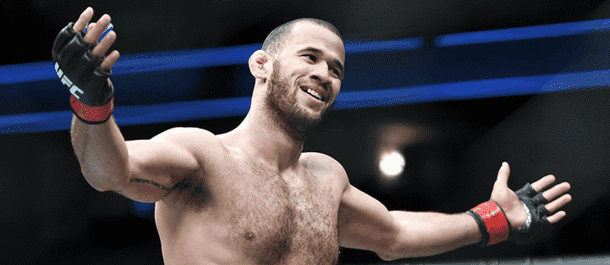 Eric Spicely vs. Darren Stewart
Sunday, May 27– 1:00 pm (ET) / 5:00pm (GMT)
To get the main card started, Eric Spicely will face Darren Stewart.
Eric Spicely is one of those guys that you are always unsure of how good he actually is. For reference, Spicely looked 'okay' on The Ultimate Fight Season 23 and then debuted in a big way when he submitted Thiago Santos after entering the fight as a massive underdog. However, Spicely has lost his last two fights and hasn't made it to the third round in either.
Darren Stewart isn't on much of a good run, either. Stewart was previously undefeated after seven fights but has since struggled to score a victory in the UFC and is now 0-3 in the organization. The 27-year-old will need to pull out some new tricks from his bag if he wants to survive the submission onslaught from Eric Spicely.
Betting Market and Prediction
Eric Spicely is the man in charge of this contest and he is currently at -195 with Bovada. Those odds seem about right, and we will be willing to bet on him in this contest.
Bet: Eric Spicely to win -195 at Bovada
Betting Plays
Best Bets:
Neil Magny to win -500 at BetOnline
Arnold Allen to win -260 at Bovada
Jason Knight to win -150 at MyBookie
Manny Bermudez to win -500 at BetOnline
Eric Spicely to win -195 at Bovada
Manny Bermudez
Neil Magny
UFC Fight Night 130