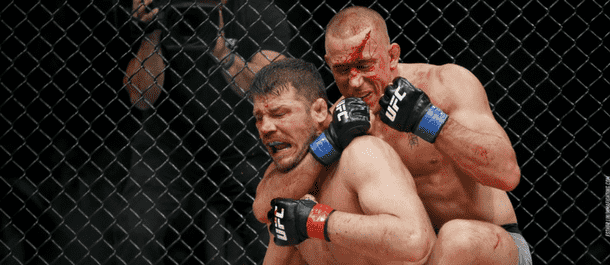 Yes, you're reading this correctly. Michael Bisping returns to the UFC's octagon just a few weeks after suffering a brutal defeat at the hands of Georges St-Pierre at UFC 217 on November 4.
Michael Bisping and Kelvin Gastelum are set to headline the UFC's venture to Shanghai, China for UFC Fight Night 122. The event will feature many relatively unknown fighters to many of the usual mixed martial arts fans in the Western market, however the UFC are doing their best to ensure that some of the best Chinese mixed martial artists are being featured at the event.
Michael Bisping
Record: 30-8
Height: 6'1″ (186cm)
Reach: 75.5″ (192cm)
Michael Bisping's strange time at the top of the middleweight division has come to an end. After defeating Luke Rockhold to claim the UFC Middleweight Championship in June 2016, Bisping defended his title just once against Dan Henderson before being eventually toppled by St-Pierre.
As has been the case through most of Bisping's career, when he is involved in a fight, it's likely to be one of the best fights of the night. His battle with Georges St-Pierre was no different. The two went back-and-forth for two and a half rounds before St-Pierre eventually took the back of the Brit. From there, GSP submitted Bisping with a rear-naked choke.
If you're wondering why Michael Bisping has returned so soon:
"The fact that I lost that fight, you know, it bothers me. I know if I had that fight ten times I'd win that fight ten times. I know I would, but I lost to Georges and here we are with this gift from the Gods. I get a chance to exorcise my demons. I get a chance to get back in the win column – all good things."
Kelvin Gastelum
Record: 14-3
Height: 5'9″ (175cm)
Reach: 71.5″ (182cm)
Kelvin Gastelum seemed to be an unstoppable force since moving up to the middleweight division. His speed meant that he was a difficult task for most challengers and his power had seemed to remain, despite moving up from his natural weight class.
However, all of this suddenly changed after being matched with Chris Weidman at UFC on FOX 25. Weidman was superior in all aspects of the bout and used his much larger frame to outwork Gastelum over the course of the fight before submitting him in the third round.
After the fight, Gastelum commented that he would like to move down to welterweight again. But, nothing has changed and now Gastelum is coming up against yet another big and strong middleweight in Michael Bisping.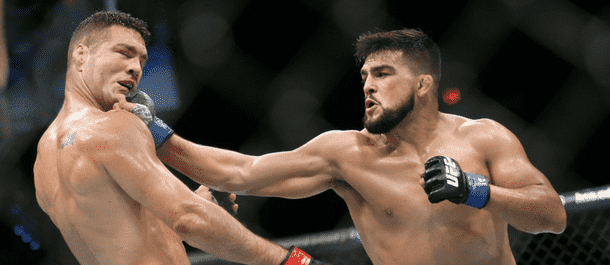 Fight Breakdown
This matchup has Kelvin Gastelum winning written all over it.
Gastelum has the hand speed to cause trouble for Bisping. He also has the boxing ability to be able to slip Bisping's strikes and come back with his own heavy hands. We've seen it too many times now that Bisping drops his hands low after punching and it could just take one decent blow from Gastelum to end this fight.
However, there are a couple of things to consider. Bisping is yet another big and strong middleweight. He has a large size and reach advantage over Gastelum and his cardio is excellent. On the other hand, Gastelum faded significantly as he fought with Weidman and by round three he wasn't quite the same.
Of course, Bisping just lost to a blown-up welterweight in Georges St-Pierre, but that's a little different. "GSP" is one of the greatest of all-time and his wrestling transitioned upwards through the division. Gastelum isn't going to be able to hang in there with the size and strength of Bisping for more than a couple of rounds, so he will need to get his job done early.
I'm in no way underrating Kelvin Gastelum, and I actually believe he is one of the best middleweight / welterweights out there right now.
Prediction and Betting Guide
Strangely enough, this one could go Bisping's way. Gastelum has had limited time to gameplan for Michael Bisping and this could mean that Bisping gets away with some of his poorer tendencies this time around. Because of his lack of planning, Gastelum might be a little more cautious than normal, and not make his move until the second or third round.
By then, "The Count" has usually hit his stride.
Michael Bisping by unanimous decision
Best Bet
Michael Bisping vs. Kelvin Gastelum
Michael Bisping to Win
Saturday, November 25 – (9:00am ET / 2:00pm GMT)
Odds: 2.88Bet €100 to win €28847/25Bet £100 to win £288+188Bet $100 to win $2881.88Bet HK$100 to win HK$2881.88Bet Rp100 to win Rp288-0.5319Bet RM100 to win RM288 – Bovada
Kelvin Gastelum
Michael Bisping
UFC Fight Night 122