Li Jingliang vs. Zak Ottow

After competing in two consecutive exciting contests, Li Jingliang will be fighting in the co-main event of UFC Fight Night 122 in Shanghai, China.
Jingliang has managed to defeat both Bobby Nash and Frank Camacho despite taking some of their best shots and is proving to be a difficult task for anyone in the welterweight division. Jingliang lost the first round against Camacho at UFC Fight Night 111 before storming back late in the contest to overwhelm his opponent and win the final moments of the contest convincingly.
The 30-year-old Zak Ottow finally arrived in the UFC last year and has managed two wins from three bouts so far. Ottow has been involved in three split decisions in his three contests in the UFC, but his last contest against Kiichi Kunimoto was a clear victory (despite what one judge had to say).
Breakdown
Li Jingliang is an explosive fighter who packs stopping power in each of his hands. He marches forward and swings at his opponent wildly. At times, "The Leech" becomes a little too careless, especially when returning his hands to a defensive position. However, his relentless attack means that he connects with powerful strikes and his chin is able to withstand the test as he storms forward.
Zak Ottow has a smooth style and constantly offers up different looks for his opponent. He swaps between stances and immediately launches powerful leg kicks and strikes to the body of an opponent. He maintains a boxing stance throughout and plants his feet to ensure that all of his strikes are thrown with power. Ottow has decent defensive wrestling but sometimes gets caught exposed as he attempts a strike.
While Jingliang isn't the perfect fighter, it is Ottow who enters this contest with the more glaring holes in his game. Ottow finds himself stuck in bad positions for too long and Jingliang is definitely capable of maintaining top pressure for minutes at a time. Ottow can also be hesitant to fully commit to long strikes, especially punches, and throws them out with little intention.
Prediction and Betting Guide
Ottow may have success beating up the lead leg of Jingliang Li for the first round, but Jingliang will eventually find a way to close the distance and begin unloading with force. This may be another close contest, but Jingliang will be the one landing the harder and more significant strikes.
Prediction: Jingliang Li by unanimous decision
You can find the best odds for Jingliang Li to win at Bet365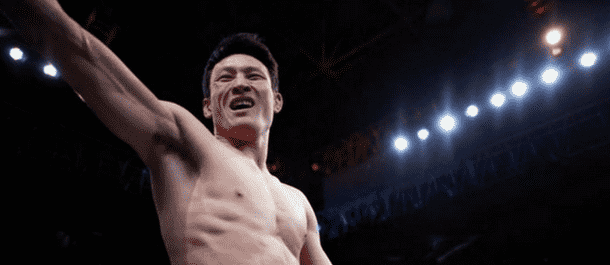 Wang Guan vs. Alex Caceres
Wang Guan and Alex Caceres were originally scheduled to do battle at UFC Fight Night 111 in Singapore. However, it was later rescheduled for Shanghai. Now, Wang Guan will make his promotional debut in front of his fans in China.
Wang is widely regarded as one of the best Chinese mixed martial artists in the world. After accumulating an impressive 19-1-1 career, Wang is now excited to test his skills against the elite competition in the UFC.
There's no better way for him to start by taking on the popular Alex Caceres. Caceres (13-10), recently experienced a two-fight losing streak against the likes of Yair Rodriguez and Jason Knight before defeating Rolando Dy at UFC Fight Night 111. Despite losing five of his last eight bouts, Caceres is still as dangerous as it comes.
Breakdown
You just never know what you're going to get from Alex Caceres, but that's part of the reason why we all love to watch him. He can stick to long range and tag his opponents with long, nasty and creative strikes, or mix it up on the inside occasionally too.
Wang Guan, a former kickboxer, has plenty of experience when it comes to trading heavy kicks and punches with opponents. On the feet, he is as dangerous as they come and may look to return fire at Caceres every time he attempts a 'lazy' strike.
On the mat, Cacares always has his experimental ground game to rely on. Wang has shown to be a little vulnerable on the mat in previous fights and this is definitely an area that Caceres and his team will be looking to take advantage of.
Prediction and Betting Guide
Caceres sometimes finds himself waiting a little too long. Wang is much the same, but hits with more power than Cacares and will make more of an impact in the minds of the judges. There's a fair chance that Caceres could end the fight via submission, but it seems more than likely that Wang Guan will land some heavy blows on Caceres and win the contest.
Prediction: Wang Guan by KO/TKO – Round Two
You can find the best odds for Wang Guan to win at BetOnline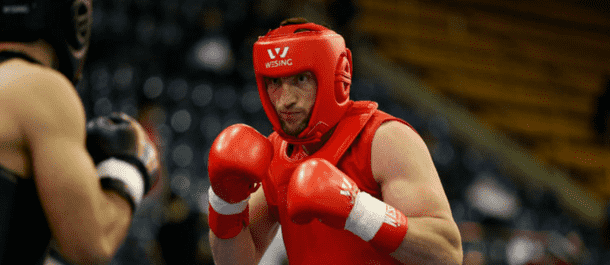 Muslim Salikhov vs. Alex Garcia

Muslim "King of Kung Fu" Salikhov will be making his UFC debut this weekend after making short work of Melvin Guillard at Kunlun Fight MMA 12. His knockout of Guillard was incredible as he connected with a beautifully executed spinning back kick that landed flush on Guillard's chin. His extensive Wushu background means that he enters the UFC with top-class striking ability.
Alex Garcia returns to the cage for the second time this year. He lost a bout with Tim Means at UFC Fight Night 112 by unanimous decision just one fight after destroying Mike Pyle at UFC 207. Garcia has struggled to find consistency inside the UFC and has not managed two consecutive victories since his first two contests in the UFC.
Breakdown
This will be a battle of who lands first.
Salikhov and Garcia employ a very similar approach to their stand-up fighting. They skip in and out of range of an opponent before waiting for the prime opportunity to launch a vicious combination. While Garcia's striking is brute force and focuses on knocking people out, Salikhov employs a kind of point-fighting background from his Wushu days.
Don't get that confused, though, because Salikhov could very well pack the hardest hands of any new entrant into the UFC in recent times. As we also saw against Guillard, he's got the creativity in his striking to really confuse opponents as well.
Salikhov's fast footwork also ensures that he stays out of range of his opponents strikes and isn't there to be tagged by strikes. Garcia can sometimes be a little wild with his lunging hooks, but it might just be a little too difficult to catch the elusive Salikhov with his power at UFC Fight Night 122.
Prediction and Betting Guide
Salikhov is fierce but calculated. He should be able to avoid the dangers of Garcia's game before unleashing his own damage. While this fight could have extended periods of inactivity as the two strategically battle for position, once someone lands with power it will probably be the end of the contest.
Prediction: Muslim Salikhov by KO/TKO – Round One
You can find the best odds for Muslim Salikhov to win at Bet365
Best Bets
Li Jingliang vs. Zak Ottow
Li Jingliang to win
Saturday, 25 November – 8:00 am (ET) / 1:00pm (GMT)
Odds: 1.57Bet €100 to win €15757/100Bet £100 to win £157-175Bet $100 to win $1570.57Bet HK$100 to win HK$157-1.75Bet Rp100 to win Rp1570.5700Bet RM100 to win RM157 – Bet365
Wang Guan vs. Alex Caceres
Wang Guan to win
Saturday, 25 November – 7:30 am (ET) / 12:30pm (GMT)
Odds: 2.50Bet €100 to win €2503/2Bet £100 to win £250+150Bet $100 to win $2501.50Bet HK$100 to win HK$2501.50Bet Rp100 to win Rp250-0.6667Bet RM100 to win RM250 – BetOnline
Muslim Salikhov vs. Alex Garcia
Muslim Salikhov to win
Saturday, 25 November – 7:00 am (ET) / 12:00pm (GMT)
Odds: 1.57Bet €100 to win €15757/100Bet £100 to win £157-175Bet $100 to win $1570.57Bet HK$100 to win HK$157-1.75Bet Rp100 to win Rp1570.5700Bet RM100 to win RM157 – Bet365
Jingliang Li
UFC Fight Night 122
Wang Guan