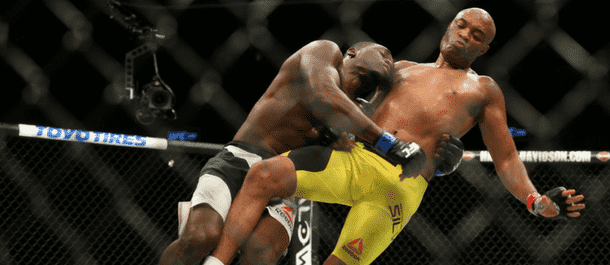 The main event of UFC Fight Night 119 in Sao Paulo, Brazil will feature the return of Lyoto Machida who is up against the fast-starting Derek Brunson.
Derek Brunson
Derek Brunson enters this fight with Lyoto Machida as potentially one of the most underrated athletes on the entire UFC roster. At first glance, that might seem a strange claim because Brunson is 1-2 in his last three fights. However, he is 6-2 in his last eight fights, and those two losses were not extremely troubling for the 33-year-old. I say that because Brunson brought the heat to Robert Whittaker and tagged him hard early in their fight in Melbourne, Australia before Whittaker recovered quickly and eventually turned the fight around. Whittaker has since gone on to be one of the most feared fighters in the middleweight division and recently scored a unanimous decision victory against Yoel Romero.
Record: 17-5
Height: 6'1″ (186cm)
Reach: 78.0″ (198cm)
Odds: 1.63Bet €100 to win €16363/100Bet £100 to win £163-159Bet $100 to win $1630.63Bet HK$100 to win HK$163-1.59Bet Rp100 to win Rp1630.6300Bet RM100 to win RM163
Brunson's loss to Anderson Silva was controversial. It was announced as a unanimous decision, but almost everybody else watching the fight had scored it in favor of Brunson. MMA Decisions recorded 24 scores that were submitted by members of the media, and just four of these scores were in favor of Anderson Silva.
Regardless, Brunson bounced back immediately with an absolute destruction of Daniel Kelly in the first round of their bout at UFC Fight Night 110 in New Zealand.
We backed Derek Brunson to win in round one at odds of 3.80Bet €100 to win €38014/5Bet £100 to win £380+280Bet $100 to win $3802.80Bet HK$100 to win HK$3802.80Bet Rp100 to win Rp380-0.3571Bet RM100 to win RM380 that day.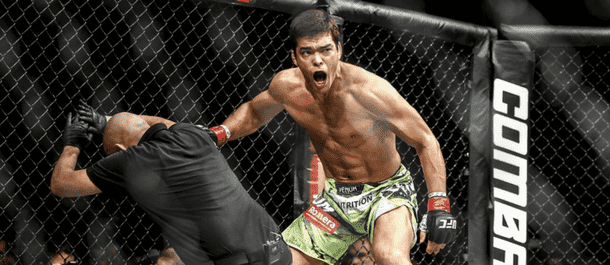 Lyoto Machida
Record: 22-7
Height: 6'1″ (186cm)
Reach: 74.0″ (188cm)
Odds: 2.30Bet €100 to win €23013/10Bet £100 to win £230+130Bet $100 to win $2301.30Bet HK$100 to win HK$2301.30Bet Rp100 to win Rp230-0.7692Bet RM100 to win RM230
It is time to welcome Lyoto Machida back to the UFC's octagon.
If you are wondering why "The Dragon" has been missing from action since June 2015, it is because he was suspended by USADA (The US Anti-Doping Agency) after he tested positive for an illegal substance. He received an 18-month suspension and UFC Fight Night 119 will mark the first time he competes again as a mixed martial artist since that day.
The 39-year-old will compete against Derek Brunson after losing three of his last four fights. Although, losses to Weidman, Rockhold, and Romero are nothing to be ashamed of, considering they are some of the very strongest competitors in the division.
Fight Breakdown
Let's start with the glaringly obvious. Derek Brunson is one of the fastest starters in the UFC. He begins every fight with a frenetic and often unmatchable pace in an attempt to lay hands on his opponent and finish the night early. On the other hand, Machida is returning to action for the first time in over two years.
Fortunately for Machida, he is an expert at controlling distance and punishing fighters who attempt to step inside his range. He will likely sit back on the outside and try to slow the fight right down to a standstill in which Brunson will be forced to enter a technical striking contest against Machida.
Brunson will not want any of that; that is for sure. In fact, we might even have a fair idea of who will be victorious in this contest in the first 60 seconds as either Brunson will find his way inside Machida's range or begin to pay too much respect to him. Brunson definitely showed Anderson Silva too much respect and was happy to wait well outside of his usual range until he could work Silva out. At distance, Silva was winning the battle.
However, it was in the clinch when Brunson did his best work. He would tie Silva up and land devastating strikes to the head and body of his opponent that really should have been enough to sway the judges, but there just wasn't enough of it. Against Dan Kelly, Brunson lead in with a double jab before connecting with a powerful punch that ended Kelly's night in a matter of minutes.
Prediction and Betting Guide
As good as Brunson is, I feel as though this is a stylistic nightmare for him. Machida has always been one of the best interceptors in the game, and there's every chance that he will continually punish Brunson for coming forward. Brunson may not have the required tools to close the distance against an expert striker such as Machida, but we will soon find out.
Lyoto Machida by KO/TKO – round two
Best Bet
Derek Brunson vs. Lyoto Machida
Lyoto Machida to Win
Sunday, 22 October – 00:30 am (ET) / 4:30am (GMT)
Odds: 2.30Bet €100 to win €23013/10Bet £100 to win £230+130Bet $100 to win $2301.30Bet HK$100 to win HK$2301.30Bet Rp100 to win Rp230-0.7692Bet RM100 to win RM230 – Bet365
Derek Brunson
Lyoto Machida
UFC Fight Night 119