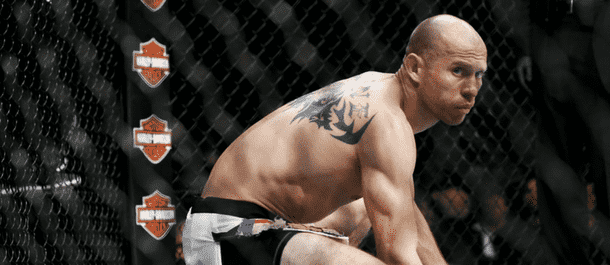 The main event of the UFC's return to Poland for UFC Fight Night 118 is sure to be electric. Donald Cerrone and Darren Till are two of the best strikers in the UFC today, and we can be sure that when they combine, there'll be heavy shots exchanged between the two.
Donald Cerrone
Record: 32-9
Height: 6'1″ (185cm)
Reach: 73.0″ (185cm)
Odds: 1.68Bet €100 to win €16817/25Bet £100 to win £168-147Bet $100 to win $1680.68Bet HK$100 to win HK$168-1.47Bet Rp100 to win Rp1680.6800Bet RM100 to win RM168
Donald "Cowboy" Cerrone is one of the baddest guys on earth. While some people fight because it's the only option they have, "Cowboy" just loves to fight. He willingly says yes to any opponent, and that's why he's matched here with unranked Darren Till. Donald Cerrone claims that he had never heard of Darren Till when the fight was agreed.
For Cerrone, this fight is an extremely high-risk/low-reward matchup. Cowboy's already on a two-fight slide and if he drops this one against Darren Till, it's a long climb back to the top.
The best odds for Donald Cerrone can be found at Bet365.
Darren Till
Record: 15-0-1
Height: 6'0″ (183cm)
Reach: 75.0″ (191cm)
Odds: 2.40Bet €100 to win €2407/5Bet £100 to win £240+140Bet $100 to win $2401.40Bet HK$100 to win HK$2401.40Bet Rp100 to win Rp240-0.7143Bet RM100 to win RM240
While Donald Cerrone is well-known to hardcore and casual MMA fans alike, Darren Till is still relatively unknown. This can mostly be attributed to Darren Till's extended absence from the sport between October 2015 and May 2017 as he took time away to recover from a shoulder injury.
Now, Till feels like his shoulder is stronger than ever, and he has since returned with dominant unanimous decision victories against Jessin Ayari and Bojan Velickovic.
The best odds for Darren Till can be found at BetVictor.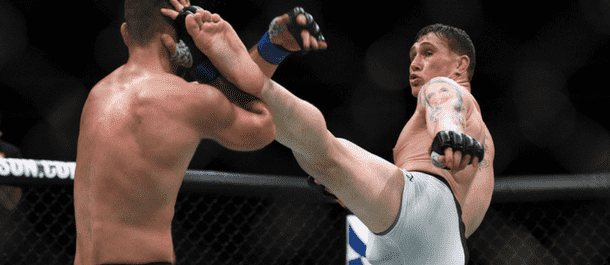 Fight Breakdown
Both Donald Cerrone and Darren Till like to operate from long range, and they share many similarities. They also tend to pull their opponents towards them before intercepting with knees, elbows, kicks or punches. Cerrone and Till also both tend to throw extremely heavy strikes, which is a fundamental technique for Muay Thai strikers.
Despite both of these fighters having nearly identical fighting styles, there is one significant difference between the two. Darren Till picks apart his opponents with single strikes and he rarely ever attempts combinations. Instead, he whacks his opponent with his straight left hand or a damaging kick and then retreats backward. Cerrone, on the other hand, could very well be the best combination striker in the UFC. His dissection of Matt Brown resembled somebody using cheat codes in a video game.
The blueprint on how to defeat Donald Cerrone has been laid out perfectly by Jorge Masvidal – pressure Donald Cerrone and never let him settle into a rhythm. Because once "Cowboy" has his timing down, he's a very dangerous man. Cerrone overloads an opponent's senses with a multitude of different concepts. He can take you down, crash a right high kick into your dome, or pick you apart with punches before finishing the combination with a brutal leg kick.
This is all a little different to that of Darren Till, who is relatively predictable in what he brings to the octagon – but he does it very, very well. In fact, Till is going to be quite the challenge for Donald Cerrone not just because of his expert range, timing, and footwork but because Till is the much heavier fighter, too.
Prediction and Betting Guide
Despite being incredibly tempted to back Darren Till as the underdog, it's difficult to bet against Donald Cerrone in this one. Cerrone wins rounds when the action is slow and at his pace. Till never really brings the heat and will choose to try and pick-apart "Cowboy", which could lead him into trouble. To stop Cowboy, you'll need to land the finishing blows on the mat, and Cowboy is extremely dangerous down there, as well.
Donald Cerrone by submission – round two
Best Bet
Donald Cerrone vs. Darren Till
Donald Cerrone to Win
Saturday, 21st October – 4:30 pm (ET) / 8:30pm (GMT)
Odds: 1.67Bet €100 to win €16767/100Bet £100 to win £167-149Bet $100 to win $1670.67Bet HK$100 to win HK$167-1.49Bet Rp100 to win Rp1670.6700Bet RM100 to win RM167 – Bet365
Darren Till
Donald Cerrone
UFC Fight Night 118