Claudia Gadelha vs Jessica Andrade
UFC Fight Night 117 Main Card – Women's Strawweight Bout
Two Brazilian's collided in Japan when Claudia Gadelha steps inside the UFC's octagon with Jessica Andrade this weekend. Gadelha and Andrade have been dominating everyone but Joanna Jedrzejczyk in the UFC's Women's Strawweight Division.
Claudia Gadelha (15-2) has only ever lost to Joanna Jedrzejczyk. She's an impressive Brazilian Jiu-Jitsu black belt with plenty of submission attacks in her arsenal. Gadelha enters this fight with Andrade after having submitted Karolina Kowalkiewicz with ease in the first round. Now, she's looking for a path back to a shot at Joanna, the champion and a decisive win here will do just that.
Jessica Andrade (16-6) is a straight-up scrapper with vicious punching power and freakishly effective wrestling abilities. Andrade managed to last five rounds with Jedrzejczyk in her most recent outing at UFC 211 and despite losing, her efforts gained her plenty of respect from MMA fans worldwide.
Breakdown
The majority of women's fights go the distance in mixed martial arts. At strawweight, the punches don't pack the same kind of power that we see in other divisions. However, both of these fighters are extremely skilled and have many ways to finish an opponent.
Jessica Andrade will be hungry to score a win after experiencing a defeat that snapped her four-fight winning streak. He overzealous approach may see her run into trouble against Claudia Gadelha who is capable of wrapping up an opponent and submitting them relatively easily.
Prediction and Betting Strategy
Both fighters are capable of stopping the fight early on the feet or standing up and there's every chance that this fight doesn't make the distance. The bookmakers see it going the full three rounds, so there is amazing value on the opposite outcome here.
Prediction: Claudia Gadelha by Submission – Round Two
You can find the best odds for a Total Rounds – Under 2.5 at UniBet
Takanori Gomi vs Dong Hyun Kim
UFC Fight Night 117 Main Card – Heavyweight Bout
Japanese MMA legend, Takanori Gomi, will face off with "Maestro" Dong Hyun Kim this weekend in Japan.
Takanori Gomi (35-13) has been struggling to put it all together of late and has suffered a four-fight losing streak as a result. With losses against Myles Jury, Joe Lauzon and Jim Miller consecutively, it was clear that Gomi no longer belonged in the list of lightweight contenders. A loss to Jon Tuck in June solidified our thoughts.
"Maestro" Dong Hyun Kim started his time in the UFC with two consecutive losses, but they weren't really all that much of a problem for him considering that he featured in one of the best fights of 2016; a lightweight battle with Polo Reyes at UFC 199. He's now picked up a win against Brendan O'Reilly in December last year and will be looking to make it two-straight!
Breakdown
Takanori Gomi used to be a powerful, heavy-hitting, fight stopping freak with the potential to end a fight at any moment. He's no longer that same dangerous fighter.
"Maestro" Dong Hyun Kim has shown a consistent ability to walk forward through bombs and continue pushing the pace. He's also relatively early in his UFC career, much the opposite of Gomi, and is always improving.
Prediction and Betting Strategy
Gomi will land more power punches in this fight than he has in his most recent contests. However, Kim will continue to come forward and eventually overwhelm the Japanese legend before stopping him with strikes in the second round.
Prediction: Dong Hyun Kim by KO/TKO – Round Two
You can find the best odds for a Dong Hyun Kim victory at BetVictor

Luis Henrique da Silva vs Gokhan Saki
UFC Fight Night 117 Main Card – Light Heavyweight Bout
Kickboxing magician Gokhan Saki will make his UFC debut this weekend in Japan as he faces Luis Henrique da Silva.
Saki has only ever competed in mixed martial arts once and suffered a defeat. It will be fascinating to see how his kickboxing experience applies to his time inside the octagon; because as we all know, takedowns can ruin your night if you're primarily a striking focused fighter.
Luis Henrique da Silva (12-3) is a versatile fighter with skills in every area of mixed martial arts. Unfortunately for him, though, he's not exceptional in any one area and finds himself at the losing hands of his opponent's signature style.
Breakdown
Saki packs extremely brutal power into his strikes and his kickboxing experience is going to be devastating for any opponent that tries to stand and trade with him.
Da Silva needs a takedown in order to boost his chances of winning this fight. It could very well happen, too, Saki's takedown defense is completely unknown.
If it chooses to stand, though, it will be a long (or very short) night for Da Silva as he can't afford to take too many of Saki's hardest shots – no one can.
Prediction and Betting Strategy
I find it hard to believe that Gokhan Saki would not have trained takedown defense. If he can, at the very least, avoid the takedowns of Da Silva he will have success in the striking and probably finish the fight with ease. If Da Silva gets Saki down to the mat, it could be over within minutes, too. The safest bet here is betting that it doesn't make it to the end of the second round.
Prediction: Gokhan Saki by KO/TKO – Round Two
You can find the best odds for Total Rounds – Under 1.5 at BetVictor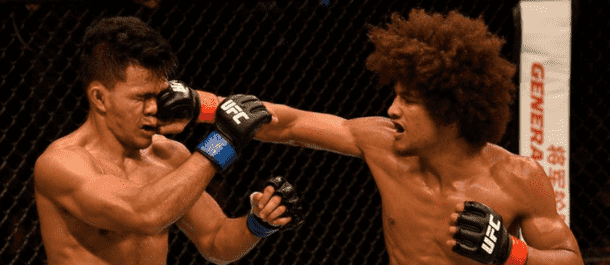 Rolando Dy vs Teruto Ishihara
UFC Fight Night 117 Main Card – Featherweight Bout
Two heavy-handed featherweights battle it out at UFC Fight Night 117 when Rolando Dy and Teruto Ishihara stand toe-to-toe.
Teruto Ishihara (9-4-2) enters this one after suffering defeats at the hands of Gray Maynard and Artem Lobov. The loss against Maynard came just two months ago at The Ultimate Fighter 25 finale; Maynard's wrestling would be too much for Ishihara, as we predicted.
Rolando Dy (8-5) unsuccessfully debuted at UFC Fight Night 111 against Alex Caceres. Dy is the son of Rolando Navarette, a renowned boxer from the Philippines and Dy brings the same power-punching approach to his fights in the octagon.
Breakdown
This fight could and should be entirely fought out as a striking contest. Ishihara and Dy are both impressive punchers with devastating power.
Whereas Dy uses counter-punching boxing techniques, Ishihara comes forward with heavy hands and looks to end the night with one single shot. No matter the case, this bout should be an entertaining striking affair.
Prediction and Betting Strategy
I can see it playing out a number of ways, but mostly I feel that Ronaldo Dy will successfully counter punch Ishihara for the majority of the contest. Dy's boxing experience will be invaluable in this fight.
Prediction: Rolando Dy by Unanimous Decision
You can find the best odds for a Rolando Dy Unanimous Decision victory at Winner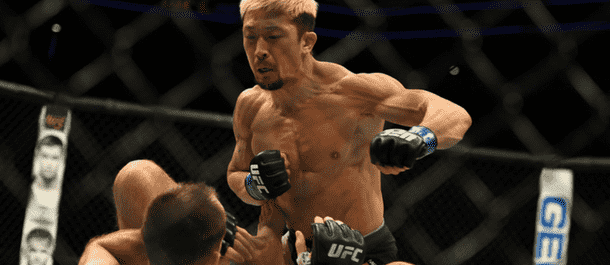 Mizuto Hirota vs Charles Rosa
UFC Fight Night 117 Main Card – Featherweight Bout
Mizuto Hirota (19-8-2) had been undefeated since April 2014 before running into Alexander Volkanovski at UFC Fight Night 110 earlier this year. With wins over Cole Miller and Teruto Ishihara, Hirota was making his way up the featherweight division before the unanimous decision loss.
Charles Rosa (11-3) recently featured in one of the better fights of 2017 as he and Shane Burgos threw down for almost 12 minutes at UFC 210. Burgos came off better after the fight in April this year, but Rosa definitely raised some eyebrows. It would also be the third Fight of the Night honors for Rosa in just five fights.
Breakdown
Will Rosa dare to stand and trade with Hirota? Let's hope not. Rosa's best strategy here is to get this fight to the mat and start working his opponent there. If he can do so, it will be a short night because Hirota isn't capable of defending a ground onslaught from many opponents, let alone Rosa.
If Hirota can keep this one standing, he should be a touch too fast for his opponent and could outwork him. It will be interesting to see how this one plays out.
Prediction and Betting Strategy
Charles Rosa enters this one as a significant betting favorite. While he has the advantage in the grappling, he has to get it there first. If Hirota can keep Rosa off him, he is capable of scoring the victory.
Prediction: Mizuto Hirota by KO/TKO – Round One
You can find the best odds for a Mizuto Hirota victory at BetFred
Best Bets
Claudia Gadelha vs Jessica Andrade
Total Rounds – Under 2.5
Friday 22nd September – 11:30 pm (ET) / 3:30am GMT
Odds: 2.60Bet €100 to win €2608/5Bet £100 to win £260+160Bet $100 to win $2601.60Bet HK$100 to win HK$2601.60Bet Rp100 to win Rp260-0.6250Bet RM100 to win RM260 – UniBet
Takanori Gomi vs. "Maestro" Dong Hyun Kim
Dong Hyun Kim to Win
Friday 22nd September – 11:00 pm (ET) / 3:00am GMT
Odds: 1.36Bet €100 to win €1369/25Bet £100 to win £136-278Bet $100 to win $1360.36Bet HK$100 to win HK$136-2.78Bet Rp100 to win Rp1360.3600Bet RM100 to win RM136 – BetVictor
Henrique da Silva vs. Gokhan Saki
Total Rounds – Under 1.5
Friday 22nd September – 10:30 pm (ET) / 2:30am GMT
Odds: 1.57Bet €100 to win €15757/100Bet £100 to win £157-175Bet $100 to win $1570.57Bet HK$100 to win HK$157-1.75Bet Rp100 to win Rp1570.5700Bet RM100 to win RM157 – BetVictor
Rolando Dy vs. Teruto Ishihara
Rolando Dy to Win
Friday 22nd September – 10:00 pm (ET) / 2:00am GMT
Odds: 2.30Bet €100 to win €23013/10Bet £100 to win £230+130Bet $100 to win $2301.30Bet HK$100 to win HK$2301.30Bet Rp100 to win Rp230-0.7692Bet RM100 to win RM230 – Winner
Mizuto Hirota vs. Charles Rosa
Mizuto Hirota to Win
Friday 22nd September – 9:30 pm (ET) / 1:30am GMT
Odds: 2.75Bet €100 to win €2757/4Bet £100 to win £275+175Bet $100 to win $2751.75Bet HK$100 to win HK$2751.75Bet Rp100 to win Rp275-0.5714Bet RM100 to win RM275 – BetFred