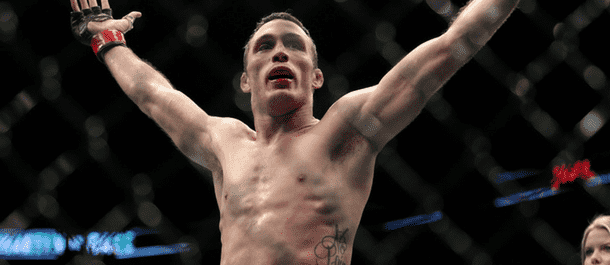 Tony Martin vs Olivier Aubin-Mercier
UFC Fight Night 116 Prelims – Lightweight Bout
Two up-and-coming lightweight prospects get ready for war at UFC Fight Night 116 when Tony Martin (12-3) faces Olivier Aubin-Mercier (9-2).
After starting 1-3 in his first four fights in the UFC, Tony Martin has now started to put all of his game together inside the octagon and has scored three consecutive victories as a result. Martin has already picked unanimous decision victories against Alex White and Johnny Case this year and a third win over Aubin-Mercier would mark a truly fantastic year for the 27-year-old.
Aubin-Mercier has always been rated as one of those "high-potential" fighters that made their way into the UFC a few years back. After starting 3-2 in the promotion, he's since picked up wins over Thibault Gouti and Drew Dober in 2016. This will be the first time we've seen Aubin-Mercier in the cage in 2017 and we can be sure to see vast improvements to his game.
Breakdown
Tony Martin is going to need to find ways to hurt Aubin-Mercier on the feet and force him to rush into sloppy takedown attempts. Aubin-Mercier's wrestling is high-class and that's exactly the last place that Martin wants to end up. If Martin can stick and move and keep Aubin-Mercier from locking him up and throwing him around the octagon, Martin is a real chance at outpointing the Canadian and scoring a decision victory.
If not, however, Aubin-Mercier's wrestling will soon take over the fight and we'll see Martin using all of his explosiveness to get back to his feet and make this a competitive fight.
Prediction and Betting Strategy
I'm expecting Tony Martin to land some shots early in the first round and shake things up a little. It's going to be down to whether Aubin-Mercier can overcome the adversity or not. I'll predict that Martin hurts his opponent and that he can't come back from it this time around.
Prediction: Tony Martin by KO/TKO – Round Two
You can find the best odds for a Tony Martin victory at Marathon
Anthony Hamilton vs Daniel Spitz
UFC Fight Night 116 Prelims – Heavyweight Bout
Prepare for some heavyweight action as Anthony Hamilton (5-1) stands toe-to-toe with Daniel Spitz (15-7) this weekend.
Spitz started his professional career with five consecutive wins and three via the way of submission before he suffered his first-ever defeat at the hands of Mark Godbeer at UFC 209. Spitz fatigued and couldn't keep up the pace with an inspired Godbeer.
Anthony Hamilton is one of those fighters who is somehow clinging onto their UFC contract. Hamilton is 1-3 in his last four fights in the organization and has a record of 3-5 through his eight fights in total. What's more concerning, is that Hamilton has been finished twice in the first round consecutively now before entering this fight.
Breakdown
Hamilton is going to want to connect with Spitz's chin as soon as possible and get this one over with. There's no point implementing his skilled wrestling game into the attack as Spitz has some dangerous submission skills on the mat. Rather, you can safely expect Hamilton to stand and throw bombs.
Spitz, however, showed patience in his bout with Godbeer and will look to hopefully overcome the fatigue that affected him severely in his debut fight. If he can survive the opening round with Hamilton, he may just kick into gear in the last two rounds and take over.
Prediction and Betting Strategy
It just takes one shot from Anthony Hamilton for the fight to be completely wrapped up. Spitz will remain cool, calm and composed and stay out of range of Hamilton's nasty shots and probably force his opponent into shooting for takedowns eventually as the fight progresses. I expect this one to go the distance.
Prediction: Daniel Spitz by Unanimous Decision
You can find the best odds for Total Rounds – Over 1.5 at Marathon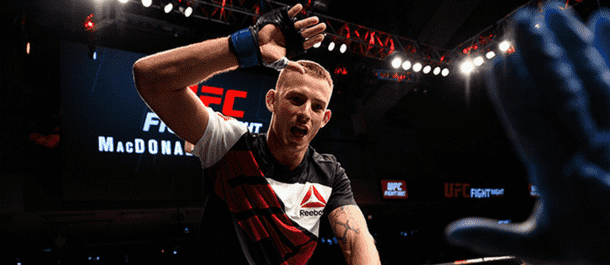 Krzysztof Jotko vs Uriah Hall
UFC Fight Night 116 Main Card – Middleweight Bout
Krzysztof Jotko (19-2) enters this fight with Uriah Hall (12-8) after his five-fight winning streak was snapped by the headlining David Branch back at UFC 211.
Jotko was too patient against the ever-elusive David Branch and it ended up costing him a close split decision. A win over Branch would have moved Jotko to 7-1 in the UFC and possibly into main event contention with Luke Rockhold on this same card. Rather, he's now buried in the prelims.
Uriah Hall is on a downward spiral after losing three consecutive fights against top-quality opponents in the UFC's middleweight division. Defeats at the hands of Robert Whittaker, Derek Brunson and Gegard Mousasi aren't anything to worry about and Uriah Hall is being tested by the UFC yet again with another difficult matchup, this time with Jotko.
Breakdown
There's a huge chance that this fight remains standing as Jotko and Hall battle it out in a striking contest. Jotko is a silky-smooth striker with excellent technique, timing and distance management. He just wasn't aggressive enough against David Branch and paid the price in the end.
Uriah Hall throws and lands more punches than his opponent, Jotko, but also puts his chin on the line in order to do so. Jotko slides in and out of range effortlessly and won't be there for Uriah Hall's rushing attacks, but to win the fight Jotko will need to counter strike and not just evade.
Prediction and Betting Strategy
This is the type of matchup that is trouble for Uriah Hall – a technical striker with the capability of shutting down his striking game. Expect Jotko to outwork Uriah Hall over three rounds.
Prediction: Krzysztof Jotko by Unanimous Decision
You can find the best odds for a Krzysztof Jotko victory at Marathon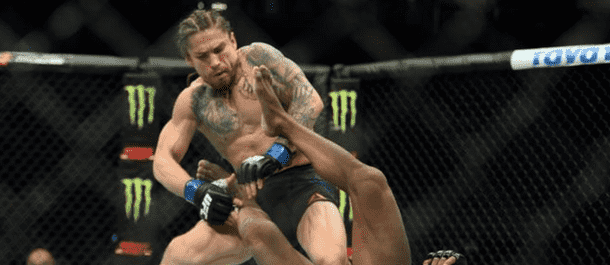 Luke Sanders vs Felipe Arantes
UFC Fight Night 116 Main Card – Bantamweight Bout
Luke Sanders (11-1) just suffered his first-ever loss as a mixed martial artist after he was trapped in a nasty kneebar by Iuri Alcantara at UFC 209 earlier this year. Sanders will face off with the experienced Felipe Arantes (18-8-1).
After scoring an impressive submission victory over Maximo Blanco at UFC Fight Night 81, it looked as though Luke Sanders was going to run through the division on his way to the top 10 rankings. The loss to Alcantara certainly stalled his run, however.
Felipe Arantes is 3-2 in his last five fights within the organization and most recently lost a split decision against Erik Perez at UFC Fight Night 98 last year.
Breakdown
If you're solely looking at the results, you won't see or appreciate the damage that Luke Sanders inflicted on Iuri Alcantara in the first round of their bout. Sanders poured on the pressure and pain to his opponent and was close to stopping the fight before he landed an illegal knee to the back of Alcantara's head that ended up pausing the contest and giving his opponent time to recover. That's when it all went downhill for Sanders.
Felipe Arantes is a submission machine and came ever so close to finishing Erik Perez in his most recent fight, however, he ran out of time in the third and final round after securing an arm-triangle position and was unable to finish the submission in time.
Prediction and Betting Strategy
Felipe Arantes will need to get Sanders to the mat in order to work his submission skills. Sanders is capable of keeping this fight wherever he wants it to be, and he'll be super determined to erase the memory of a loss this time around at UFC Fight Night 116.
Prediction: Luke Sanders by KO/TKO – Round One
You can find the best odds for Total Rounds – Under 2.5 at Bet365
Best Bets
Tony Martin vs Olivier Aubin-Mercier
Tony Martin to Win
Saturday 16th September – 9:00 pm (ET) / 1:00am GMT
Odds: 2.09Bet €100 to win €209109/100Bet £100 to win £209+109Bet $100 to win $2091.09Bet HK$100 to win HK$2091.09Bet Rp100 to win Rp209-0.9174Bet RM100 to win RM209 – Marathon
Anthony Hamilton vs Daniel Spitz
Total Rounds – Over 1.5
Saturday 16th September – 8:30 pm (ET) / 12:30am GMT
Odds: 1.90Bet €100 to win €1909/10Bet £100 to win £190-111Bet $100 to win $1900.90Bet HK$100 to win HK$190-1.11Bet Rp100 to win Rp1900.9000Bet RM100 to win RM190 – Marathon
Krzysztof Jotko vs Uriah Hall
Krzysztof Jotko to Win
Saturday 16th September – 8:00 pm (ET) / 12:00am GMT
Odds: 1.52Bet €100 to win €15213/25Bet £100 to win £152-192Bet $100 to win $1520.52Bet HK$100 to win HK$152-1.92Bet Rp100 to win Rp1520.5200Bet RM100 to win RM152 – Marathon
Luke Sanders vs Felipe Arantes
Total Rounds – Under 2.5
Saturday 16th September – 7:30 pm (ET) / 11:30pm GMT
Odds: 2.30Bet €100 to win €23013/10Bet £100 to win £230+130Bet $100 to win $2301.30Bet HK$100 to win HK$2301.30Bet Rp100 to win Rp230-0.7692Bet RM100 to win RM230 – Bet365
MMA
UFC
UFC Fight Night 116