Hector Lombard vs Anthony Smith

UFC Fight Night 116 Main Card – Middleweight Bout
A struggling Hector Lombard (34-7-1) takes on a surging Anthony Smith (27-12) at UFC Fight Night 116.
Lombard hasn't recorded a win in the UFC's octagon since March of 2014 when he scored a unanimous decision victory against Jake Shields at UFC 171. Since then, he lost to Neil Magny at in March 2016 after looking close to finishing the fight in the first round. Lombard then went on to lose to Dan Henderson via a brutal knockout at UFC 199 and most recently he lost a unanimous decision to Johny Hendricks in a featured match at UFC Fight Night 105.
His opponent, Anthony Smith, is 10-1 in his last 11 professional bouts and is 3-1 since his return to the UFC early last year. With wins over Andrew Sanchez, Elvis Mutapcic, and Leonardo Guimaraes, Anthony Smith's heavy hands have been doing work and are quickly boosting him into contention in the UFC's middleweight division.
Breakdown
Hector Lombard is going to look like a mini T-Rex in the octagon with Anthony Smith this weekend. Smith has an incredible size and reach advantage over his opponent and should have success in picking Lombard apart from a distance. This works well for Smith, who usually employs long-range tactics anyhow.
Lombard is always dangerous, though, and the second an opponent loses respect for his power is the moment that they will find themselves waking up staring at the roof. Lombard will need to scoot in behind combinations and target the head of Anthony Smith to score the knockout blow.
Prediction and Betting Strategy
I do not doubt that Anthony Smith can keep Hector Lombard away with powerful striking to the head, body, and legs of his much smaller opponent. It may take a careful Anthony Smith a couple of rounds before he starts accumulating damage on Hector Lombard, so a late stoppage seems likely.
Prediction: Anthony Smith by KO/TKO – Round Three
You can find the best odds for an Anthony Smith victory at Marathon
Gregor Gillespie vs Jason Gonzalez

UFC Fight Night 116 Main Card – Lightweight Bout
Gregor Gillespie (9-0), an undefeated lightweight prospect, will battle it out with Jason Gonzalez (11-3) on the main card of UFC Fight Night 116.
Gillespie is an incredibly talented wrestler who has made his way into mixed martial arts more recently. An extensive wrestling career that includes many high-level accolades ensures that Gillespie can pin his opponents to the mat and start employing ground and pound tactics. For most of his career, this has been exactly how his fights have played out. Earlier this year at UFC 210, though, things took a different turn. Gillespie landed a knockout left hand on Andrew Holbrook and ended his night within just 21 seconds.
Gonzalez enters this fight 1-1 in the UFC so far and most recently scored a win over JC Cottrell at UFC on FOX 23. What's most impressive about Gonzalez is that he has finished all eleven of his professional wins; with six submission victories and five wins via KO/TKO. A loss to Drew Dober in his UFC debut marks what is a questionable stage of Gonzalez's career.
Breakdown
Don't be surprised when you see Gillespie shoot for takedowns over and over against a relatively incapable opponent. Gillespie is known to shoot upwards of four takedown attempts per round and this fight will be no different (unless Gillespie can hold Gonzalez to the mat, of course).
Gonzalez has some slick submission skills, so there is always a chance of a surprise submission from the taller and more experienced fighter. However, the more likely scenario is that he uses his submission attempts to halt the relentless grappling attack of Gillespie.
Prediction and Betting Strategy
Gillespie should outgrapple Gonzalez for three straight rounds. There's not much value betting on Gillespie, and the value instead lies with a total rounds bet.
Prediction: Gregor Gillespie to win via Unanimous Decision
You can find the best odds for Total Rounds – Over 1.5 at Bet365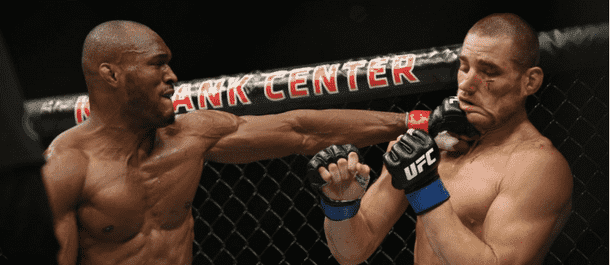 Kamaru Usman vs Sergio Moraes

UFC Fight Night 116 Main Card – Welterweight Bout
One of the welterweight divisions shining stars, Kamaru Usman (10-1), will have his hands full with Sergio Moraes (12-2-1) this weekend.
Kamaru Usman has had the dream start to a UFC career. He's now put together five straight victories, and his winning streak now dates all the way back to 2013. His wrestling capabilities have seen him string four unanimous decision victories together as his opponents struggle to deal with his overwhelming pressure and strength.
Sergio Moraes is undefeated as a welterweight in the UFC. In fact, his last defeat came at the hands of Cezar Ferreira all the way back in 2012. Most recently, he has scored two decision victories against Zak Ottow and Davi Ramos respectively and this will mark the first time in three events that he has competed outside of Brazil.
Breakdown
It's wrestling vs jiu-jitsu as Kamaru Usman's wrestling will hope to nullify the jiu-jitsu techniques of Sergio Moraes. But, it's also not quite that simple as both of these fighters pack heavy hands.
I can see this one playing out much like the Gillespie vs Gonzalez matchup in which the dominant wrestler can control and outmaneuver their opponent and limit their offensive capabilities. I expect Usman to trap Moraes against the cage and constrict his operating room.
Prediction and Betting Strategy
The most likely outcome is that Kamaru Usman overwhelms the very skilled Sergio Moraes for the entire fifteen minutes. However, the bookmakers have released the odds drastically in favor of Kamaru Usman, so much so that I don't feel comfortable backing him at odds that short and would instead recommend betting the other side.
Takedowns equal mat time, and increased mat time means that Moraes has improved chances of submissions. Take a chance on Moraes!
Prediction: Kamaru Usman by Unanimous Decision
You can find the best odds for a Sergio Moraes victory at Marathon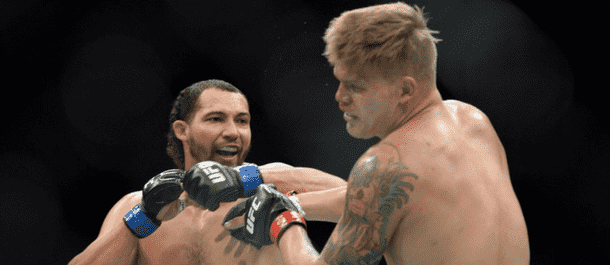 Justin Ledet vs Zu Anyanwu

UFC Fight Night 116 Main Card – Heavyweight Bout
Undefeated Justin Ledet (8-0) steps into the cage with UFC newcomer Zu Anyanwu (14-4).
Justin Ledet began his time in the UFC with consecutive wins against Chase Sherman and Mark Godbeer in 2016. After a bout with Dmitry Sosnovskiy failed to eventuate (twice), Zu Anyanwu puts his hand up on late notice as the guy to step in and challenge Just in Ledet for the first time in almost ten months.
Zu Anyanwu brings the heat. Anyanwu featured on the inaugural episode of Dana White's Tuesday Night Contender Series and connected with a monstrous right hand that shook Greg Rebello up. While it wasn't impressive enough for an immediate call-up, Anyanwu obviously impressed enough for the UFC to give him this short notice opportunity against Ledet.
Breakdown
Ledet is super fast and has explosive punching power and fast movement to back it up. He may have trouble letting his hands fully go against Anyanwy, though, considering that the larger heavyweight tends to walk forward with his right hand locked and loaded. Ledet likes to string combinations together, and this is the key to success against Anyanwu, who is typically a one-and-gun type of striker.
Anyanwu destroyed Greg Rebello after Rebello managed the distance and used technical striking to control the pace in the earlier rounds. It was all Anyanwu's plan to set up the monster right hand and when it lands, it's game over.
Prediction and Betting Strategy
Ledet gets involved in brawls and loves to entertain the fans. He'll need to think twice about doing that against Anyanwu, though. Anyanwu may very well land the finishing right hand after frustrating Ledet through the earlier minutes of the fight.
Prediction: Zu Anyanwu by KO/TKO – Round One
You can find the best odds for a Zu Anyanwu victory at Marathon
Best Bets
Hector Lombard vs Anthony Smith
Anthony Smith to Win
Saturday 16th September – 11:00 pm (ET) / 3:00am GMT
Odds: 1.94Bet €100 to win €19447/50Bet £100 to win £194-106Bet $100 to win $1940.94Bet HK$100 to win HK$194-1.06Bet Rp100 to win Rp1940.9400Bet RM100 to win RM194 – Marathon
Gregor Gillespie vs Jason Gonzalez
Total Rounds – Over 1.5
Saturday 16th September – 10:30 pm (ET) / 2:30am GMT
Odds: 1.80Bet €100 to win €1804/5Bet £100 to win £180-125Bet $100 to win $1800.80Bet HK$100 to win HK$180-1.25Bet Rp100 to win Rp1800.8000Bet RM100 to win RM180 – Bet365
Kamaru Usman vs Sergio Moraes
Sergio Moraes to Win
Saturday 16th September – 10:00 pm (ET) / 2:00am GMT
Odds: 1.80Bet €100 to win €1804/5Bet £100 to win £180-125Bet $100 to win $1800.80Bet HK$100 to win HK$180-1.25Bet Rp100 to win Rp1800.8000Bet RM100 to win RM180 – Marathon
Justin Ledet vs Zu Anyanwu
Zu Anyanwu to Win
Saturday 16th September – 9:30 pm (ET) / 1:30am GMT
Odds: 4.10Bet €100 to win €41031/10Bet £100 to win £410+310Bet $100 to win $4103.10Bet HK$100 to win HK$4103.10Bet Rp100 to win Rp410-0.3226Bet RM100 to win RM410 – Marathon
MMA
UFC
UFC Fight Night 116