Darren Till vs Bojan Velickovic

UFC Fight Night 115 Prelims – Welterweight Bout
Darren Till and Bojan Velickovic will face off in Rotterdam just months after scoring impressive victories at UFC Fight Night 109 in Stockholm. Darren Till (14-0-1) looked completely in control against Jessin Ayari in Stockholm and controlled the majority of the fight with his excellent Muay Thai striking. Till found a home for his southpaw counter left-hand all night long against Ayari but was unable to finish him inside the allotted fifteen minutes despite scoring numerous knockdowns. After winning, Till said: "I want the belt, so I want to fight and fight and fight until they call me and I get a shot at that belt".
Bojan Velickovic picked up a much-needed victory in Stockholm after starting his UFC career with one win, one draw and one loss. Velickovic, as per usual, started slowly and by the third round, two judges had the contest scored as even while one had Nico Musoke ahead. Velickovic discarded the scorecards before they were required when he landed flush with a devastating right hook.
Breakdown
Bojan Velickovic seems to always be involved in slow, drawn-out stand-up battles with his opponent. He studies his competition before picking the rights shots at the right time. Often in Velickovic's UFC career, this has been too slow of a process. Against Darren Till, this strategy might not be advised. Till packs some extremely dangerous power in his strikes and will be looking to disengage from a strategic striking battle with Bojan and instead make it a scrap in which he can land heavy elbows, kicks and punches.
Prediction and Betting Strategy
Darren Till is really damn good. Bojan Velickovic is also really damn good. I've been burned by Velickovic's slow pace too many times and against Darren Till, I'll safely back the more active, aggressive and dangerous striker. Darren Till is a moderate favorite and I don't feel completely comfortable backing him at odds of 1.53Bet €100 to win €15353/100Bet £100 to win £153-189Bet $100 to win $1530.53Bet HK$100 to win HK$153-1.89Bet Rp100 to win Rp1530.5300Bet RM100 to win RM153 . Instead, there' s plenty of value if you predict the finish in this fight and I'll be betting the under 2.5 rounds market.
Darren Till by KO/TKO – Round Two
You can find the best odds for under 2.5 rounds at Bet365
Mairbek Taisumov vs Felipe Silva

UFC Fight Night 115 Prelims – Lightweight Bout
After being forced to withdraw from a scheduled bout with Joaquim Silva at UFC Fight Night 109 in May, Mairbek Taisumov (25-5) will step inside the cage at UFC Fight Night 115. Taisumov has fully recovered from his shoulder injury and will be ready to throw bombs this weekend. Taisumov has now managed four-straight KO/TKO victories with the longest of these contests making it to 1:30 in the second round.
Felipe Silva (8-0) entered the UFC as an undefeated prospect with seven wins when he faced Shane Campbell at UFC on FOX 21 in August last year. Silva made short work of Campbell and finished him in just 73 seconds.
Breakdown
Taisumov and Silva are extremely heavy hitters and there is almost no doubt that one of these guys could go down within just minutes. Silva walked towards Shane Campbell and threw everything that he could at him before landing his finishing flurry. Taisumov, as well, is a knockout artist with heavy hands.
Prediction and Betting Strategy
Mairbek Taisumov is a fighter who should be on everyone's watchlist. The bookmakers recognize this as well and have him booked as a heavy favorite at 1.40Bet €100 to win €1402/5Bet £100 to win £140-250Bet $100 to win $1400.40Bet HK$100 to win HK$140-2.50Bet Rp100 to win Rp1400.4000Bet RM100 to win RM140 . Again, as much as I like Taisumov's chances in this one, Silva is always going to be extremely threatening and will be looking to prove everybody wrong in this fight. I like two bets in this fight, I'll be taking Silva to win at 3.32Bet €100 to win €33258/25Bet £100 to win £332+232Bet $100 to win $3322.32Bet HK$100 to win HK$3322.32Bet Rp100 to win Rp332-0.4310Bet RM100 to win RM332 and I'll also be playing under 1.5 rounds at 2.50Bet €100 to win €2503/2Bet £100 to win £250+150Bet $100 to win $2501.50Bet HK$100 to win HK$2501.50Bet Rp100 to win Rp250-0.6667Bet RM100 to win RM250 .
Felipe Silva by KO/TKO – Round One
You can find the best odds for a Silva victory at Marathon and the best odds for under 1.5 rounds at Bet365.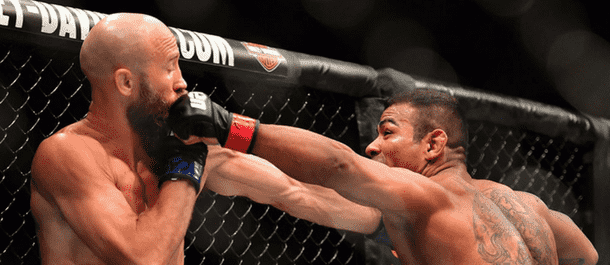 Michel Prazeres vs Mads Burnell

UFC Fight Night 115 Prelims – Lightweight Bout
Michel Prazeres (22-2) began his UFC career with seven consecutive fights all ending in a decision. Shockingly, his most recent fight with Josh Burkman at UFC Fight Night 106 ended with him scoring a first round submission victory and a 'Performance of the Night' award.
Mads Burnell (8-1) will be fighting in the UFC for the first time this weekend as he gets the late-notice call from Dana White after Islam Makhachev was deemed unable to compete.
Breakdown
Unfortunately for Prazeres, a win over Makhachev would do a lot more for his push towards the top of the lightweight rankings than beating a UFC newcomer. He's a talented submission artist but, of course, he needs his opponent on the mat. Against Burkman, he rocked him so hard that Burkman crashed to the floor before submitting him with a north-south choke. I can see this one playing out in a similar way, even against the talented jiu-jitsu fighter in Mads Burnell.
Prediction and Betting Strategy
I think that Mads Burnell is going to look really competitive in the early stages of the fight and surprise many who are watching. Lots of people will be predicting an early finish for Prazeres against the 23-year-old but Burnell's boxing and jiu-jitsu background will see him stick it out with Prazeres. In the third round, Prazeres' wrestling will prove too much and Burnell will eventually succumb to the overwhelming pressure from his opponent. The best bet in this fight is to take the under 2.5 rounds selection.
Michel Prazeres by submission – Round Three
You can find the best odds for under 2.5 rounds at Bet365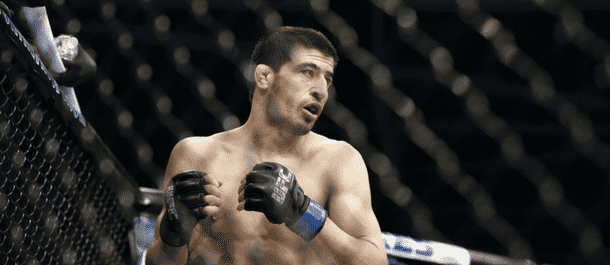 Rustam Khabilov vs Desmond Green
UFC Fight Night 115 Prelims – Lightweight Bout
Rustam Khabilov (21-3) really can't score a fight with a higher ranked opponent. This time, he's matched with Desmond Green (20-5) for a lightweight fight at UFC Fight Night 115. Khabilov enters this one on a four fight winning streak with all victories coming via way of unanimous decision. Maybe grinding out victories hasn't been the best for his reputation with the UFC suits? Desmond Green is on a five fight win streak dating back to March 2016 and he recently won his UFC debut at UFC 210 against Josh Emmett via split decision.
Breakdown
Rustam Khabilov has slowly turned into a slow-paced decision focused fighter and he'll be matched against Des Green who is also likely to end up in the fate of the judge's scorecards. Knowing this, both fighters will need to be a little more active than usual if they want to get ahead on the scorecards. I expect Khabilov's striking to be the difference in this matchup.
Prediction and Betting Strategy
It's a big if, but Khabilov could find a home for his heavy hands this weekend. He hits with power and is definitely capable of finishing a fight, it just hasn't happened yet. There's also massive value if you are betting on the stoppage in this one because everybody is predicting it to go the full three rounds.
Rustam Khabilov by KO/TKO – Round One
You can find the best odds for a under 2.5 rounds at Marathon
Best Bets
Darren Till vs Bojan Velickovic
Total Rounds – Under 2.5
Saturday 2nd September – 2:30 pm (ET) / 6:30pm GMT
Odds: 2.40Bet €100 to win €2407/5Bet £100 to win £240+140Bet $100 to win $2401.40Bet HK$100 to win HK$2401.40Bet Rp100 to win Rp240-0.7143Bet RM100 to win RM240 – Bet365
Mairbek Taisumov vs Felipe Silva
Felipa Silva to win
Saturday 2nd September – 2:00 pm (ET) / 6:00pm GMT
Odds: 3.32Bet €100 to win €33258/25Bet £100 to win £332+232Bet $100 to win $3322.32Bet HK$100 to win HK$3322.32Bet Rp100 to win Rp332-0.4310Bet RM100 to win RM332 – Marathon
Mairbek Taisumov vs Felipe Silva
Total Rounds – Under 1.5
Saturday 2nd September – 2:00 pm (ET) / 6:00pm GMT
Odds: 2.50Bet €100 to win €2503/2Bet £100 to win £250+150Bet $100 to win $2501.50Bet HK$100 to win HK$2501.50Bet Rp100 to win Rp250-0.6667Bet RM100 to win RM250 – Bet365
Michel Prazeres vs Mads Burnell
Total Rounds – Under 2.5
Saturday 2nd September – 1:30 pm (ET) / 5:30pm GMT
Odds: 2.40Bet €100 to win €2407/5Bet £100 to win £240+140Bet $100 to win $2401.40Bet HK$100 to win HK$2401.40Bet Rp100 to win Rp240-0.7143Bet RM100 to win RM240 – Bet365
Rustam Khabilov vs Desmond Green
Total Rounds – Under 2.5
Saturday 2nd September – 1:00 pm (ET) / 5:00pm GMT
Odds: 3.85Bet €100 to win €38557/20Bet £100 to win £385+285Bet $100 to win $3852.85Bet HK$100 to win HK$3852.85Bet Rp100 to win Rp385-0.3509Bet RM100 to win RM385 – Marathon