Francimar Barroso vs Aleksandar Rakic

UFC Fight Night 115 Prelims – Light Heavyweight Bout
Francimar Barroso (19-5) will welcome UFC debutant Aleksandar Rakic (8-1) this weekend in Rotterdam, Netherlands. The 25-year-old Austrian lost his first-ever mixed martial arts contest, but since then has won eight-straight since 2012. Rakic has fought just once in the past 24 months, mainly due to his fights being rescheduled. One such reschedule, as per Tapology, was because his family received threats via telephone.
Francimar Barroso recently rematched Darren Stewart after their earlier fight ended in a no-contest. Barroso won via unanimous decision; the same way that he has scored his last four victories.
Breakdown
Aleksandar Rakic will have a difficult test on his hands in his UFC debut. Francimar Barroso has a habit of turning fights into long, boring and uneventful contests by pushing fighters into the cage and disabling their game. There's nothing wrong with it; it works for him. If Rakic wants to win this one, he's going to need to ensure Barroso can't get his hands around him and smother him. If Rakic can keep his distance, he'll be able to outwork and embarrass Barroso all night long.
Prediction and Betting Strategy
It's easy to see a Barroso decision victory. But, it's also very likely that this is the start of well-prepared Aleksandar Rakic's climb through the light heavyweight division. I was fast to doubt Volkan Oezdemir, but I won't be doubting Rakic.
Aleksandar Rakic by KO/TKO – Round One
You can find the best odds for a Rakic victory at Bet365
Mike Santiago vs Zabit Magomedsharipov
UFC Fight Night 115 Prelims – Featherweight Bout
Mike Santiago was unlucky not to score a UFC contract after he smashed Mark Cherico in under three minutes at Dana White's Contender Series 7. Santiago (21-9) has perfectly turned his career around after getting to a 10-9 record. Typically, at 10-9 a fighter will begin to transition away from mixed martial arts. Santiago, however, has now put together 11 consecutive wins and found himself in the UFC.
Zabit Magomedsharipov is also making his UFC debut this weekend and will enter the octagon with plenty of hype behind him. Magomedsharipov with Mark Henry and has received plenty of praise from Henry and the team. The 26-year-old has won all of his last three fights via first round stoppage.
Breakdown
There couldn't be a worse situation for Mike Santiago. He has been called by the UFC on short notice to take on one of the hottest prospects on the UFC's roster. Zabit Magomedsharipov is a massive 6'1″ featherweight with excellent striking techniques.
Santiago is dangerous in a whole range of aspects now that his jiu-jitsu has considerably improved.
Prediction and Betting Strategy
Mike Santiago will be a difficult matchup for many of the UFC's roster, but Magomedsharipov is unlike any other fighter and is on the path to being a world champion. This one might not last two rounds, and I'll be betting accordingly.
Zabit Magomedsharipov by KO/TKO – Round One
You can find the best odds for under 1.5 rounds at Bet365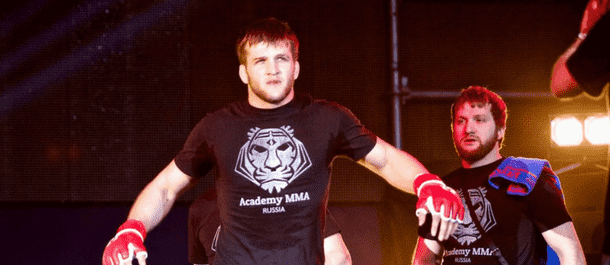 Bojan Mihajlovic vs Abdul-Kerim Edilov
UFC Fight Night 115 Prelims – Light Heavyweight Bout
Not to be confused with Bojan Velickovic who is fighting later in the prelims, Bojan Mihajlovic (10-5) is yet to manage a win in his two fights in the UFC so far. The 37-year-old has lost to Joachim Christensen and Francis N'Gannou, two adamant opponents in the UFC's roster. He'll likely be fighting to keep his position in the UFC this weekend.
Abdul-Kerim Edilov (16-4) enters the UFC this weekend on a ten-fight winning streak all via way of first round stoppage. His last eight wins have come against fighters with a positive record, so he's not scoring these wins against low-quality competition. Abdul-Kerim Edilov hasn't competed since July 2015 after he received a USADA suspension from the UFC for meldonium.
Breakdown
Edilov was signed to the UFC two years ago as a prospect with a decent wrestling game, powerful punching and a load of experience for such a young fighter. Imagine how good he is now that he has had over 24 months to improve his game even further. Mihajlovic has faced some tough competition, that's for sure, but he's about to face yet another top talent in the division.
Prediction and Betting Strategy
Edilov has a habit of getting rid of guys in the first round. He'll do the same to Bojan Mihajlovic this weekend. There's not much value betting on Edilov and I'm more confident betting the under 1.5 rounds market.
Abdul-Kerim Edilov by KO/TKO – Round One
You can find the best odds for under 1.5 rounds at Marathon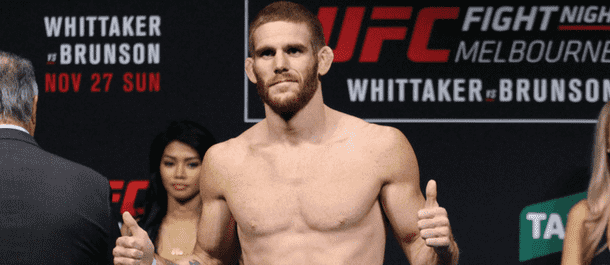 Thibault Gouti vs Andrew Holbrook
UFC Fight Night 115 Prelims – Lightweight Bout
Well, here's one of the least entertaining matchups I've ever seen. Two fighters with backward momentum in the UFC go at it in a lightweight bout at UFC Fight Night 115. Thibault Gouti is 0-3 in the UFC and was scheduled to fight Dong Hyun Kim down in New Zealand before Kim was forced to withdraw.
Last time Andrew Holbrook was inside the UFC's octagon he was knocked out in just 21 seconds by Gregor Gillespie. Before that, he had picked up an impressive win over Jake Matthews in Australia. This fight sure smells like a loser is cut from the UFC kind of fight. If it's awful, both fighters may be released.
Breakdown
Thibault Gouti is right at the bottom of the UFC's lightweight division. Holbrook's striking is reasonably impressive, and he may be able to find a quick finish and start putting a winning streak together after this one.
Prediction and Betting Strategy
I've got complete faith in Andrew Holbrook finishing Thibault Gouti; it's just a matter of picking the round. There is no method of victory market available at the moment, so we'll run with the standard selection of picking Holbrook to win.
Andrew Holbrook by KO/TKO – Round Two
You can find the best odds for a Holbrook victory at Marathon
Best Bets
Francimar Barroso vs Aleksandar Rakic
Aleksandar Rakic to Win
Saturday 2nd September – 12:30 pm (ET) / 4:30pm GMT
Odds: 1.80Bet €100 to win €1804/5Bet £100 to win £180-125Bet $100 to win $1800.80Bet HK$100 to win HK$180-1.25Bet Rp100 to win Rp1800.8000Bet RM100 to win RM180 – Bet365
Mike Santiago vs Zabit Magomedsharipov
Total Rounds – Under 1.5
Saturday 2nd September – 12:00 pm (ET) / 4:00pm GMT
Odds: 2.40Bet €100 to win €2407/5Bet £100 to win £240+140Bet $100 to win $2401.40Bet HK$100 to win HK$2401.40Bet Rp100 to win Rp240-0.7143Bet RM100 to win RM240 – Bet365
Bojan Mihajlovic vs Abdul-Kerim Edilov
Total Rounds – Under 1.5
Saturday 2nd September – 11:30 am (ET) / 3:30pm GMT
Odds: 1.63Bet €100 to win €16363/100Bet £100 to win £163-159Bet $100 to win $1630.63Bet HK$100 to win HK$163-1.59Bet Rp100 to win Rp1630.6300Bet RM100 to win RM163 – Marathon
Thibault Gouti vs Andrew Holbrook
Andrew Holbrook to Win
Saturday 2nd September – 11:00 am (ET) / 3:00pm GMT
Odds: 1.61Bet €100 to win €16161/100Bet £100 to win £161-164Bet $100 to win $1610.61Bet HK$100 to win HK$161-1.64Bet Rp100 to win Rp1610.6100Bet RM100 to win RM161 – Marathon