Bradley Scott vs Jack Hermansson

UFC Fight Night 114 Prelims – UFC Middleweight Bout
Bradley Scott and Jack Hermansson will throw some heavy hands when they step inside the octagon together at UFC Fight Night 114. Scott enters this one after scoring a split decision win against Scott Askham at UFC Fight Night 107. It was a win that continued his win/loss pattern dating back seven fights. A win over Hermansson this weekend will see him manage his first consecutive victories in the UFC.
Jack Hermansson has started in the UFC 2-1 after his win against Alex Nicholson at UFC Fight Night 109. Hermansson entered as the favourite against Nicholson and made short work of him by finishing him via KO/TKO in just 120 seconds. The win quickly returned him to winning form after losing to Cezar Ferreira at UFC Fight Night 100.
The Breakdown
It's going to be an interesting clash of styles when Hermansson meets Scott toe-to-toe. Hermansson moves loosely around the cage, jumping around laterally. Scott, on the other hand, is a more traditional striker who just walks forward towards his opponent. Hermansson strangely, and unexpectedly, flattened out Nicholson and punched him out to score his victory just a few months ago. Scott won't give up that kind of takedown as easy as Alex Nicholson did.
Prediction and Betting Strategy
Jack Hermansson is a fairly dangerous fighter and it's tough to back against him right now. It's also tough to get behind him as the heavy favorite that the bookmakers have him as. Scott has heavy strikes and can definitely land a finishing blow on Hermansson.
Brad Scott to win is 3.10Bet €100 to win €31021/10Bet £100 to win £310+210Bet $100 to win $3102.10Bet HK$100 to win HK$3102.10Bet Rp100 to win Rp310-0.4762Bet RM100 to win RM310 at William Hill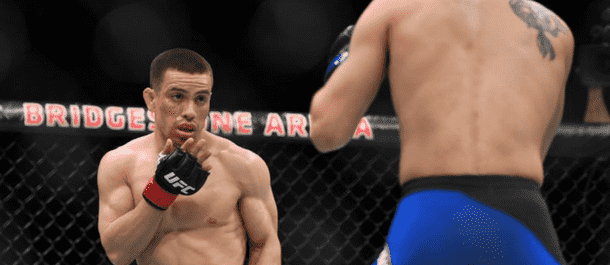 Dustin Ortiz vs Hector Sandoval

UFC Fight Night 114 Prelims – UFC Flyweight Bout
Oh, how things can change. Dustin Ortiz finds himself stuck in the preliminary card while his previous opponent Brandon Moreno is headlining the entire event. Ortiz was controlling the fight against Moreno for eight of the nine minutes before Moreno landed a flush head kick and dropped Ortiz to the mat. Moreno ended up submitting Dustin Ortiz in round two.
Ortiz is matched up with Hector Sandoval who is now 2-1 in the UFC after back-to-back wins against Fredy Serrano and Matt Schnell. These wins quickly erased the loss against Wilson Reis from the minds of MMA fans and proved that Sandoval is a force in the flyweight division.
The Breakdown
This is a massive test for Hector Sandoval. Despite entering the contest three-years older than Ortiz, Ortiz has much more experience in the UFC against high-calibre opponents. Sandoval is super quick and scrappy and Ortiz will need to be technically sound if he wishes to keep Sandoval pinned to the mat. Sandoval's sudden rush forward can catch opponent's sleeping and Ortiz will also need to be fully aware of Sandoval's speed.
Ortiz is super-savvy and fights with great intelligence and experience. His takedowns and control on the mat are the biggest win condition against the powerful Sandoval.
Prediction and Betting Strategy
Dustin Ortiz enters this one as a moderate betting favourite. It makes sense, he's proven and carries much more experience into the octagon. Sandoval packs so much power, though. Against Schnell, Sandoval stopped him with a number of very strong hammer fists. I'll be betting the underdog in this close contest.
Hector Sandoval to win is 3.00Bet €100 to win €3002/1Bet £100 to win £300+200Bet $100 to win $3002.00Bet HK$100 to win HK$3002.00Bet Rp100 to win Rp300-0.5000Bet RM100 to win RM300 at Ladbrokes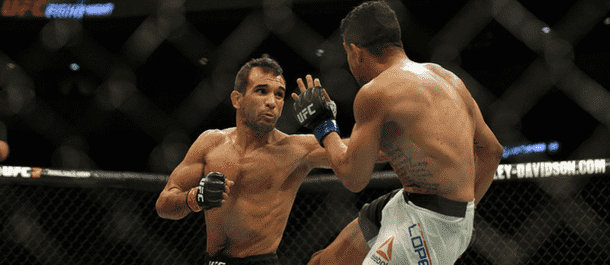 Henry Briones vs Rani Yahya

UFC Fight Night 114 Prelims – UFC Bantamweight Bout
Rani Yahya comes into this fight with Henry Briones determined to get his winning streak back on track. Yahya had recorded four-straight victories before falling short against Joe Soto at UFC Fight Night 106.
Henry Briones joined the UFC in 2014 when he scored a submission victory against Guido Cannetti. Since then, he's lost to Cody Garbrandt and Douglas Andrade. A loss against Yahya is dangerous for Briones, as a three-fight losing streak is always looked unfavourably upon from the UFC.
The Breakdown
Rani Yahya's top-game is super strong, it's just a matter of whether he can secure the takedown. His striking game seemed much improved against Joe Soto in his last contest as he showed a whole new arsenal of strikes.
Briones doesn't really offer all that much outside of some wild striking. He shows glimpses of potential, but never lands with consistency in his fights.
Prediction and Betting Strategy
I can see Yahya taking Briones down to the mat and working some advanced grappling skills. Briones may not be able to keep up with Yahya's top pressure and succumb to either ground and pound or a submission.
Rani Yahya to win is 1.63Bet €100 to win €16363/100Bet £100 to win £163-159Bet $100 to win $1630.63Bet HK$100 to win HK$163-1.59Bet Rp100 to win Rp1630.6300Bet RM100 to win RM163 at Bet365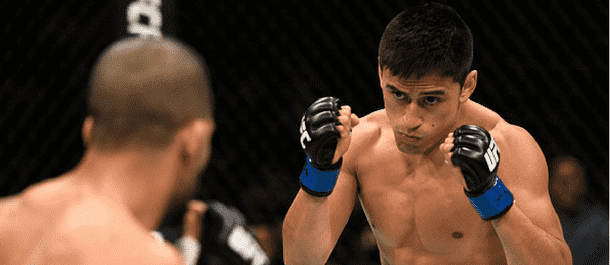 Jose Quinonez vs Diego Rivas

UFC Fight Night 114 Prelims – UFC Bantamweight Bout
Diego Rivas will return to the octagon after picking up one of the most impressive knockouts of 2016 when he knocked out Noad Lahat with a flying knee in February. Rivas moved to 7-0 after defeating Lahat and has since had over sixteen months to further improve his game before stepping into the octagon again this weekend at UFC Fight Night 114.
Jose Quinonez will enter this fight on a two-fight winning streak after scoring consecutive wins against Leonardo Morales and Joey Gomez. Like Rivas, Quinonez has had a long layoff and Quinonez hasn't competed since September 2016.
The Breakdown
Diego Rivas is explosive and dangerous when standing up. But as we saw against Lahat, once taken down he tenses up and struggles to get back to his feet. It seemed to be the case that a fighter with good jiu-jitsu and grappling could give Rivas an intense challenge.
It's time to see if that has changed because he's being put up against slick grappler Jose Quinonez. Quinonez has brilliant transitions on the ground and a tight rear-naked choke, he could very well cause plenty of trouble for Rivas on the mat if Rivas hasn't improved his grappling.
Prediction and Betting Strategy
Rivas has had plenty of time to evolve his game. He enters this fight as the underdog but his raw athleticism and power could catch Quinonez off-guard.
Alexa Grasso to win is 3.00Bet €100 to win €3002/1Bet £100 to win £300+200Bet $100 to win $3002.00Bet HK$100 to win HK$3002.00Bet Rp100 to win Rp300-0.5000Bet RM100 to win RM300 at Bet365
Best Bets
Bradley Scott vs Jack Hermansson
Bradley Scott to win
Saturday 5th August – 10:00 pm (ET) / 2:00am GMT
Odds: 3.10Bet €100 to win €31021/10Bet £100 to win £310+210Bet $100 to win $3102.10Bet HK$100 to win HK$3102.10Bet Rp100 to win Rp310-0.4762Bet RM100 to win RM310 – William Hill
Dustin Ortiz vs Hector Sandoval
Hector Sandoval to win
Saturday 5th August – 9:30 pm (ET) / 1:30am GMT
Odds: 1.67Bet €100 to win €16767/100Bet £100 to win £167-149Bet $100 to win $1670.67Bet HK$100 to win HK$167-1.49Bet Rp100 to win Rp1670.6700Bet RM100 to win RM167 – Marathon
Henry Briones vs Rani Yahya
Rani Yahya to win
Saturday 5th August – 9:00 pm (ET) / 1:00am GMT
Odds: 1.63Bet €100 to win €16363/100Bet £100 to win £163-159Bet $100 to win $1630.63Bet HK$100 to win HK$163-1.59Bet Rp100 to win Rp1630.6300Bet RM100 to win RM163 – Bet365
Jose Quinonez vs Diego Rivas
Diego Rivas to win
Saturday 5th August – 8:30 pm (ET) / 12:30am GMT
Odds: 3.00Bet €100 to win €3002/1Bet £100 to win £300+200Bet $100 to win $3002.00Bet HK$100 to win HK$3002.00Bet Rp100 to win Rp300-0.5000Bet RM100 to win RM300 – Bet365