Joseph Morales vs Roberto Sanchez
UFC Fight Night 114 Fight Pass Prelims – UFC Flyweight Bout
Two undefeated prospects will go head-to-head at UFC Fight Night 114 when Joseph Morales meets Roberto Sanchez inside the octagon. Both of these fighters are making their UFC debut.
Joseph Morales is a highly regarded Team Alpha Male fighter who has now managed an 8-0 record through his career. Morales has finished all but two of his eight victories and enters this fight after finishing Sean Santella at CFFC 64. Morales featured on Dana White's Lookin' for a Fight and impressed Dana White and Matt Serra with his heart and ability to overcome a troubling first round.
Roberto Sanchez steps in the octagon on a similar trajectory to Joseph Morales despite being nine years his elder. Sanchez won the Legacy Fighting Alliance Flyweight Championship after defeating Jerome Rivera at LFA 14. Sanchez has now managed six straight submission victories to take his overall record to 7-0.
The Breakdown
Roberto Sanchez is a talented grappler with some technical submission abilities and control. We saw in Morales' last fight that he can be controlled on the mat for extended periods of time by an experienced grappler. We also saw that Morales loved the adversity and pushed through a challenging first round before stopping his opponent.
Morales is going to want to keep this one standing because as soon as it hits the mat, Sanchez is going to be all over him and possibly submit him.
To get there, though, Sanchez needs to secure a takedown. Morales has pretty sharp hands, and Sanchez tends to leave himself open for unnecessary shots.
Prediction and Betting Strategy
It's a difficult fight to predict as both fighters have their ways to victory. When this is the case, I like to extract value from the method of victory betting. Joseph Morales' odds for KO/TKO are very high. If he can keep Sanchez away from him and outlast his submission attempts, there is every chance that Morales connects with heavy hands.
Joseph Morales to win by KO/TKO is 5.00Bet €100 to win €5004/1Bet £100 to win £500+400Bet $100 to win $5004.00Bet HK$100 to win HK$5004.00Bet Rp100 to win Rp500-0.2500Bet RM100 to win RM500 at Paddy Power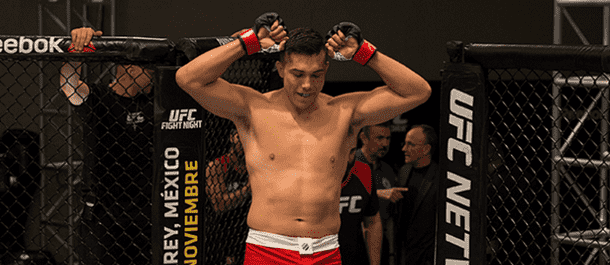 Alvaro Herrera vs Jordan Rinaldi
UFC Fight Night 114 Fight Pass Prelims – UFC Lightweight Bout
Alvaro Herrera and Jordan Rinaldi will be the ones to get UFC Fight Night 114 started when they battle it out on the UFC Fight Pass Prelims.
Jordan Rinaldi last fought in May 2016 against Abel Trujillo in his UFC debut. Rinaldi lost a unanimous decision to Trujillo and will now be looking to score a win in the UFC at UFC Fight Night 114.
Alvaro Herrera hasn't made it to the judge's scorecards in his first two bouts in the UFC. Herrera defeated Vernon Ramos at UFC Fight Night 78, winning by KO/TKO in just 30 seconds. He then went on to lose to Vicente Luque in his second contest in the UFC after being controlled by Luque's wrestling and grappling.
The Breakdown
Alvaro Herrera isn't going to take over the lightweight division, but he does pack massive power in his hands. We saw this power when he torched Ramos with a short flurry of punches and again against Vicente Luque when he landed his punches. Herrera's takedown defence is some of the worst in the UFC's lightweight division. He might not have to worry about that too much against Rinaldi, though, he looks to stand up and trade.
Rinaldi has fast footwork and closes the distance between himself and his opponent quickly. He can cut angles and close the space with ease. Against someone like Herrera, this will be a huge advantage as Herrera often finds himself prodding forward slowly.
Prediction and Betting Strategy
Rinaldi may be the faster and more experienced fighter, but Herrera packs humungous power in his hands. Against Vicente Luque, he wasn't able to show his power because he was taken down over and over again. Against Rinaldi, however, all it will take is one opportunity to land his hands on him. Rinaldi should win by outpointing Herrera, but the odds on a Herrera KO/TKO are much too high in this one, especially in front of thousands of screaming Mexican fans spurring him on.
Alvaro Herrera to win by KO/TKO is 5.00Bet €100 to win €5004/1Bet £100 to win £500+400Bet $100 to win $5004.00Bet HK$100 to win HK$5004.00Bet Rp100 to win Rp500-0.2500Bet RM100 to win RM500 at Paddy Power
Best Bets
Joseph Morales vs Roberto Sanchez
Joseph Morales to win by KO/TKO
Saturday 5th August – 7:30 pm (ET) / 11:30pm GMT
Odds: 5.00Bet €100 to win €5004/1Bet £100 to win £500+400Bet $100 to win $5004.00Bet HK$100 to win HK$5004.00Bet Rp100 to win Rp500-0.2500Bet RM100 to win RM500 – Paddy Power
Alvaro Herrera vs Jordan Rinaldi
Alvaro Herrera to win by KO/TKO
Saturday 5th August – 7:00 pm (ET) / 11:00pm GMT
Odds: 5.00Bet €100 to win €5004/1Bet £100 to win £500+400Bet $100 to win $5004.00Bet HK$100 to win HK$5004.00Bet Rp100 to win Rp500-0.2500Bet RM100 to win RM500 – Paddy Power
MMA
UFC
UFC Fight Night 114